Posted: January 30, 2017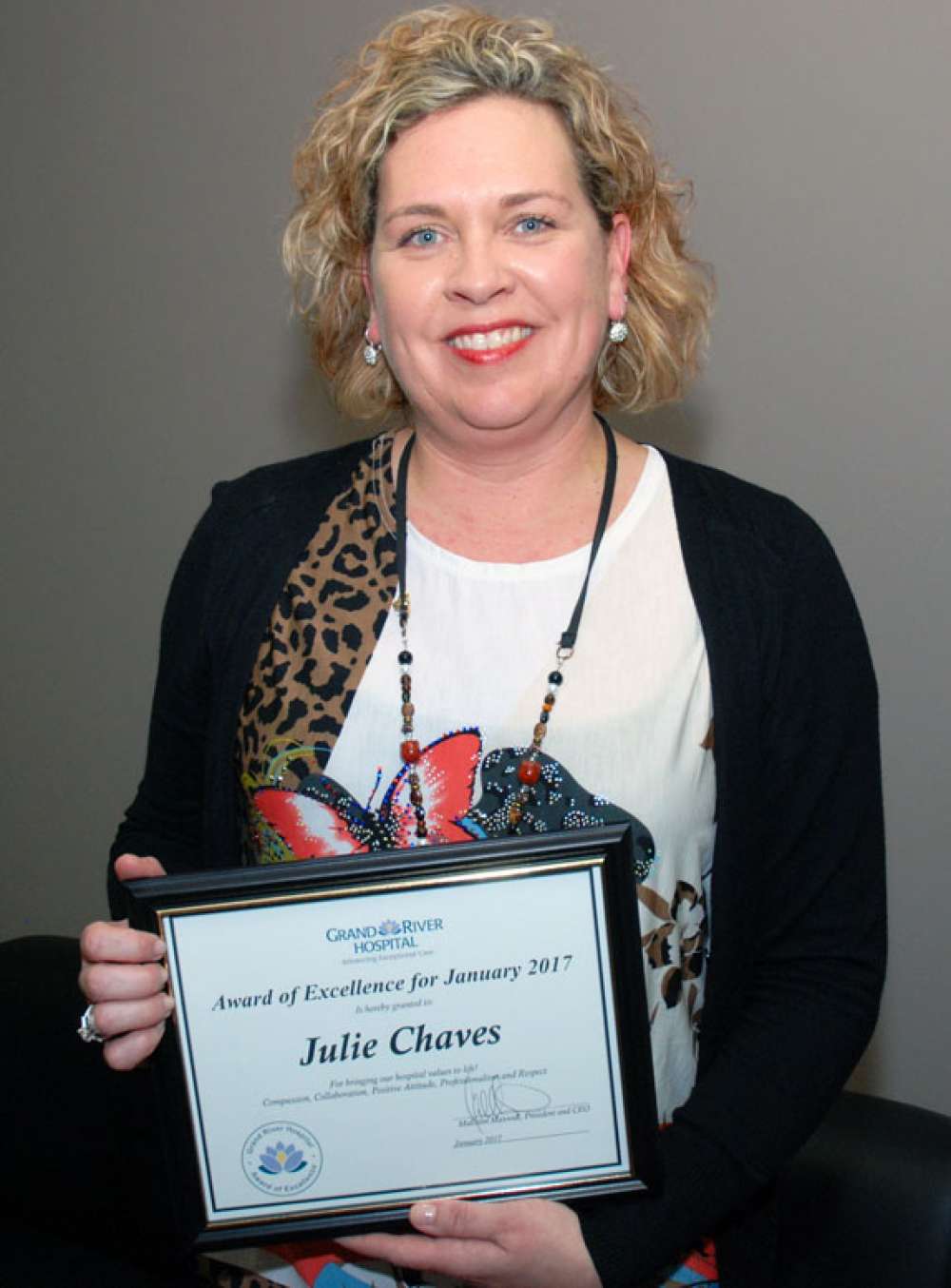 Often that first face you encounter in the front door of someplace new can make all the difference.
The kindness and compassion of registration clerk Julie Chaves at GRH's regional cancer centre has led her to win the hospital's latest award of excellence.
Julie has worked at GRH for more than 15 years. These days, you can find her right in the front entrance of the cancer centre as the first point of contact for many patients.
Julie's nominator recognized her for meeting the hospital's values in the following ways:
Compassion: Julie keeps a close eye on patients and families in the cancer centre, going above and beyond to help those who may be in need.
Collaboration:  Julie always calls clinic staff when a patient has checked in for an appointment so care providers know that their patients are here. She also gives them instructions as to where they should wait for the appointment. This is extremely helpful to care providers, who can tend to patients faster.
Positive attitude: Julie always comes to work with a smile on her face. She is always wearing bright colours. When asked why she is always wearing hot pink or lime green, she said it was because bright colours makes patients happy. Her bright colours definitely match her bright smile and since she is the first person the patients see (at registration) it starts their day off great! Julie is the experience.
Professionalism: the hospital recently experienced some scheduling issues for some patient information classes. This situation caused patients to show up for a class for which they were not registered. Julie calmly takes the names of class participants and personally walks them down to the class.
Respect: Julie is culturally sensitive when interacting with the patients and their families. She is always respectful of the confidentiality of patients and coworkers.
Her nominator added, "Julie works VERY hard at her job every day and she is very good at it. She is the first person the patients interact with when they come to the cancer centre and her warm and friendly smile makes the patients feel a little bit more relaxed and a little less anxious. On many occasions I see patients on their way out the door, stopping by to talk to Julie. She develops relationships with her patients and I know they appreciate her. She takes her job very seriously and is an asset to the GRRCC team. I know I smile every time I see her!"
Congratulations Julie and thank you for all of your hard work on behalf of cancer patients, their families and care staff at GRH!