Posted: October 31, 2017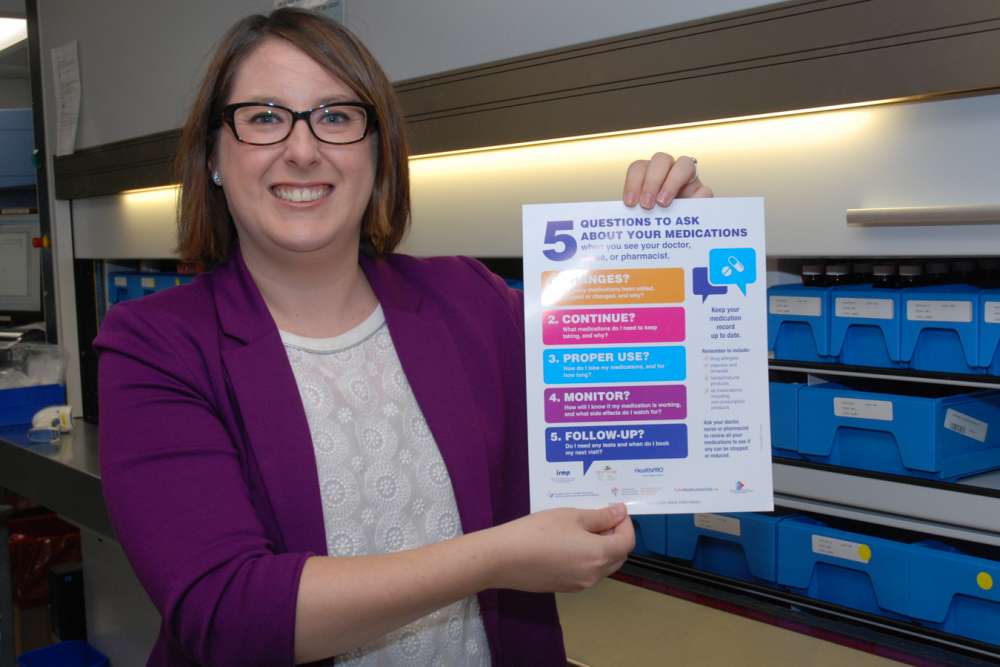 Medication safety is a key priority at Grand River Hospital.
That's why for Patient Safety Week 2017, the hospital is actively encouraging patients to ask the following five questions about their medication when they see their doctor, nurse or pharmacist:
Changes: have any medications been added, stopped or changed, and why?
Continue: what medications do I need to keep taking and why?
Proper use: how do I take my medications, and for how long?
Monitor: how will I know if my medication is working and what side effects do I watch for?
Follow-up: do I need any tests and when do I book my next visit.
Kari Soontiens is a pharmacist at GRH. She's also the pharmacy quality improvement coordinator and chairs the hospital's medication management committee. She offered her perspective about what patients can do to make their medication experience safer.
---
Why are the five questions so important for medication safety?
Patients are at high risk of fragmented care, adverse drug events, and medication errors during transitions of care.
Ensuring safe medication transitions is complex. Patients have to be an active partner in their health to ensure that they have the information they need to use their medications safely.
The five questions help patients take more control over their medication safety and become an active part of their own care.
What are some of the stages when questions like these ones matter the most?
It may be particularly helpful for patients to ask these questions at transitions of care. Examples include:
Doctor's appointment (e.g. family physician or specialist, dentist);
Interaction with a community pharmacist;
Discharge from hospital to home; and/or
During visits by home care services
In addition to the questions, what are some of the ways a patient can take more control over their medication safety?
First, keep your medication record up to date and carry a copy with you. Remember to include drug allergies, vitamins and minerals, herbal/natural products and all medications including non-prescription products.
By doing this, your healthcare professional will know what medicines you are taking and how. This can prevent a mistake with your medicines like missing a dose of a medication you need, or getting two medications that shouldn't be taken together.
Also, ask your doctor, pharmacist or nurse to review all your medications to see if any can be stopped or reduced.
A really great resource for patients is SafeMedicationUse.ca (opens in a new tab).
How can family members support patients who may not be able to ask these questions?
As part of the patient's family you can help your family member with their care.  By seeking answers to these five questions, caregivers can start a conversation about medications to improve communications with their family member's health care provider.
 Information from ISMP Canada, SafeMedicationUse.ca, and the Canadian Patient Safety Institute supported this story.