Posted: October 26, 2017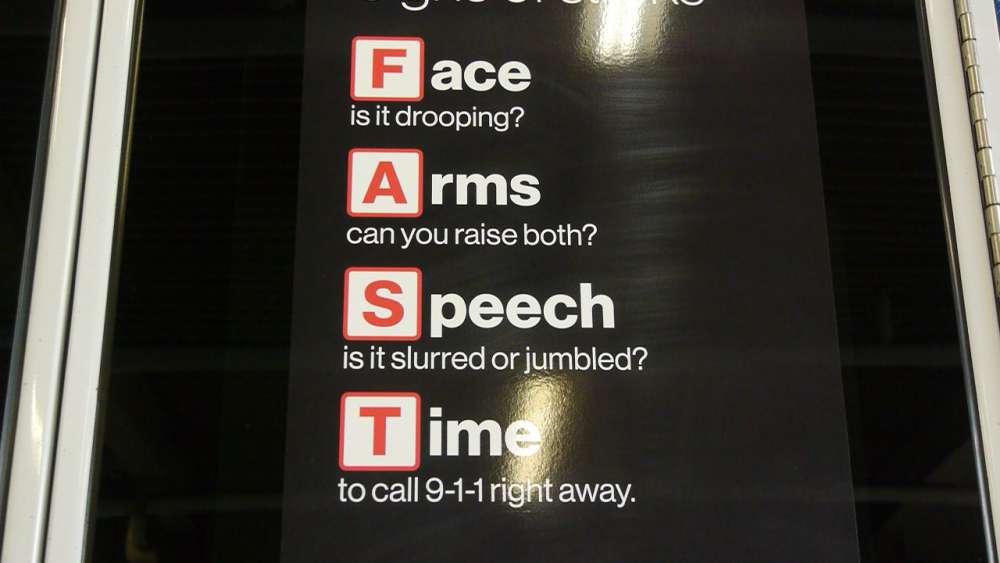 In support of World Stroke Day on October 29, 2017, Heart & Stroke, Region of Waterloo Paramedic Services, and Grand River Hospital are teaming up to ensure that more lives are saved from the effects of stroke. Paramedic Services will be helping to raise awareness of the signs of stroke and the importance of acting quickly by placing decals with the signs of stroke acronym 'FAST' on all of their ambulances. The decals encourage individuals to seek emergency care right away if they encounter stroke symptoms.

FAST stands for: 
Face: is it drooping? 
Arms: can you raise both? 
Speech: is it slurred or jumbled? 
Time: to call 9-1-1 right away.
Stroke is a medical emergency. The ability to recognize the FAST signs of stroke and act fast by calling 9-1-1 or your local emergency number can mean the difference between life and death, or the difference between a full recovery and lasting disability.
Rob Crossan, Deputy Chief of Region of Waterloo Paramedics who worked closely with Heart & Stroke to place the FAST decals on the back of the ambulances said "When it comes to stroke it is extremely important that 9-1-1 is not delayed.  As soon as symptoms appear, rapid transport by Paramedic Services to one of our local stroke centres provides the greatest chance for a positive patient outcome." These decals on all ambulances will help raise the public awareness to the signs and symptoms and recognition of stroke and promote early treatment in our community.
"I had a severe stroke at the end of this summer and luckily, my family called 9-1-1 right away. I received excellent care from paramedics and hospital providers in Kitchener and Hamilton. It's amazing what health providers can do today to treat stroke victims, but time is so important. Seconds matter. People should recognize the symptoms of a stroke and call 9-1-1 immediately," said Waterloo Region resident Eileen Lang.
Stroke is the number three killer of Canadians, and is the leading cause of disability. There are an estimated 62,000 strokes in Canada each year, one every nine minutes. More than 80 per cent of individuals who have a stroke and make it to the hospital will survive, with varying degrees of recovery.
"Patients may initially brush off stroke symptoms and delay a hospital visit, but in the event of a stroke, a fast response is exactly what counts. We're asking people to make sure they can recognize the symptoms of a stroke and dial 9-1-1 right away to get the best possible care fast," said Dr. Rupinder Sahsi, an emergency department physician at Grand River Hospital.
Heart & Stroke Director of Ontario Mission, Karen Trainoff, is delighted to expand the reach of the FAST campaign through this partnership with Region of Waterloo Paramedic Services and Grand River Hospital. "We know that public awareness increases in communities that have FAST decals on their vehicles. We are pleased to know that people will be reminded of the FAST signs of stroke every time they see a Region of Waterloo ambulance," said Ms.Trainoff. "Our objective is to ensure that all Canadians, no matter where they live or how old they are, know and remember the FAST signs of stroke.
Stroke facts
A stroke is a sudden loss of brain function.
62,000 strokes occur in Canada each year – that is one stroke every nine minutes.
83 per cent of those who have a stroke and make it to hospital will now survive.
Brain cells die at a rate of 1.9 million per minute during stroke.
Each year, more than 13,000 Canadians die from stroke.                     
Hundreds of thousands of Canadians are living with the effects of stroke.
Stroke is a leading cause of acquired adult disability
Stroke can happen at any age. Stroke among people under 65 is increasing and stroke risk factors are increasing for young adults.
Half of Canadians report having a close friend or family member who survived a stroke.
For more information about the signs of stroke, visit: www.heartandstroke.ca/FAST (opens in a new window)
For more information about hospital stroke care, visit GRH's stroke program.
Stroke symptoms? Think FAST