Posted: October 27, 2017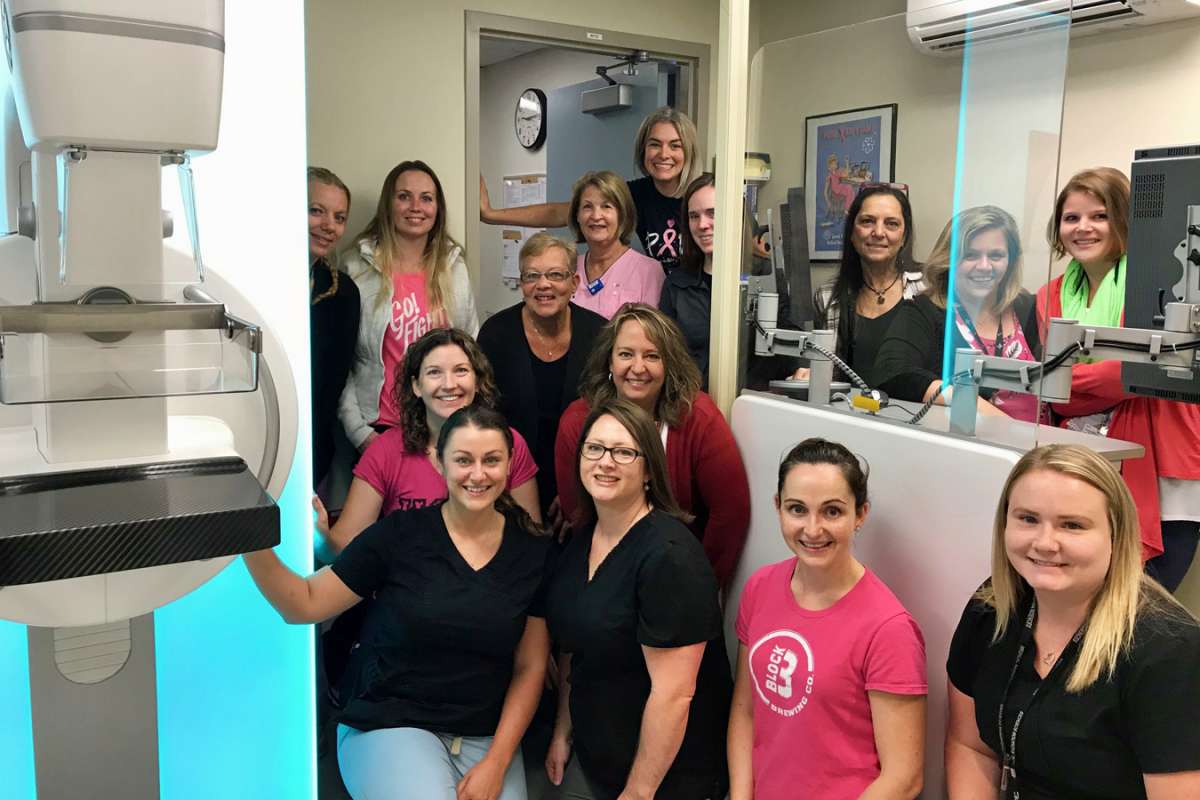 Long-time Waterloo Region resident Beth Wilson is marking Breast Cancer Awareness Month by recounting how GRH's Waterloo Wellington Breast Centre played an important role in her life in 2009.
"Screening mammography at the breast centre helped in the early detection of my breast cancer," she explained. "I was able to have a biopsy, surgery and treatment right here in my home town."
Beth and Grand River Hospital are also celebrating the 10th anniversary of the Waterloo Wellington Breast Centre. The centre has evolved over the past decade and added advanced technology to support the best care for women.
"The breast centre is a very special part of GRH's Freeport Campus," said Jane Martin, vice president of cancer services for Grand River Hospital. "We have exceptional staff using the latest in technology to provide women with routine breast screening, as well as a range of diagnostic services to help provide answers faster for breast lesions."
The breast centre has evolved from a pair of full field digital mammography machines and one dedicated ultrasound unit in 2007. The centre is now equipped with three full field digital mammography machines and two dedicated ultrasound units. 
The centre is also a component of a diagnostic assessment program established in 2007. During a same day visit at the breast centre, women can have imaging completed, see a surgeon and nurse navigator, and, if required, undergo a breast biopsy.
 Activity in the breast centre has increased as follows:
| | 2007-2008 | 2016-2017 |
| --- | --- | --- |
| Mammography | 11,000 | 15,000 (12,000 screening including the Ontario Breast Screening Program, 3,000 for diagnostic testing) |
| Breast ultrasound studies | 3,000 | 8,000 |
| Assessment clinic visits | | 600 (with 200 cancers diagnosed) |
"Having the assessment program is one of the best ways we can support the physical health and wellbeing of our patients," said Dr. Samantha Fienberg, the breast screening lead for Waterloo Wellington and one of the five radiologists whose practice involves the breast centre. "When you have a suspicious lesion, you want to know as much as possible as fast as possible. The diagnostic breast assessment program at the breast centre helps make that a reality for patients, along with work that takes place with care professionals at GRH's KW Campus and cancer centre."

The breast centre has benefited from on-going contributions from donors to Grand River Hospital Foundation. Financial gifts have helped the breast centre remain at the forefront of technology and to provide timely care as patient demand has grown.
"The community knows just how important the Waterloo Wellington Breast Centre is to the health and wellbeing of women who live here. Since its inception ten years ago donors have contributed more than $637,000 to ensure it is equipped with the newest technology and is able to provide the best level of service and comfort for patients," said Tracey Bailey, president and CEO of Grand River Hospital Foundation (opens in a new window).
GRH encourages women to undergo regular screening mammograms to aid in the early detection of breast cancer.
To book an appointment, please call 519-749-4270. Or visit the breast centre's page for more information