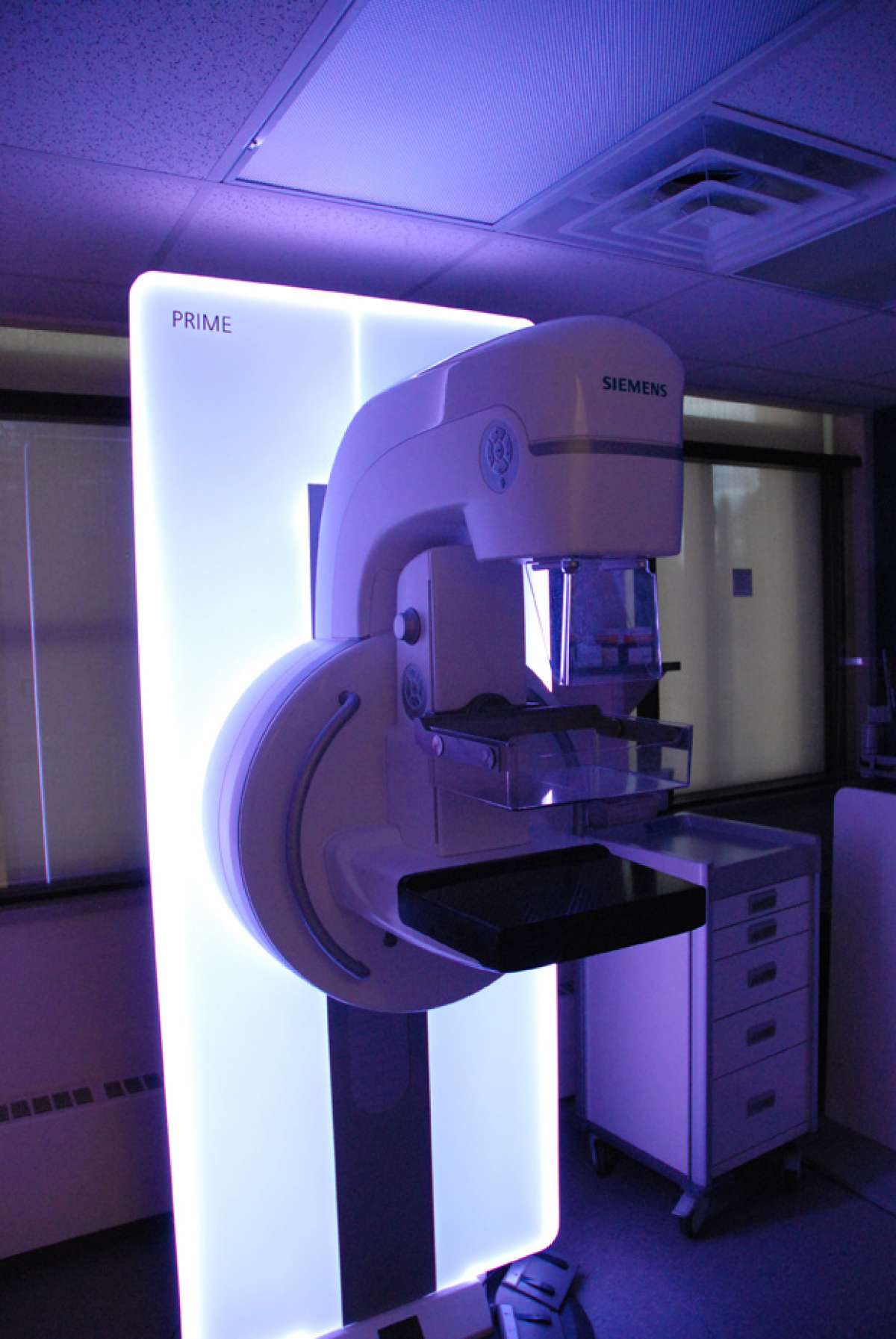 We offer mammography services at the Waterloo Wellington Breast Centre (WWBC), which is located at our Freeport Campus at 3570 King Street East in Kitchener.
Mammography is a low dose x-ray of the breast tissue. This test can be safely done on patients at any age where there is a clinical breast concern or a strong family history of cancer. However, a physician may order this test on women in their mid- 40s as a baseline exam, then more frequently at 50 years of age as a routine screening. If there is a possibility you may be pregnant, please consult with your doctor before having a mammogram.

Our state-of-the-art full field digital mammography equipment produces the highest quality images. Our specialized technologists are dedicated to obtaining a high quality exam, while making you as comfortable as possible.
In order to prepare for your exam, we ask you to:
not use deodorant, body powder, or put lotion on the breast and underarm area on the day of your test;
wear a two-piece outfit for your comfort; and
go to the breast centre for your appointment, located at hospital's Freeport Campus at 3570 King Street East in Kitchener.
For more information, please call us at 519-749-4270.

Mammography examinations offered at the breast centre:

Routine screening mammogram
This is a doctor-ordered exam. In order to do a mammogram, you will need to undress from the waist up. You will place your breast onto the mammography unit and a compression paddle will then come in contact with the breast, gently spreading the breast tissue out. This pressure lasts for a few seconds while the x-ray is taken and then releases automatically. Although this pressure can be uncomfortable, it does not harm the breast and helps to produce a much better picture for the radiologist. Usually four pictures (two of each breast) are taken. Please allow 15 minutes for the exam.
Ontario Breast Screening Program (OBSP)
We are an OBSP site where patients 50 years of age and older can be referred by their family physician or self-refer at no cost. In Ontario, it is recommended women aged 50 to 74 have a screening mammogram, generally every two years.
This examination includes a basic mammogram (four pictures), as described above, performed on our full field digital mammography equipment. Please allow 15 minutes for an OBSP appointment.
To book an appointment, please call 519-749-4270.

If you would like more information, please visit the Cancer Care Ontario breast screening page (opens in new window).

Diagnostic mammogram
This includes aspects of screening mammography, with extra views of any areas of concern and potentially an ultrasound as well. Please allow about one hour for your care.
Breast needle localization
This procedure is done before surgery, usually the same day, to localize/pinpoint a breast lesion (a diseased or injured area of a tissue) seen on a previous mammogram or ultrasound. To prepare for this procedure, please follow the instructions your surgeon gave you (e.g. do not to eat or drink a certain number of hours before your surgery).
Using mammography or ultrasound guidance, we will place a needle and small wire assembly into your breast. Once we are sure that the area of concern is localized, the needle is removed and the wire remains in place for your breast surgery.
After this procedure is complete you will proceed to the day surgery department at our KW Campus at 835 King Street West in Kitchener.
Breast biopsy under imaging guidance
If a previous mammogram or ultrasound shows a questionable breast lesion, the doctor may feel that a biopsy is required.
This exam is performed at the breast centre at the Freeport Campus at 3570 King Street East in Kitchener. You may eat regularly the day of the appointment and should plan to be in the breast centre for one hour. You will be able to return home after the procedure.
We use a state-of-the-art digital biopsy device, or breast ultrasound unit, to locate the area of concern. Once located, local freezing is used and a fine needle is inserted to remove samples of tissue which are then sent to the pathology lab for testing. The patient may require a non-aspirin type of pain reliever (such as Tylenol) and icing to the biopsy site to reduce discomfort and bruising.
The breast DAP is an innovative program designed to shorten wait times for women in our region with suspected breast cancer. Patients must be referred by their family physician because of abnormal breast imaging results or other clinical breast concern.
For more information, please visit our breast diagnostic assessment program page.