Posted: August 28, 2018
By Jessica Roth, Grand River Hospital Foundation
First published in the Waterloo Region Record, Tuesday August 21st 2018
Cambridge resident, Christena Hudson, never imagined her baby would be rushed into life-saving surgery shortly after birth. But that's exactly what happened to her son, Alex. He was born with a severe intestinal blockage, and he could have died if it had ruptured.
The surgery was a success and the blockage was removed but shortly after, Christena and her partner, Greg, received news that would change their lives forever. Alex was diagnosed with cystic fibrosis, a fatal genetic disease affecting his respiratory and digestive systems. He would need care for the rest of his life.
For five weeks, Christena stayed in Hamilton, away from Greg and her oldest son, Nickolaus, so she could be near her newborn baby.
When he was ready, Alex was transferred to Grand River Hospital's neonatal intensive care unit (NICU) where he would complete his recovery. After discharge, he was referred to Grand River Hospital's cystic fibrosis clinic as an outpatient. Knowing they would be able to go home and get the care Alex needed in his community meant so much to Christena and her family.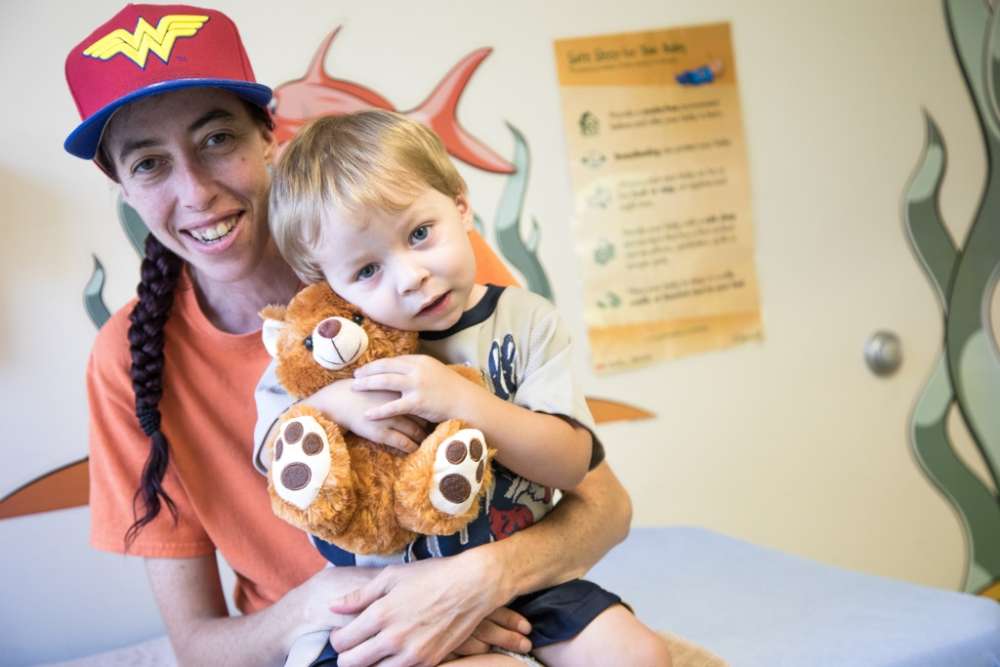 Appointments at a hospital can be scary for children. Being so little, Alex didn't understand what was happening.  But when Arlene, the nurse coordinator for the clinic, gave Alex a Care Buddies teddy bear the biggest smile spread across his face. His fear and anxiety disappeared. 
Thanks to the Waterloo Region Record's Care Buddies program, young patients, like Alex, can feel comfortable during their hospital visits. Christena would be among the first to tell you that a teddy bear made a world of difference to both her and her son. 
"He loves coming to Grand River Hospital because he knows the staff have a cuddly friend or surprise waiting for him. It helps keep him calm," said Christena. "Knowing he's comfortable and happy helps me worry and stress less about everything that is going on."
When young patients and their families visit Grand River Hospital they can expect a warm, positive and supportive environment. The compassionate and knowledgeable volunteers, medical and nursing staff will quickly become like family for patients who make regular visits. 
Today, Alex is almost two years old and is one of about 25 children who visit Grand River Hospital's cystic fibrosis clinic for monthly appointments. The clinic has been serving the Waterloo Wellington area for more than 30 years and is one of several specialized outpatient services that Grand River Hospital offers for children in our community.
During each appointment, patients and families meet one on one with each member of the health care team, which consists of a physician, nurse, dietitian, social worker, respiratory therapist, pharmacist and physiotherapist, to discuss medication, diet, exercises and general health concerns. By meeting with each expert, parents are reassured that their child is living a full and healthy life with cystic fibrosis.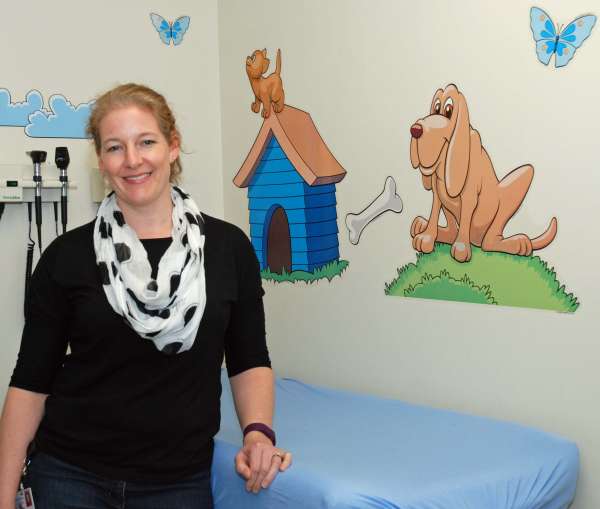 Lynn Rogers, a clinical dietitian, is part of the health care team for cystic fibrosis clinic patients. Since children with cystic fibrosis are at risk of being underweight, Lynn guides families through nutritional information so they can ensure their child maintains healthy growth and get the nutrients they need throughout their life. 
"Parents feel incredibly reassured knowing we are here to help them at every step," said Lynn.

Christena recalls the first time they met with the health care team. They went over every detail of the treatment plan and what the family could expect.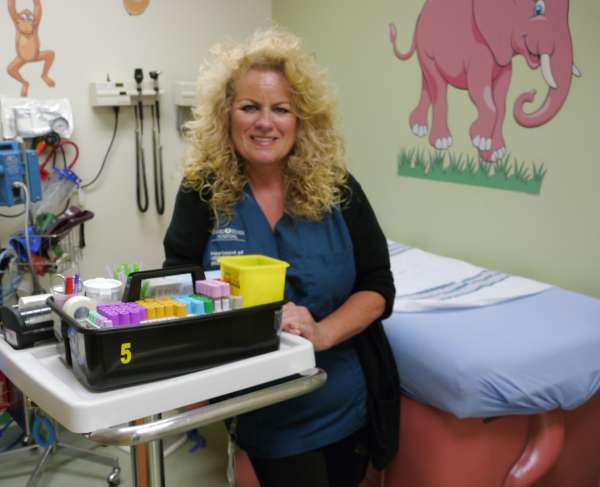 Deb Dipede, a medical laboratory assistant at Grand River Hospital, sees many children as she collects samples from patients throughout the hospital. "Often children come to the hospital afraid because they don't feel in control of their situation," said Deb. She has handed out teddy bears and knows firsthand that they help decrease the fear in her patient.
The teddy bear is an essential part of the team. It provides solace to the patient but also plays an important role for providers.
Deb uses the teddy bear to show her young patients what they can expect, when they have blood drawn. "The teddy bear helps me change the atmosphere in the room and involve the child in their care. This gives them control and a sense of responsibility. That's so valuable and important to them because they know that everything will be all right," said Deb.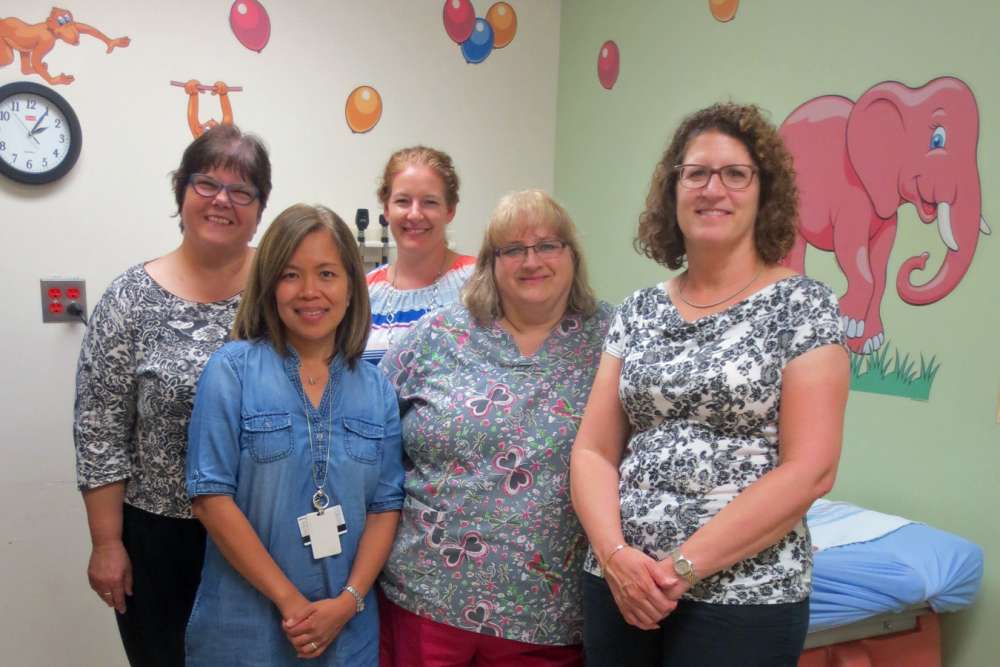 This is the excellent and compassionate care that children and their families can expect when they visit Grand River Hospital, the largest provider of hospital–based care for children in the Waterloo Wellington area. With more than 20,000 children treated at Grand River Hospital every year, teddy bears are always in high demand. In addition to the cystic fibrosis clinic and assisting with blood work, teddies find their way into little arms visiting the NICU, medical imaging, surgery, emergency and children's mental health program areas.  
Along with the comfort of a teddy bear, young patients also have access to music therapy and a play area that includes toys, books, crafts and interactive technology, as well as complimentary movies and television shows. Activities like these, along with the fun and welcoming décor, allow kids to be themselves.
Alex is an energetic, smiling, tough little boy and Christena recognizes that the Care Buddies program has been beneficial to their experience. "Teddy bears have helped my little guy feel happy during his hospital visits. And I believe that when you feel better you get better," said Christena.
If Christena could personally thank those who donate teddy bears she says she would give them a big hug. "It may seem like a small gesture, but it truly makes a difference to us."
From the staff, physicians and volunteers at Grand River Hospital, thank you to those who generously donate to the Care Buddies program and to the children's program at Grand River Hospital.
If you're interested in making a donation and learning more about Grand River Hospital Foundation visit www.grhf.org (opens in a new tab) or call 519-749-4205.