Posted: July 16, 2018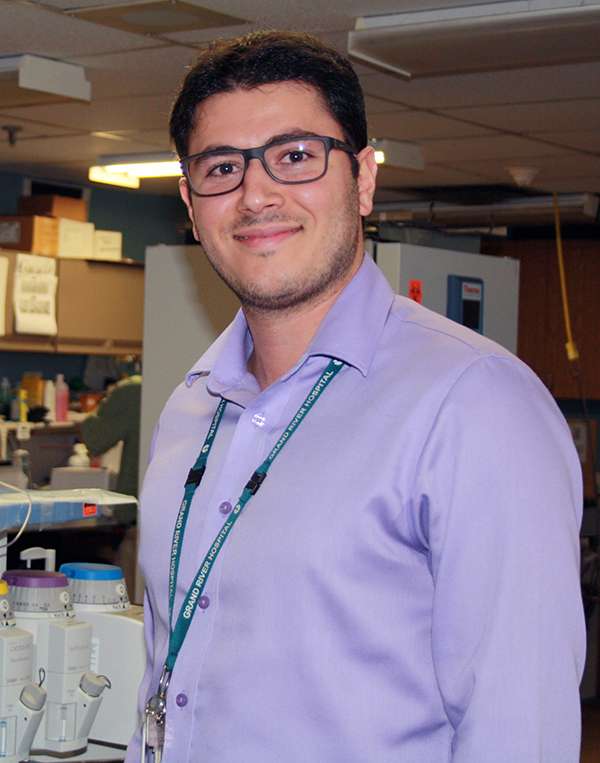 A $1.65 million grant was announced today by the Natural Sciences and Engineering Research Council (NSERC) as part of the Collaborative Research and Training Experience Program (CREATE) to help fund a new program in global biomedical technology research and innovation at the University of Waterloo which will work in partnership with GRH to bring biomedical engineering students to our biomedical program to get hands-on industry experience to aid in developing new biomedical solutions. The program, will begin in fall 2018, is the only one of its kind in Canada.
Led by Dr. Catherine Burns, executive director of the Centre for Bioengineering and Biotechnology and professor of systems design engineering at the University, the goal of this new research program is to provide opportunities for students to understand problems in a real-world health care setting before developing solutions. The role of hospital partners like GRH, where students will work alongside clinicians, is a crucial part for the success of the students' research.
"We have a tremendous partnership with the University of Waterloo and we have worked closely with Dr. Catherine Burns and the Centre for Bioengineering and Biotechnology on a number of projects in recent years," says Dr. Tina Mah, vice president of research and innovation at GRH. "We are thrilled to continue this relationship through this new research training program and to open the doors of our hospital and provide opportunities for clinicians to work alongside these students to develop innovative solutions to make care better at the hospital and to help students gain relevant experience that will shape the future of biomedical engineering in health care."
As part of the program, students will invest time with clinicians, patients, and/or family caregivers in settings relevant to their area of research which will inform the inquiry and development stages of their work. This approach will provide hands-on validation of the viability and commercial potential of solutions developed through the research. The result will be the development of solutions that will bring immediate value not only to the students, but to care provided at Grand River Hospital.
Navid Zohouri, a biomedical engineer himself, is the manager of the biomedical program at GRH and will be working with students as part of this new program. While details of what this work at GRH may look like are still being confirmed, Navid is excited about the opportunity to welcome these students to work on some of the top biomedical technology issues in the hospital today.
"I am very thrilled about this program and the evolution of our partnership with the University of Waterloo," says Zohouri. "This program has great potential to further advance technical solutions that will directly or indirectly impact the delivery of care to our patients, while also providing a unique opportunity to support biomedical engineering students to thrive in a clinical setting."