Posted: August 17, 2018
In June 2018, Cancer Care Ontario became aware of a hospital issue relating to the administration of three systemic treatment (chemotherapy) drugs (Pembrolizumab, Nivolumab and Panitumumab) where more than the expected amounts of the drug remained in the IV tubing, resulting in variation in intended dose delivery to some patients.
On Tuesday, June 26, Cancer Care Ontario sent a Safety Bulletin (opens in new window) to all Ontario hospitals that deliver systemic treatment asking them to review hospital policies and procedures for all low volume, high concentration medications, to ensure that the intended dose is reaching the patient.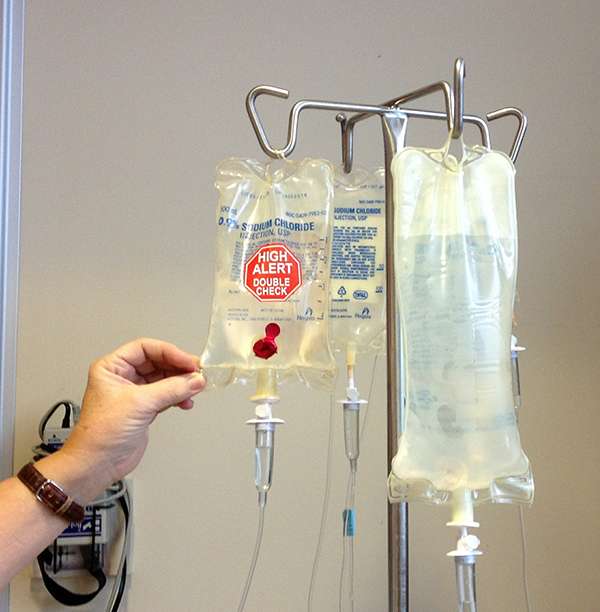 All sites delivering systemic treatment in Waterloo Wellington immediately conducted a full review of processes and equipment used to deliver this medication. These sites include Cambridge Memorial Hospital, Grand River Regional Cancer Centre (Grand River Hospital), Groves Memorial Community Hospital (Fergus), Guelph General Hospital and Louise Marshall Hospital (Mount Forest).
As a result of this review, new IV tubing was implemented and changes in IV flushing procedures took effect on June 25th. 86 patients may have been affected in Waterloo Wellington. Patients have already been notified and will be advised of any change to their treatment plan.
We recognize this can be concerning for patients and their families. Patients who are unsure whether their treatment may have been affected or who have any questions or concerns are encouraged to call our patient information line to leave a voice mail message with your name and contact number. A member of your health care team will return your call within 24 hours. The patient information phone number is 519-749-2023.
Cancer Care Ontario has initiated a plan to work with its hospital partners to do a thorough analysis to understand the factors that may have contributed to this issue.
For more information about system treatment and the medications in questions, please visit the Cancer Care Ontario website:  www.cancercareontario.ca/en/systemic-treatment-administration (opens in new window).