Posted: January 17, 2018
On-going research and clinical trials are important in advancing care at Grand River Hospital, particularly in the cancer program.
So it's fitting that the six member team responsible for coordinating clinical trials in GRH's cancer centre has won the hospital's award of excellence for their compassion and support of patients.
The team members coordinate and support 20 clinical trials underway at any given point. These trials focus on new medications for cancer treatment, or different ways of providing radiation therapy.
Team members work with study participants throughout their journey in a clinical trial. The trials team members meet with participants, collect data and support researchers along the way. The hospital partners with academic organizations and pharmaceutical companies in conducting clinical trials.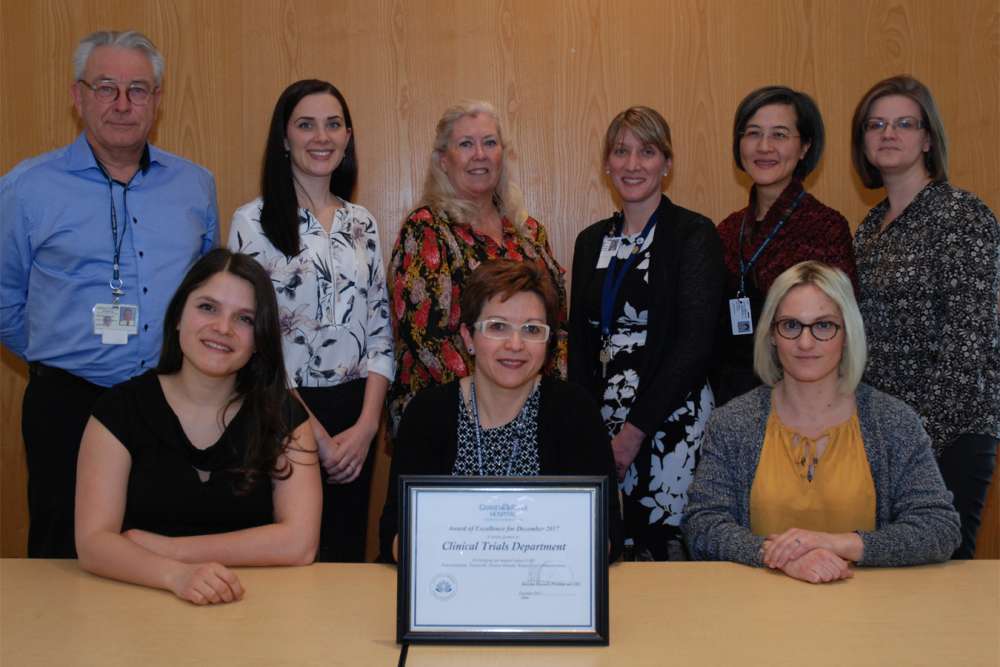 Their nominator recognized for team members for meeting the hospital's values in the following ways:
Compassion: the clinical trials team demonstrates kindness and patience when visiting patients or trials participants, carefully listening to all concerns, complaints and symptoms.
Collaboration: this department fits in beautifully with our values of patient/person-centered care. Their team members work closely with care teams in the cancer program.
Positive attitude: team members are very active in capturing patient information.  They are always cheerful and willing to help.
Professionalism: team members hear and see some challenging information but they always handle it with professionalism and respect.
Respect: this team respects patients, staff and family members. They respect the time needed for patient care and often step aside and wait to do their work if the patient needs care.
Congratulations to members of our oncology clinical trials team, and thank you for supporting patients and researchers in advancing exceptional cancer care in our region.