Posted: December 19, 2019
It's a quiet and sunny November afternoon when Winnie arrives with her mom at the hospital. But Winnie isn't here for care. She's not a patient, or even a staff member. She is a very special, and our very first four-legged friend to be invited to visit with pediatric patients at Grand River Hospital (GRH). Winnie is a golden retriever who has been brought to the hospital by her mom, a pet therapy volunteer. 
"This is the first time pet therapy has been offered to patients in our children's program, so it is an important milestone for us," explains Tiffany Malzer, risk management and patient safety consultant at GRH. "Research has shown that pet therapy helps to create a sense of well-being and comfort for children in a hospital environment."
Today, Winnie waits for her guests in a meeting room on the first floor with mom and owner, Arisa Alexanian. As patients and their parents arrive, a wave of happy, if cautious smiles begin to appear as Winnie greets them at the door with a wagging tail.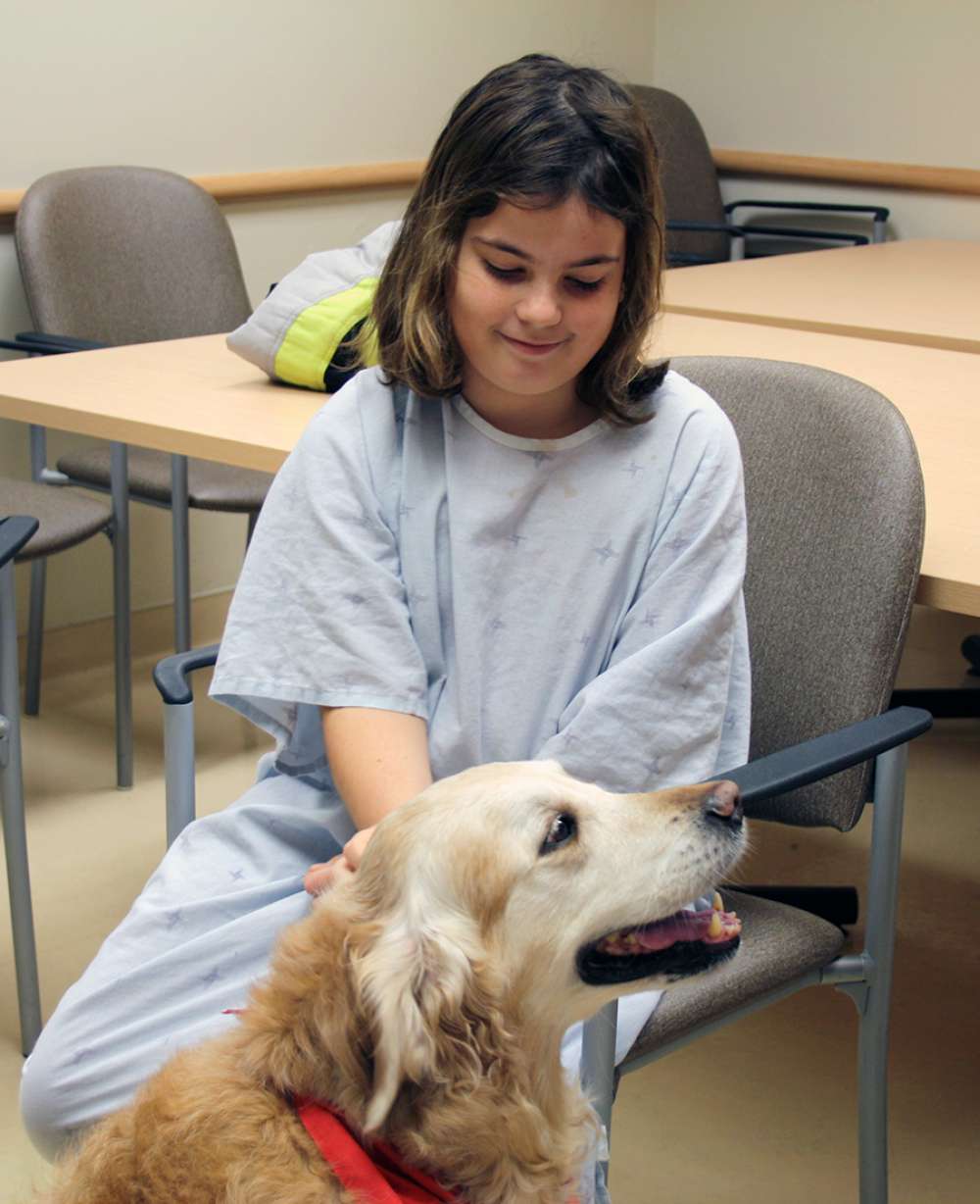 Eight year-old Gwen Seale will be going home today after a short stay in hospital. In her hospital gown and Batman socks, she sits quietly as she pets Winnie's head then beams as Winnie rolls over for a belly rub. She is happy to see Winnie today because "I can't see my own dog when I'm in the hospital."
Pet therapy is a technique that incorporates dogs or other animals in the care environment to help people, including children, better cope with health problems, such as heart disease, cancer and mental illness. At Grand River Hospital, the new pet therapy program will help to benefit patients in the children's and mental health programs. GRH child life specialist, Brittaney Arbuthnott, has been instrumental in bringing pet therapy to our children's program.
"Being in hospital can be hard for anyone, but especially for children," says Brittaney. "Pet therapy can have such an important impact on both children and their parents and we are so excited to finally be offering this to our patients."
Not just any dog can come to the hospital as part of the pet therapy program. Candidates and their owners must undergo specific training and follow rigorous processes to keep our patients safe and healthy.
"Our pet therapy visits carefully uphold infection control processes and require work to plan," says Tiffany. "Animals must arrive and leave through a designated entrance, visiting rooms are cleaned before and after pet therapy, and all animals are certified through St. John Ambulance Therapy Dog Program."
For more information, please contact comms.team@grhosp.on.ca