Posted: February 20, 2019
See the new orthovoltage unit
Slidshow Gallery: Press the tab key to access slideshow navigation, then use the arrow keys to navigate between slides, and use the tab key to access the current slide content.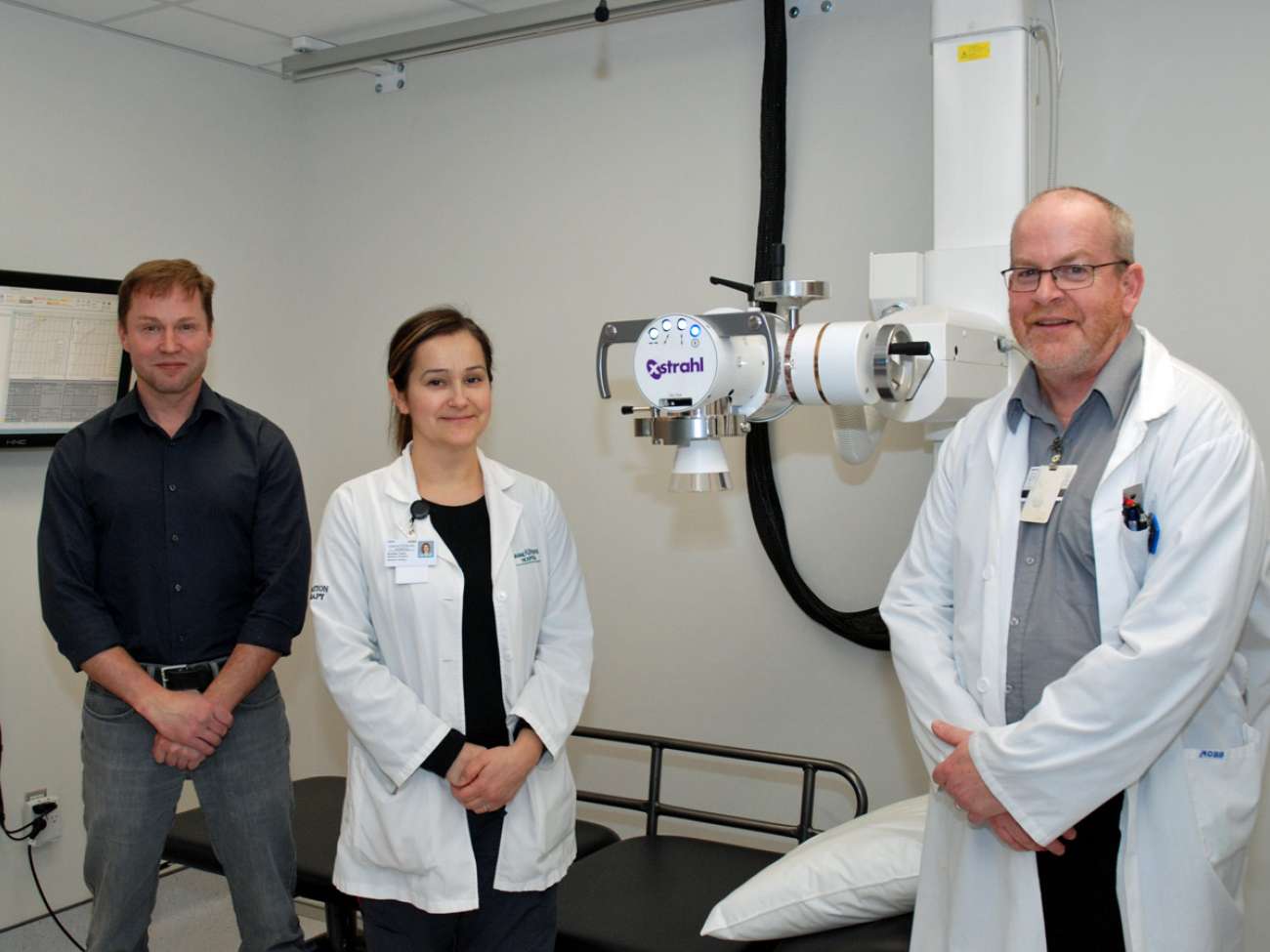 Medical physicist Andre Fleck as well as radiation therapists Andrea Tonin and Bruce Fleming pause inside of the new orthovoltage suite at GRH's regional cancer centre.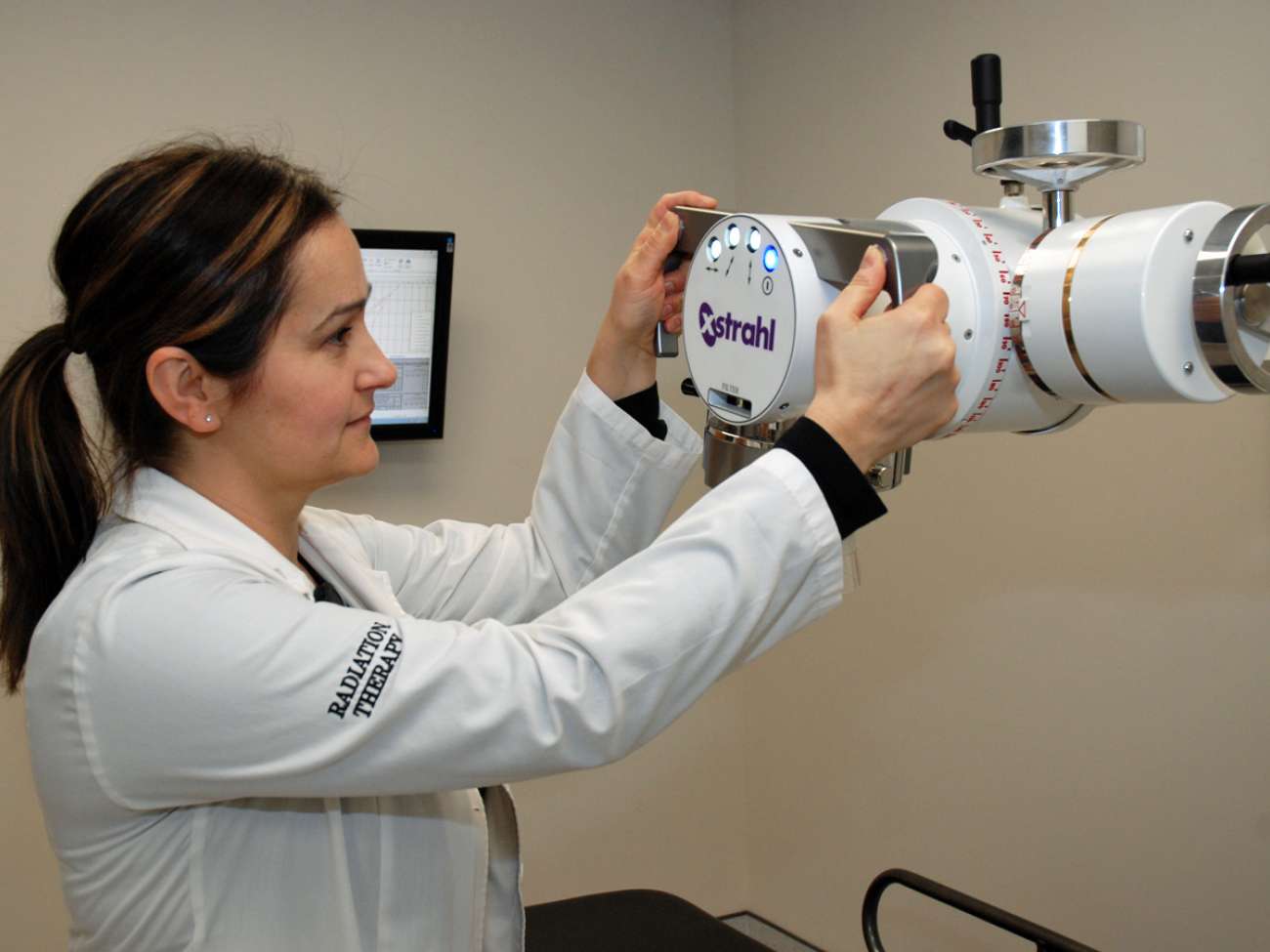 Radiation therapist Andrea Tonin positions the new orthovoltage unit to provide care for a patient.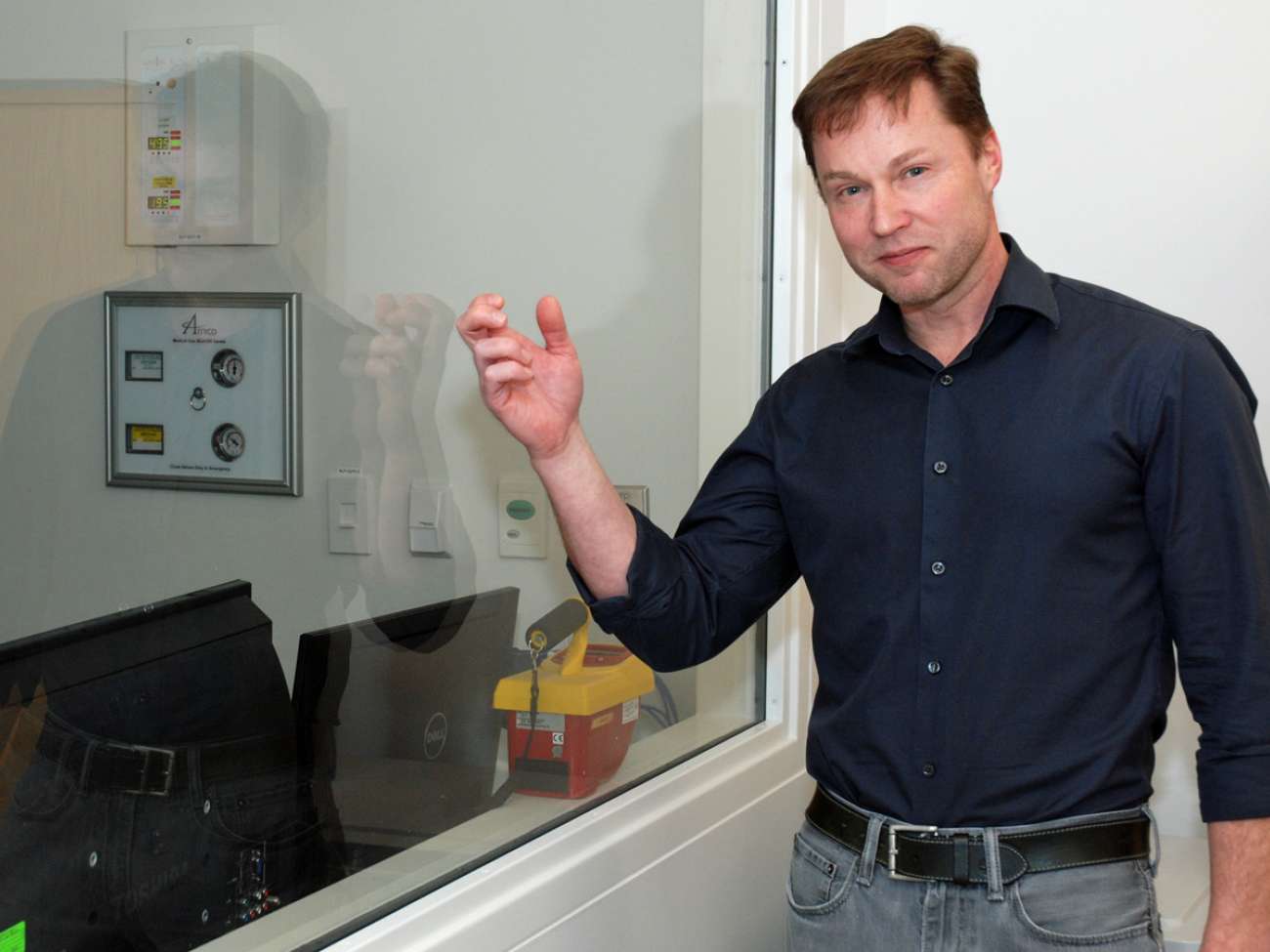 No ordinary glass: Medical physicist Andre Fleck shows the lead-infused glass separating the control and treatment rooms in the orthovoltage suite. Lead in glass, walls and doors keeps the risk of radiation exposure negligible.
Patients needing treatment for skin cancer are benefiting from vastly-upgraded equipment providing a non-surgical form of care at the Grand River Regional Cancer Centre.
The centre is home to a new orthovoltage unit. Orthovoltage machines use low energy x-rays to treat superficial cancers, which are skin lesions anywhere on the body. It's intended as a non-surgical alternative to treating forms of skin cancer.
A radiation oncologist (a doctor specializing in radiation therapy) will determine whether orthovoltage treatments may be appropriate for patients with skin cancer. When the oncologist has ordered orthovoltage treatment, they, along with the radiation therapists, will plan the patient's treatment.
Patients typically undergo multiple treatments or "fractions" with the orthovoltage unit. The patient lies on a comfortable exam table, with the x-ray emitter carefully positioned for their treatment so that radiation reaches the exact area where it's needed. Treatments usually take a matter of minutes.
"There are minimal side effects, such as redness and itchiness," said Andrea Tonin, a radiation therapist who provides care for patients in the orthovoltage suite. "We can treat sensitive areas like the fold of the nose, eyelids, ears. It preserves a person's appearance, which is important for patients."
Installing the new orthovoltage unit was not simply a matter of plugging the new equipment into the wall. Substantial renovations took place to accommodate the equipment and a control room for radiation therapists. Walls, doors and windows contain lead to ensure the risk of radiation exposure to staff and the public is negligible.
The $420,000 unit replaces an older superficial unit which had been active for nearly a decade at the cancer centre. Funding from Cancer Care Ontario helped to provide the machine. Capital funding from GRH paid for required renovations.