Posted: December 3, 2019
"A true example of a nurse who goes beyond her duties."
Congratulations to complex continuing care nurse, Vicky McGuire, for winning GRH's Award of Excellence by living our GRH values of compassion, collaboration, positive attitude, professionalism, respect, and innovation. 

With a smile on her face, Vicky inspires her co-workers to get through challenging situations together and she "makes any situation better with her lightheartedness and humour."
Her nominator highlights Vicky's compassion and says she "cares for challenging patients by taking her time with them, making them feel at home, offering them a shower and taking the time to have meaningful conversations. Vicky is a true example of someone who goes beyond her nursing duties to care for patients."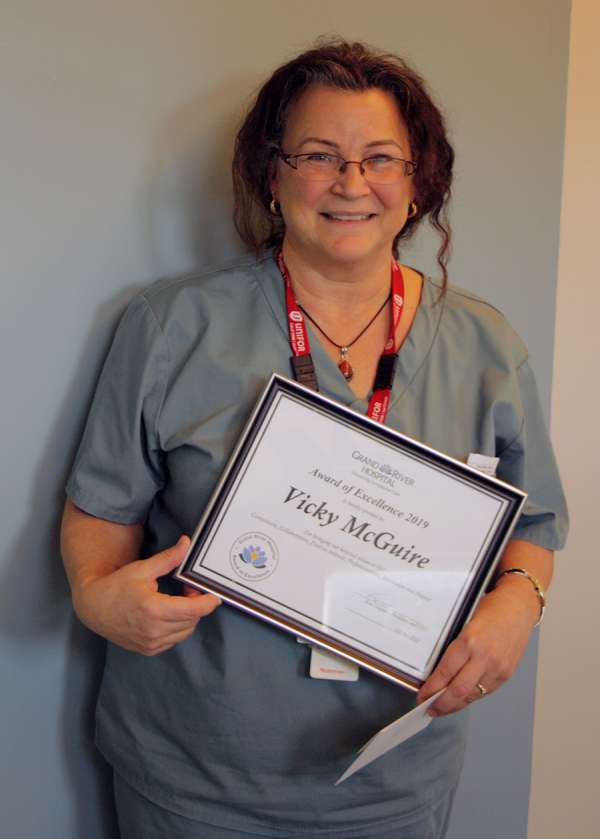 One co-worker recalls seeing Vicky go above and beyond her duties to help a patient she wasn't currently providing care to. 
"I walked into the room and remember thinking how wonderful the patient looked: hair and eyebrows were trimmed, he smelled of fresh soap and shampoo and he had a smile on his face as he listed to the radio. In that moment I remember thinking about the great lengths she had gone to for him. I realized also that I wanted to be like this nurse. I remember this moment like it was yesterday.  As a new nurse it has left a huge impression on me."