Posted: November 23, 2020
It's been 20 years since Grand River Hospital's Assertive Community Treatment Team (ACTT) began offering client-centred, recovery-oriented mental health support to our community. As ACTT celebrates this milestone anniversary of service to the community, we're highlighting the important work this team is doing across our region and sharing a little bit about how their work has changed during the COVID-19 pandemic.
Formed in 1999, GRH's ACT team is one of two ACTTs in Waterloo Region. The program provides intensive case management with a focus on support, rehabilitation and treatment to individuals with severe and persistent mental health or concurrent issues. ACTT helps people achieve their goals, improve their health and quality of life, and live as independently as possible. The interdisciplinary team of 12 staff – including a psychiatrist, registered nurses, social workers, occupational therapists, addictions counsellors, vocational instructor and peer support worker – has been based out of small office near Cambridge Memorial Hospital, but the team spends up to 70% of their day out in the community with their clients. Last week the team made an exciting move to GRH's Freeport Campus, where their office is now located.
The program works by referral, most often from Here 24/7. Demand is high, so individuals can wait up to 2 years to enter the program. When accepting a new client, ACTT considers a client's needs and which care provider they may work best with. For example, if a client has an addiction, they may work most frequently with an addictions counsellor. But everyone on the team – from a nurse to an occupational therapist – works with each client is some way, offering a truly holistic care experience.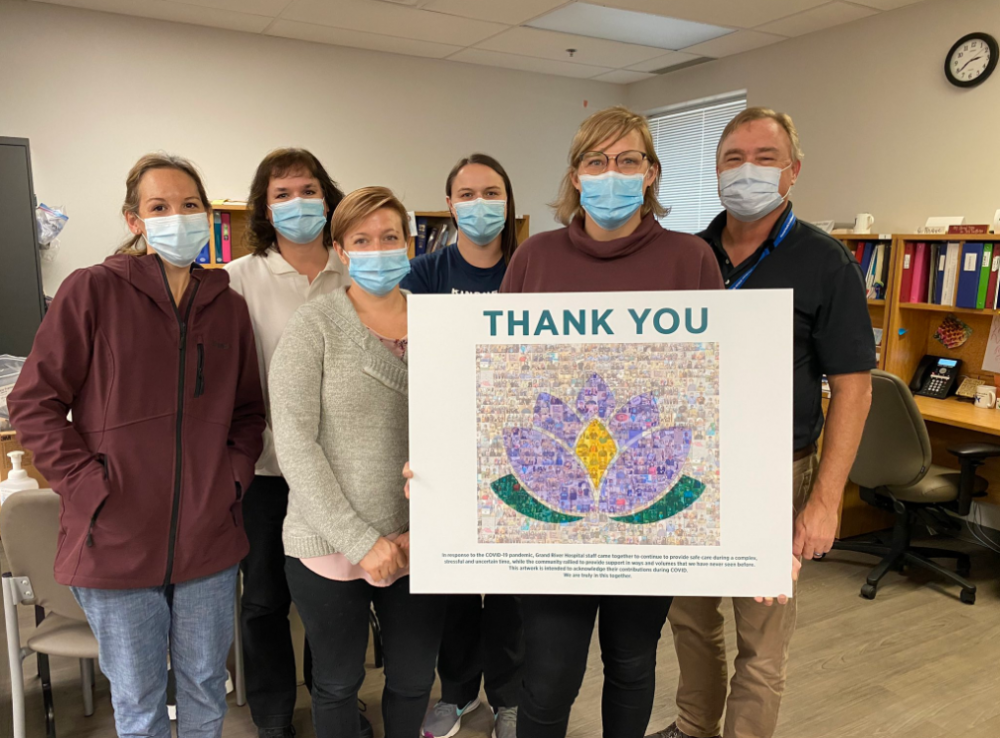 Janet Edwards is the team lead for GRH's ACT team. She says staff can see clients from once a week up to 3 times a day depending on their needs, ranging from medication administration, helping clients access community services, and assist individuals in daily living activities like grocery shopping.
"Since our clients are long-term, you really get to know them and see their progress," says Janet.
"You get to know clients and their families," Samantha, a social worker on the ACT team. "You work with clients through many milestones – theirs and your own. It's rewarding to see people achieve new goals and get better over time and see positive changes in people."
Since COVID, the small team of 12 has split into two teams, rotating time in the office and working from home. It's been an adjustment for a team that is used to work so closely together, but they're making it work, and clients have been understanding.
With physical distancing restrictions due to COVID-19, the ways the team works with their clients has shifted but everyone is adapting. "The most difficult part has been losing those 'little moments'," says Janet. "The time you would spend together in the car on the way to the grocery store, or enjoying a conversation over coffee."
For now, "We're doing virtual interviews with clients to stay connected when we can't be there in person," says Janet. "It's been different, but the resilience of our clients is amazing."