Posted: July 3, 2020
Grand River Hospital (GRH), in partnership with 50 other academic and community hospitals across Canada and New York, is participating in a study on the effects of convalescent plasma as a treatment method for COVID-19. The study is being led by Principal Investigator Dr. Donald Arnold of McMaster University Medical Centre. Dr. Colin Yee, a benign hematologist, will be the local responsible investigator of the study for GRH and St. Mary's General Hospital.
While there is currently no cure for COVID-19, an acute respiratory illness caused by the novel SAR-CoV-2 virus, the use of convalescent plasma has seen prior success when used as therapy for previous viral infections, including SARS. Convalescent plasma is collected from someone who has recovered from a virus. When a person is infected with a virus, their body starts making antibodies to fight it. It is believed these antibodies could be the key ingredient for a treatment to help others with the same virus.
To determine the success of COVID-19 Convalescent Plasma (CCP), the CONvalescent Plasma for COVID-19 Research Trial (CONCOR-1) has been approved by Health Canada and will be initiated as an open-label, randomized trial.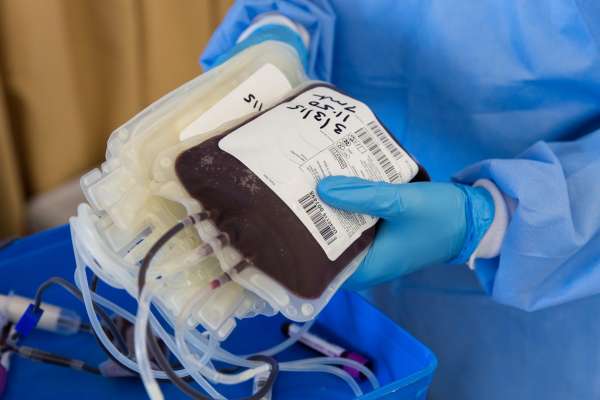 What is the CONCOR-1 study?
The CONCOR-1 study will compare patient outcomes of those that receive standard of care for the treatment of COVID-19 illness and those that receive CCP, the intervention. To provide the intervention, Canadian Blood Services will collect and store CCP from patients who have recovered from COVID-19. The collected plasma will be tested to determine whether it contains antibodies that may be useful to help currently infected patients fight the virus. To donate plasma, donors must meet all Canadian Blood Services donation criteria as well as have recovered from COVID-19 illness, provide informed consent, donate within 12-weeks since recovery and be male donors or female donors with no history of pregnancy or with negative anti-HLA antibodies.
How do you participate?
In order to participate in the study, participants must be admitted to the hospital and receive supplemental oxygen with a confirmed case of COVID-19 illness. They must provide informed consent, be over the age of 16-years, and there must be ABO-compatible CCP unit availability. All participants will be randomized and one-third of patients will receive standard of care while the remaining two-thirds of patients will receive the intervention, COVID-19 Convalescent Plasma.
Within 24-hours of randomization for the two-thirds of patients to receive the intervention, a participating Canadian Blood Services processing facility will issue and thaw CCP to be infused at the bedside by a nurse during this time period. After receiving their one-time treatment in hospital, GRH will follow up with each patient via telephone 30 and 90 days and 1-year after their participation in the study. The overall study has an estimated timeline of 18-months.
When will we know if this helps treat COVID?
The first collection of CCP and donor enrollment began in April 2020. The trial midpoint is estimated to occur in September 2020 with the hopes of having approximately 600 patients enrolled across all participating sites. Enrollment is estimated to be completed at 1200 patients in January 2021 with results of the clinical trial made available a month later after approval by the Steering Committee, led by Dr. Arnold, and the Independent Data and Safety Monitoring Board.
The study team hopes that donations from recovered patients provide quick and convenient access to this potential treatment and that COVID-19 Convalescent Plasma will prove a safe, suitable therapy for COVID-19 illness. The CONCOR-1 open-label, randomized trial will examine the outcomes of illness and whether the risks of intubation, intensive care unit admission and length of hospital stay are reduced when treated with CCP, with the goal of improving the outcomes of patients who suffer from COVID-19 illness.
"Grand River Hospital and St. Mary's General Hospital are proud to participate in this study to determine the efficacy of COVID-19 Convalescent Plasma in the treatment of patients infected with COVID-19," says Dr. Yee. "This study has the potential to positively impact patients infected with COVID-19 in our own community and beyond. It is hoped the study results will contribute to research on both the local and global levels into possible treatment plans for COVID-19."