Posted: February 10, 2020
It's just after 8:30am and a group of first year McMaster University medical students are huddled in the hallway just outside Grand River Hospital's operating rooms. Ready in fresh hospital scrubs, they are waiting to hear which surgery they will observe this morning. A feeling of excitement is in the air. 
"I'm getting to observe a patient's knee surgery!" one of them happily boasts.
"What a cool learning opportunity," says another.
These students have just spent the last 45 minutes with Grand River Hospital operating room (OR) staff, learning how to 'scrub in' – the process of scrubbing, gowning, and gloving – for a surgery. For these first year students, the chance to observe a surgery is rare, and important to support their learning. But this early in medical school, they haven't yet been taught how to scrub in, which could pose a risk of contamination to the sterile set-up of the operating room.
Before this training was available, OR nurses did not always have the time to teach medical students how to properly scrub in on the days that they would arrive. This sometimes meant that some students would miss out on these opportunities to observe and learn.
Wanting to give the students the best learning experience possible, Ashley Sayers, the education practice lead for GRH's operating room, along with operating room nurses and attendants, saw an opportunity to create a training session, bringing our OR staff together to teach these future doctors this very important skill. So, in the early hours on Thursday mornings, our OR staff have dedicated their time to leading sessions that show students the proper way to scrub into a surgery.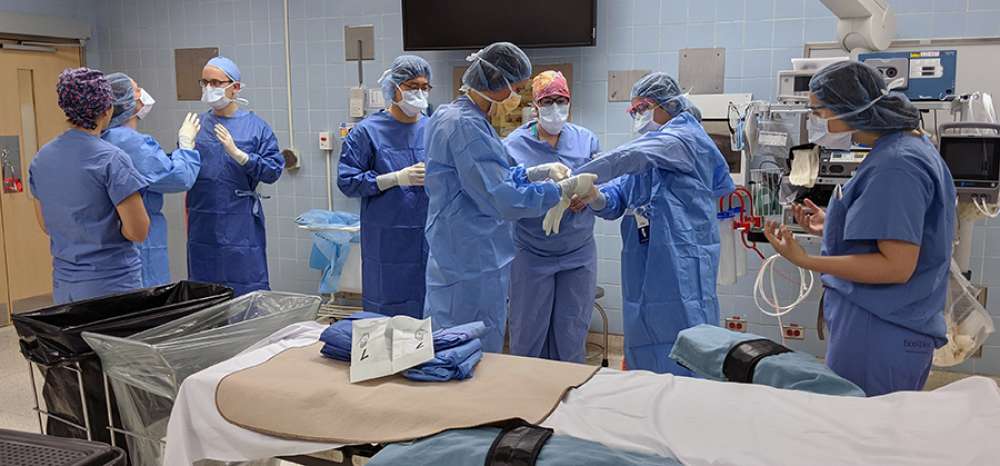 Ethan Weiss is a first year medical student at the Waterloo Regional Campus of McMaster's Michael G. DeGroote School of Medicine and was one of the students who has participated.
"Being guided through the correct way to scrub in relieves a lot of stress, especially down the road when we will be doing rotations at Grand River Hospital and other hospitals in Canada," says Ethan. "The nurses were very patient with us and guided us through the steps multiple times, allowing us to really get the hang of it. Being able to observe our choice of surgical procedure right after was very appreciated."