Posted: October 23, 2020
October is OT month! Occupational therapists (OT) are integral to the inter-professional team and work in a variety of GRH programs: surgery, medicine, inpatient and outpatient rehabilitation, integrated stroke unit, inpatient and outpatient mental health, oncology, complex continuing care, palliative care, neurobehavioural/geriatric assessment, occupational health and safety, communication and technology clinic, hand and upper-extremity clinic. OTs at GRH collaborate with patients to maximize function, safety and quality of life.
We asked a few of our OTs about their experience as an OT at GRH, and particularly about being an OT during the COVID-19 pandemic. Here's what they had to share:
Slidshow Gallery: Press the tab key to access slideshow navigation, then use the arrow keys to navigate between slides, and use the tab key to access the current slide content.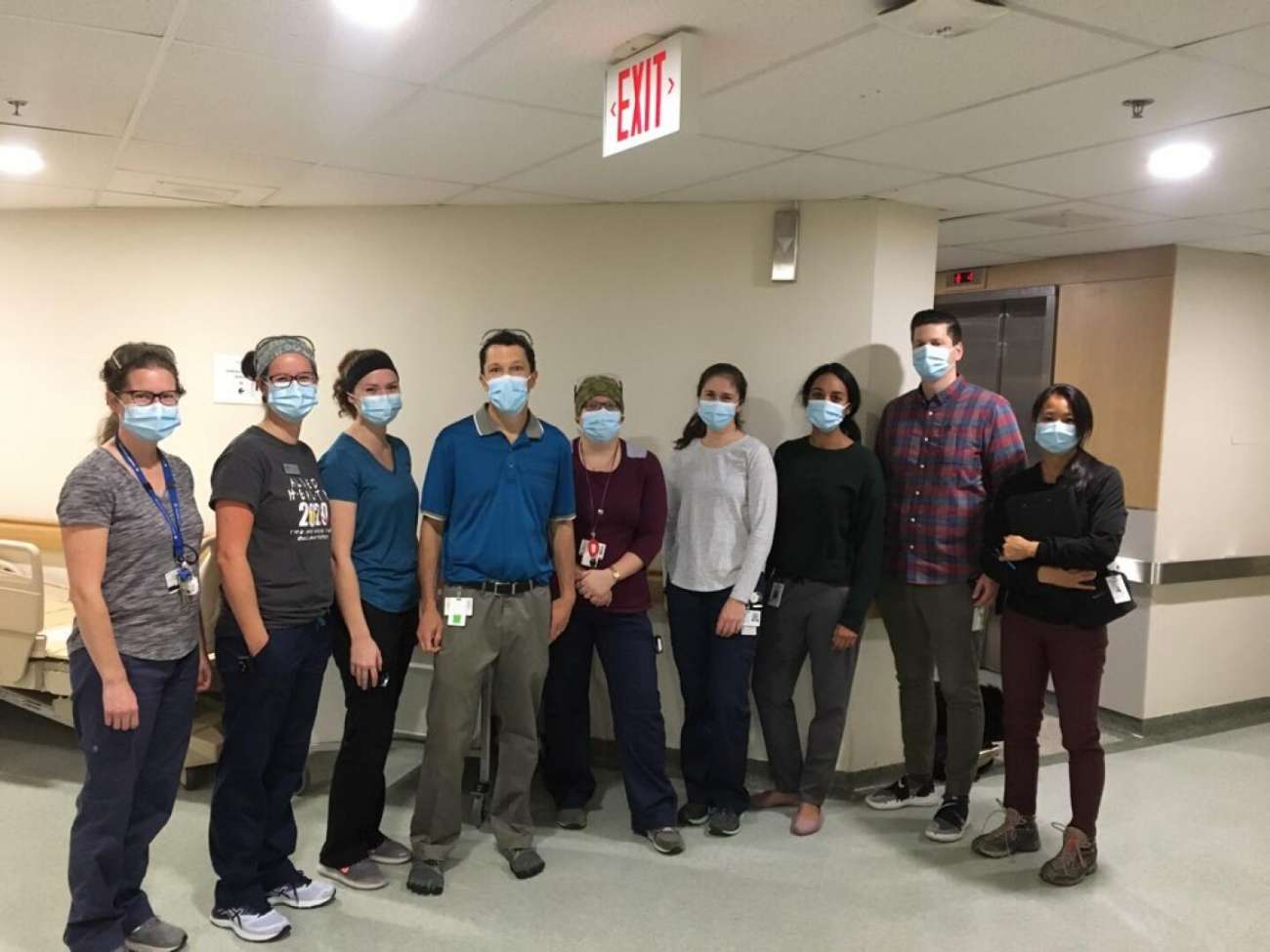 Some of our occupational therapists at KW Campus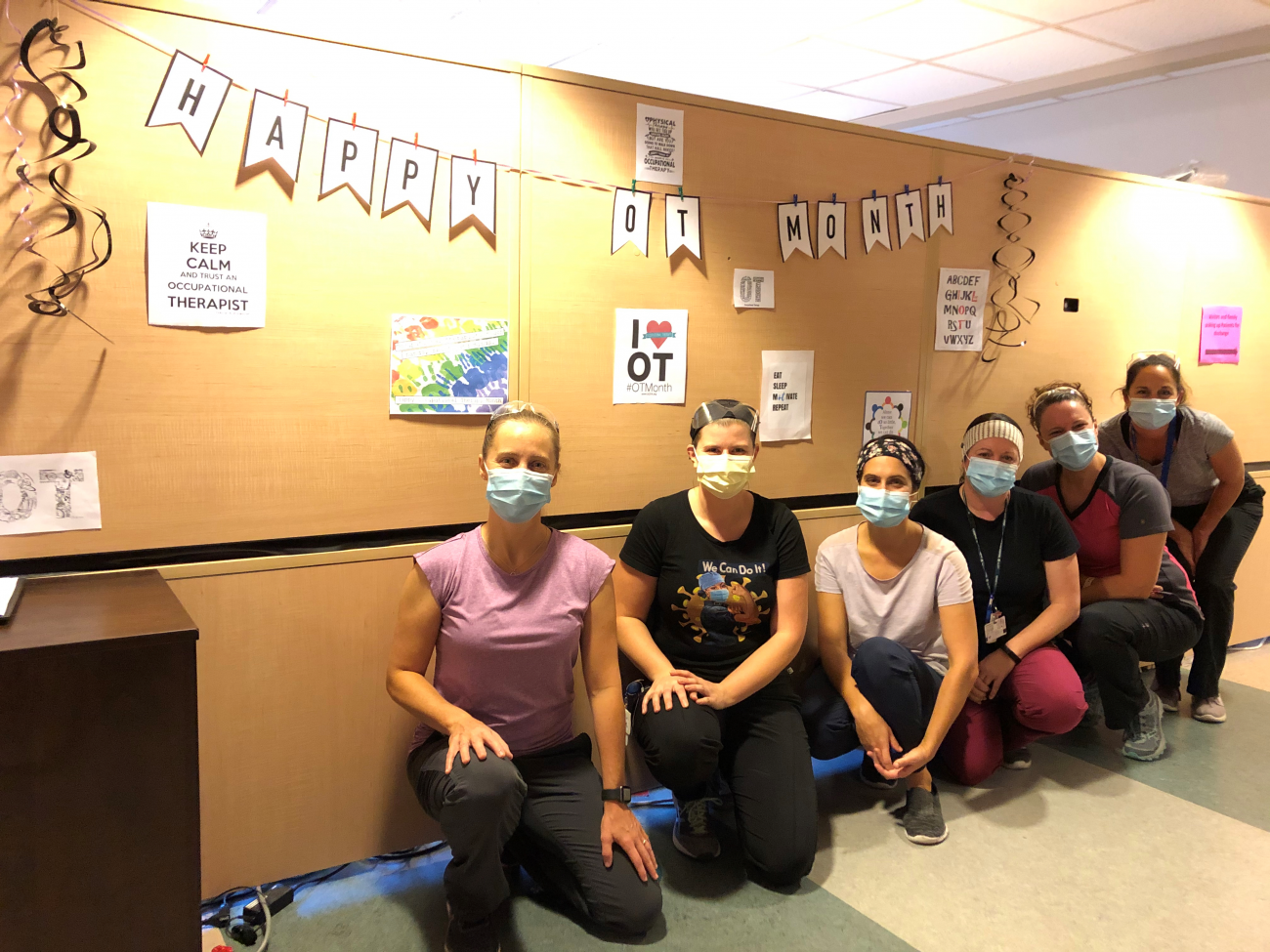 Occupational therapists in Inpatient Rehab, Freeport Campus
Suling Duong, OT, Acute Care for the Elderly and Medicine units
How has your job changed due to the COVID-19 Pandemic?
I was hired in August 2020 on a temporary contract with COVID funding. What I notice about working here during COVID is that we are a team of goodhearted people, doing the best we can to flex and flow with uncertain and challenging times. Offices have been transformed into beds for patients, staffing shortages at times force the unit to close… we have limited equipment and resources so we borrow from other units to accommodate people's needs as best we can... But most importantly, we have rallied together, moving forward with so many changes - and it has been a pleasure to work with such a supportive, resourceful and adaptable team.
Laura Milne, OT, Inpatient Rehabilitation unit
What's the most rewarding part of your job?
The most rewarding part of my job is watching patients regain hope that they can get stronger and recover the ability to take care of themselves. As an OT, I enable patients to persevere through illness and injury and try to help them find a little bit of joy in each day.
Katie Harder, Professional Practice Lead for Occupational Therapy
What's the most rewarding part of your job?
I am new to the professional practice lead role, but the most rewarding part so far has been learning about the many areas where our GRH OTs work and the important ways they contribute to the healthcare team and the well-being of our patients.
Paul Neto, OT, Community Outreach Treatment Team (community mental health)
How has your job changed due to the COVID-19 Pandemic?
Like most people, COVID-19 greatly affected my job. Most of my client interactions occurs in the community. It is hard to physically distance when you are in a client's home. Physical distancing practices restricted clients being in our vehicle. In addition, it is problematic to assess a client's level of functioning from a far. Screening clients for COVID-19 before each interaction needs to occur. Wearing personal protective equipment and being mindful of healthy hand hygiene is routine practice. Client contacts can occur over the phone or through OTN when possible. I am spending more time assisting my clients navigate through the system. COVID-19 changed how to access many of the community resources, which our client's rely on. One thing I have learned from COVID-19 is how strong and resilient people can be when tested.
Elizabeth Landman, OT, Specialized Mental Health
What's the most rewarding part of your job?
The most rewarding part of my job is the therapeutic connection I make with my patients and my ability to help them see and reach their full potential with all of their daily occupations and activities.
Sherry Rock, OT, Neuro Rehabilitation Clinic
How has your job changed due to the COVID-19 Pandemic?
Being in an outpatient clinic my job has changed a couple of times. Given our clinic was initially closed because of COVID 19 restrictions, the Neuro Rehabilitation Clinic (NRC) team was redeployed to other areas of Freeport. I was able to work on an inpatient floor where I was able to work with a new team and see how the Occupational Therapy role changed in this setting.
The NRC has now reopened with a slightly different service model. As Occupational Therapists in the NRC, we have had the opportunity to problem solve different ways to adequately assess and treat clients when not being able to see them face to face as regularly. We have also learned to be creative in how to work toward client's functional goals by assessing and treating clients virtually while learning how to trouble shoot technical issues.
These have been challenging times but it has been a good learning experience and has reinforced I work with great people and am glad to be an Occupational Therapist.