Posted: September 2, 2020
When the COVID-19 pandemic was declared in March, peer navigator, Rondi McFarlane and recreation therapist, Mary Afable had the same thoughts as many GRH staff: what are we in for? Both work in GRH's Mount Hope Day Program that offers in-person mental health group therapy. "Because gatherings weren't allowed, I wondered 'what happens to my work now'?" Mary recalls.
When group therapy was cancelled, both Mary and Rondi were redeployed as screeners at the KW main entrance for 8-10 weeks. By May, with the "new normal" in full swing, it was clear the Mount Hope Day Program needed to change in order to support patients (called "clients" in this outpatient setting) and Mary and Rondi were recalled from screening to develop a virtual group therapy program.
The Mount Hope Day Program provides day treatment for mental health patients/clients, who are working through challenges in order to prevent hospitalization or transitioning to community following an inpatient stay. Prior to the pandemic, the program offered 18 groups on different topics related to Cognitive Behavioural Therapy and Dialectical Behavioural Therapy principles, such as depression, anxiety, leisure, wellness, and community supports.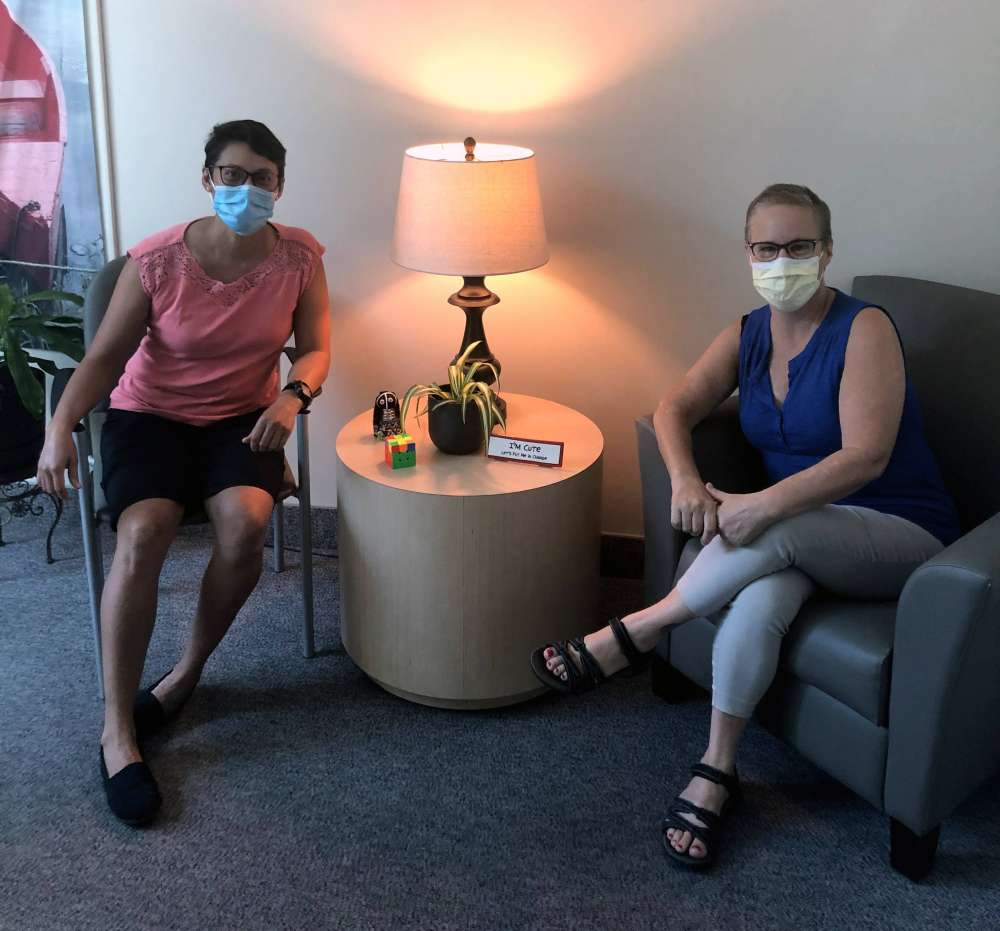 Rondi and Mary dove into the challenge of "completely revamping" group therapy for the Mount Hope program. "Within a couple days, we had a vision for how it would look." They knew that continuing 18 different groups was not feasible online, and they needed to dramatically simplify. They reduced down to 4 core groups, by combining the most popular groups together - for example, merging the Depression and Anxiety groups. 
The first virtual group sessions began in early July, and they didn't really know what the response from clients would be. As Mary shared, "the point of group therapy is for people to have that 'me too' moment or connection, and we didn't know if that was possible virtually".
However, by week three they were seeing results and even some unexpected benefits.
"You can only have one person talk at a time, so people were encouraged to really connect with whomever was speaking. We saw people share so much compassion for each other in these groups", Mary says. Before the pandemic, she thought virtual counselling would never really work because of the lack of connection – "but now I get it! We had clients saying 'I've never talked about this with anyone, and I'm surprised that I'm saying it now, in this setting'" – facilitating quality 'me too' connections, even when physically distant. 
Even when group therapy is able to resume in-person, Mount Hope will be sticking with the new model of four core groups, although they hope to bring back some 'elective' groups that clients can take at their discretion, such a music therapy. They're hoping to keep at least one group stream on OTN, too – "some clients feel safer connecting from home, and it can be more accessible", says Rondi.
"What this experience has taught us is really to roll with the punches, and to have a clear vision – all the mess in between can be sorted out." Mary says. "We were able to collaborate with people across the hospital, and having our team's support for the vision was key to this success."