Posted: May 10, 2021
It all started with colors.

In 2017, Eva Nali Spacek sat in one of the waiting areas in Grand River Hospital's Cancer Centre, staring at the blank wall in front of her, wishing for a distraction. She was living a parent's greatest fear: Waiting to learn if her child had cancer.
In the moments before she was called into the exam room to speak with a physician, she felt as grey as the walls around her. When she met with the physician, her worst fears were confirmed.
"It was the hardest moment of my life," Eva Nali recalls.
In the days that followed, Eva Nali kept coming back to how she felt looking up at those blank waiting room walls.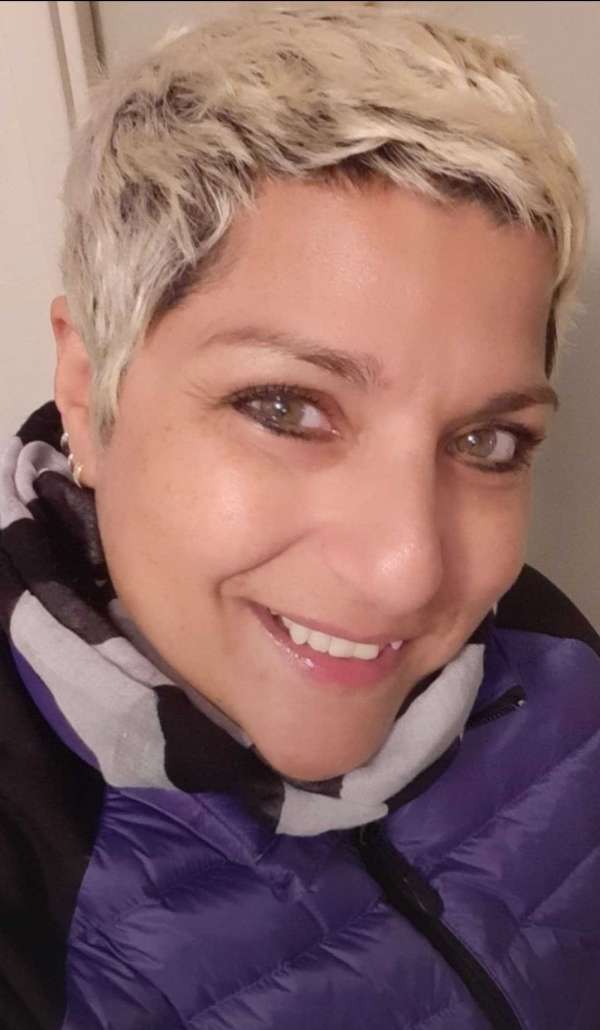 "Living with cancer could be isolating, deeply hurting, with no escape, trapped in the dark of pain," Eva recalls. "I remember waking up one morning, in tears, thinking, how challenging things are, and how hard it is to watch my son struggling. I was not able to help him. More so, I could not imagine others facing the same pain; I just couldn't. Deeply hurt and confused, all of a sudden, it just came to me."
For Eva Nali, flowers are a symbol of beauty and hope combined with her passion for painting. She decided to create 29 visions of hope on canvas, each a different flower to hang in different spaces throughout the Cancer Centre.
Eva reached out to Donna Van Allen, director of Waterloo Wellington's Regional Cancer program and GRH's cancer program, to see if she would be in support. Eva met with Donna and described her experience and identified that she would like to donate some of her art to support patients, families and staff.
"Eva Nali described her experience and asked if this was something she could do to support patients, families and staff," says Donna. "She is incredibly talented so we jumped at the opportunity of such a generous gesture. The people we serve often see the hospital environment through different lenses and experiences than we do. We feel privileged to understand their perspectives and work with patients and families to improve the care we provide in any way possible."

For nearly 2 years, Eva Nali spent nearly every spare moment of her time painting the flowers. "I'd come home, turn on my music and just paint," Eva Nali recalls. "These paintings became my purpose."
Click here to watch the virtual unveiling in Grand River Hospital's Cancer Centre [opens in new window]
About the art:
The collage of paintings to be the focus of the unveiling is on the wall in the main waiting room on the third floor by the front entrance of the cancer centre. It is high up on the wall (the ceiling is the height of the floor above as there is a balcony walkway on the 4th floor of the cancer centre on the way to the chemo suite in which the art will also be visible). There is a sheet covering the art that has been rigged with a drawstring to be able to pull and reveal the art during the unveiling. There are other pieces throughout the cancer centre exam rooms on the third and fourth floor that have been installed however they have not been covered for the unveiling.
The original canvas are for sale. Please contact Eva for more information.
Visit http://www.evanaliart.ca/ to learn more about Eva and her art.