Posted: June 6, 2022
This year GRH was honoured to be designated as one of Canada's Top Employers by Forbes and to be recognized as Business of the Year by the Greater KW Chamber of Commerce. To celebrate these incredible accomplishments, we are highlighting the key reason to our success; our valuable team members.
To recognize stroke month this June, we thought it would be fitting to begin by sharing the stories and faces of the amazing stroke team at GRH.
---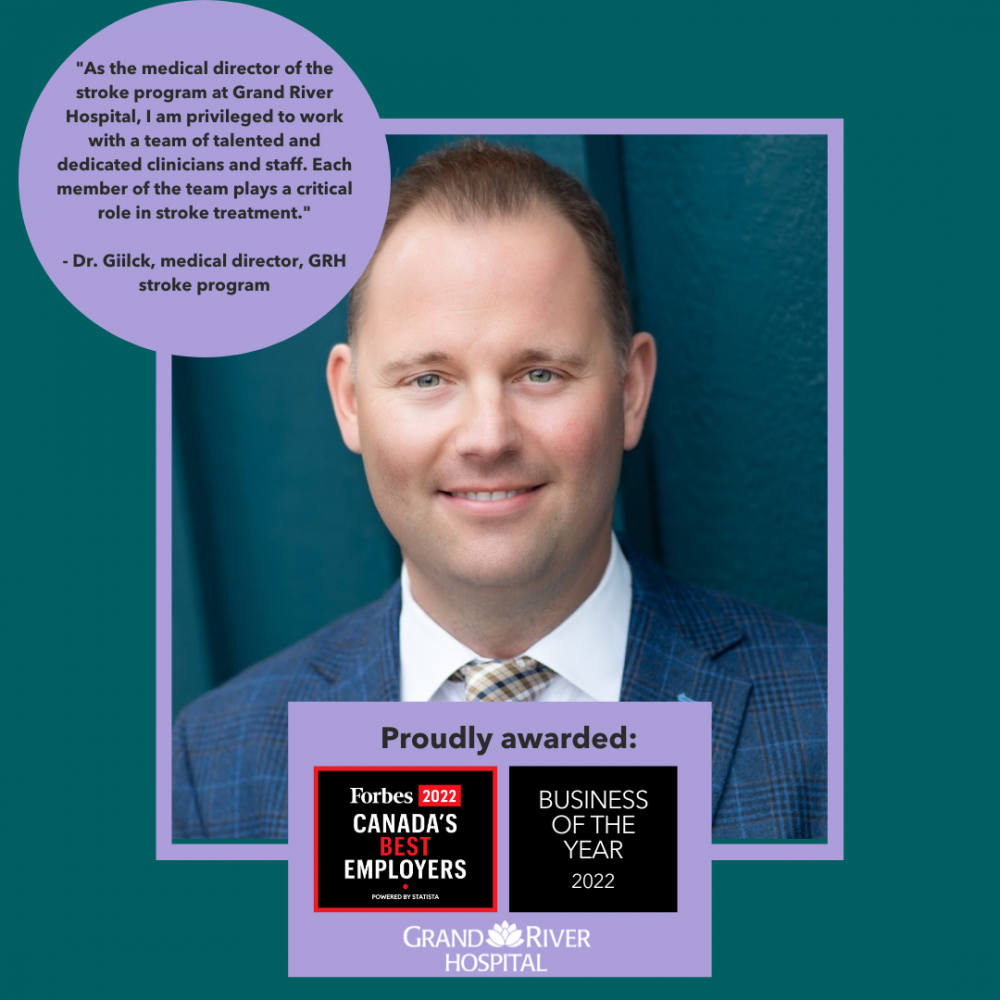 ---
"Stroke is the leading cause of disability among Canadians and the third most common cause of death. There are over 50,000 new strokes annually in Canada and over 300,000 Canadians living with the effects of stroke in their life. Like many Canadians, a close family member of mine suffered a stroke at a young age," Dr. Giilck explains. "This personal experience ultimately lead me into the field of stroke medicine."
Stroke is caused by the disruption of blood flow to the brain. The longer the disruption, the more likely the patient will suffer permanent damage and less effective our treatment. Early recognition of stroke is critical. If provided quickly, treatments such as clot busting agents or mechanical removal of blood clots are highly effective.
---
"At Grand River Hospital we are continuously striving to improve systems that rapidly and accurately diagnose stroke and get patients to the treatment they need. Every second counts and time is brain," says Dr. Giilck.
---
Once a patient has received early intervention for stroke the focus shifts towards cause. It is important to find out why the stroke occurred and how can it be prevented in the future. Common risk factors include high blood pressure, high cholesterol, diabetes, smoking, irregular heart rhythms such as atrial fibrillation or narrowed blood vessels in the neck. These risk factors are often diagnosed and treated in specialized stroke units or in secondary stroke prevention clinics. Simply attending a specialized stroke clinic after an event significantly reduces the risk of recurrence.
"The patients we care for are my family, friends, colleagues and peers." Dr. Giilck continues, "As the medical director of the stroke program at Grand River Hospital, I am privileged to work with a team of talented and dedicated clinicians and staff. Each member of the team plays a critical role in stroke treatment. Stroke care is challenging, rewarding and every changing. It is nuanced and often much more complex than meets the eye. It is a rapidly advancing field that pushes the limits of medical science for the betterment of our patients. I am grateful to my colleagues across the continuum of stroke care and look forward many more years to come."