Posted: June 1, 2022
This year GRH was honoured to be designated as one of Canada's Top Employers by Forbes and to be recognized as Business of the Year by the Greater KW Chamber of Commerce. To celebrate these incredible accomplishments, we are highlighting the key reason to our success; our valuable team members.
To recognize stroke month this June, we thought it would be fitting to begin by sharing the stories and faces of the amazing stroke team at GRH.
---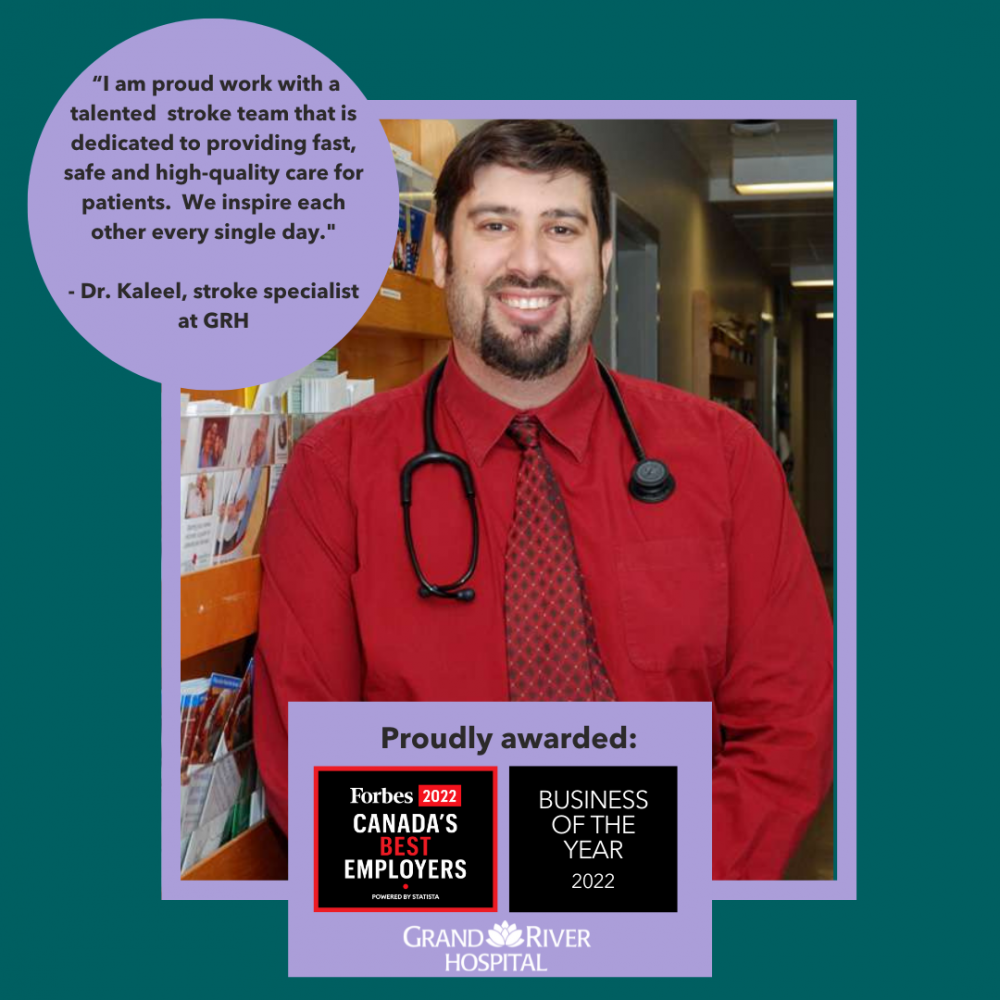 Grand River Hospital (GRH) stroke specialist, Dr. Kaleel Abdel, has devoted the past seven years of his career to enhancing stroke patient care for Waterloo Region and Guelph community members by coaching other regional physicians on specific stroke situations and how to treat them.
"Prior to my arrival at GRH, I noticed there were no dedicated stroke specialists within the Waterloo Wellington Region, leaving very limited understanding of stroke investigations and treatments," explains Dr. Kaleel.

After learning this, Dr. Kaleel made himself available 24/7 to help train the region's physicians to accurately determine the causes and symptoms of a stroke.
---
"I've definitely seen an improvement in stroke care throughout the years," stated Sherry Witmer, registered nurse (RN) for the district stroke centre. "Dr. Kaleel ensures we maintain our expected timelines by seeing additional patients outside of what's expected of him and making himself available on a regular basis." Sherry continues, "Over the years we have been able to increase the amount of patients we can treat due to Dr. Kaleel's extensive background as a Stroke Neurologist."
---
"I am so proud of the significant improvement in inpatient management of stroke patients," says Dr. Kaleel. "Stroke patient care has reached exceptional status at GRH and Guelph General Hospital (GGH) which are the two designated hospitals to provide both hyper acute stroke treatment and inpatient care on a dedicated stroke unit."
If you suspect someone is having a stroke, pleaseremember the FAST approach and call 9-1-1 if you have any of these symptoms, all of which appear suddenly:
• FACE: is it drooping?;
• ARMS: can you raise them both over your head?;
• SPEECH: is it slurred?;
• TIME to call 9-1-1 right away.