Posted: June 1, 2022
This year GRH was honoured to be designated as one of Canada's Top Employers by Forbes and to be recognized as Business of the Year by the Greater KW Chamber of Commerce. To celebrate these incredible accomplishments, we are highlighting the key reason to our success; our valuable team members.
To recognize stroke month this June, we thought it would be fitting to begin by sharing the stories and faces of the amazing stroke team at GRH.
---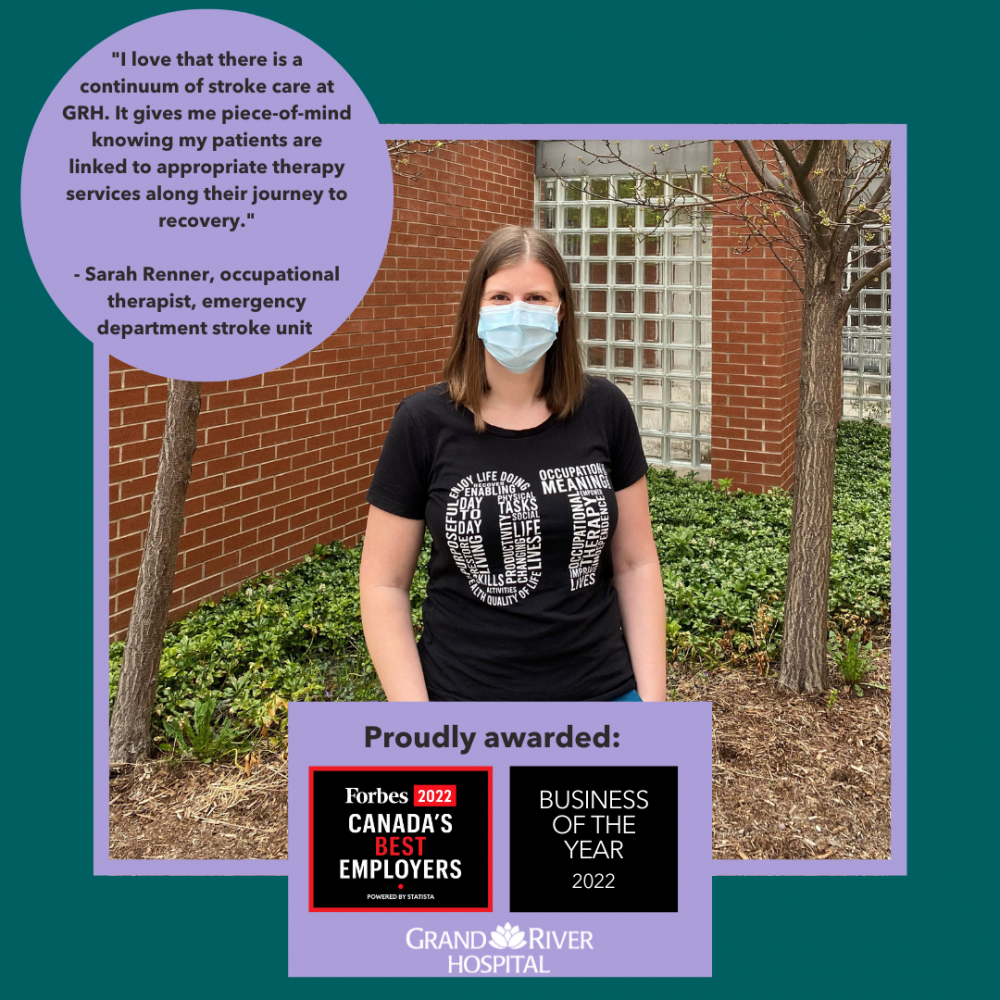 As an occupational therapist (OT), my role is to assess patient's functional abilities and determine what level of support they may require. This includes physical and cognitive skills needed to manage day to day tasks (anything from getting dressed, making meals or driving). OT's across the hospital work in collaboration with the patient, their family and the team to make a safe discharge plan.
What has been your favourite part about working at GRH?
The continuum of stroke care within GRH helps me feel confident that my patients will be linked to affective therapy services along their journey to recovery. Knowing how high-quality these programs are helps me feel good about the direction I'm sending my patients when they are ready to leave the emergency department after having a stroke.
What's the most rewarding part of your job?
Being able to help my patients achieve their goals and improve their quality of life is the most rewarding part of what I do. Stroke is a very sudden life-altering event and can be very frightening for patients and their families. Its' an honour to be apart of their journey and provide some guidance on what they can anticipate in the next few weeks ahead.
Is there anything about your role that would surprise people?
Early intervention is best practice in stroke care and we try to see patients with stroke as early as possible in their recovery for assessment of their functional abilities. This means therapy starts right in the emergency department when safe and possible to do so.
If you suspect someone is having a stroke, please remember the FAST approach and call 9-1-1 if you have any of these symptoms, all of which appear suddenly:
• FACE: is it drooping?;
• ARMS: can you raise them both over your head?;
• SPEECH: is it slurred?;
• TIME to call 9-1-1 right away.