Posted: March 6, 2023
On a Thursday morning in December, GRH's brachytherapy suite – a specially built space for and funded by GRH's cancer program – is a flurry of activity. Radiation therapists, Emily and Seth, are helping medical physicists put on lead vests in preparation for the procedure while cancer nurses, Krista and Amber, wait with patient, Christine, in the operating room, sharing a few laughs before the procedure begins. Christine is the first patient to receive lung brachytherapy at GRH, and today is her second treatment session.
Brachytherapy, sometimes referred to as internal radiation, is a procedure used to treat certain types of cancer – in Christine's case, lung cancer – and other conditions. Compared to the more commonly known external radiation, brachytherapy involves placing radioactive material inside the body to directly target a cancerous tumour. For patients with lung cancer that is affecting their airways, brachytherapy helps to effectively shrink the tumour and increase their quality of life. Christine has already seen positive results after her first treatment in November.
In terms of a first treatment, the team agrees the procedure went as smoothly as possible. But even with experience, training, and lots of planning, the care team can still get a little nervous.
"This first treatment was stressful," laughs Andrea Conrad, radiation therapist and brachytherapy team lead. "Even when you know every step, you learn a lot in the moment. The team was so great and just went with the flow. I'm so glad we had the success we did."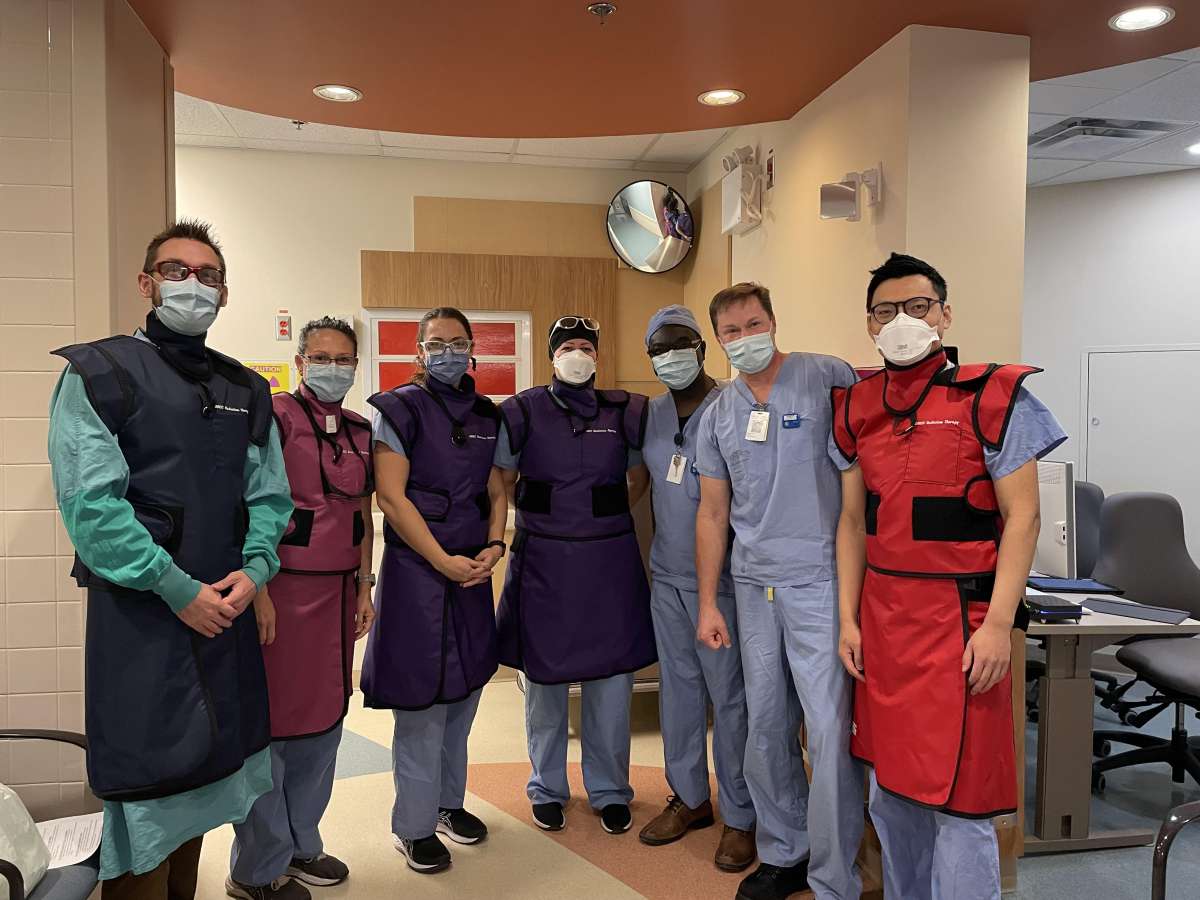 On the day of the second treatment, everyone knows where they need to be and when, and you can feel the excitement in the room. The interdisciplinary team consists of oncology nurses, radiation therapists, medical physicists, and two physicians – a radiation oncologist, Dr. Jason Ding, to oversee the treatment, and a respirologist, Dr. Andrew Burkett. First, Dr. Burkett inserts a thin tube with a tiny video camera into Christine's lungs, which allows the team to get a clear and real-time look at her airways. Now that they can see exactly what treatment is needed, the team determines the exact dosage of radiation required.
For the next step, the team moves to the 'console area', where the physicists, Johnson and Andre program the radiation machine (a linear accelerator) with the correct radiation dosage, while closely monitoring Christine, who is constantly supported by two nurses. Once the radiation dose has been given, Christine is taken to the recovery room for observation; in all, it's about a 1.5 hour procedure.
Everyone has a role to play and every role is important. It's a perfect combination of preparation, timing, and being flexible on the spot. Or, in the words of Andrea, "controlled chaos" - skillfully managed by an interdisciplinary team of experts, coming together with the goal of making life better for their patient.
Initially scheduled to launch in 2020, the program was deferred to allow hospital teams to focus on responding to the COVID-19 pandemic. Over 2.5 years later, GRH welcomed Christine, the first lung brachytherapy patient, in November 2022 thanks in part to a generous donation via the Grand River Hospital Foundation that allowed the team to purchase a bronchoscope; an essential piece of equipment for this treatment.
Unlike traditional operations or procedures, lung brachytherapy is rare, and often urgent and critical to giving patients a better quality of life. Prior to the launch of GRH's program, patients from Waterloo-Wellington would receive lung brachytherapy in Hamilton and only if they were well enough to travel.
"It's hard to know how many patients we'll see, given the rare and, often, urgent, nature of lung brachytherapy," says Melisa King, clinical manager of the radiation therapy team. The hospital anticipates the program could treat around 10-15 patients a year. Though the number may seem small compared to other procedures, the highly specialized nature of this treatment means GRH is able to treat both local patients and individuals who were not well enough to travel to receive care.
"It's been nice to be able to meet different people from across the hospital and come together to do this work," says Andrea. And with one patient treated, this is just the beginning.