Posted: March 14, 2017
Grand River Hospital patients and clinicians have benefited from a specialized unit designed to provide care and to help educate the next generation of health professionals.
GRH's KW Campus is home to a clinical teaching unit or CTU, developed and operated in partnership with the McMaster University Michael G. DeGroote School of Medicine Waterloo Regional Campus. This unit cares for 24 adult patients who need non-surgical care.
The CTU differs from typical medicine units in the amount of teaching taking place. A multi-disciplinary team provides care. Medical learners are welcomed in the unit and become active participants in the care team.
Students at all levels gain hands-on skills and knowledge to help patients. GRH's complement of internal medicine specialists provide care and lead teaching on the unit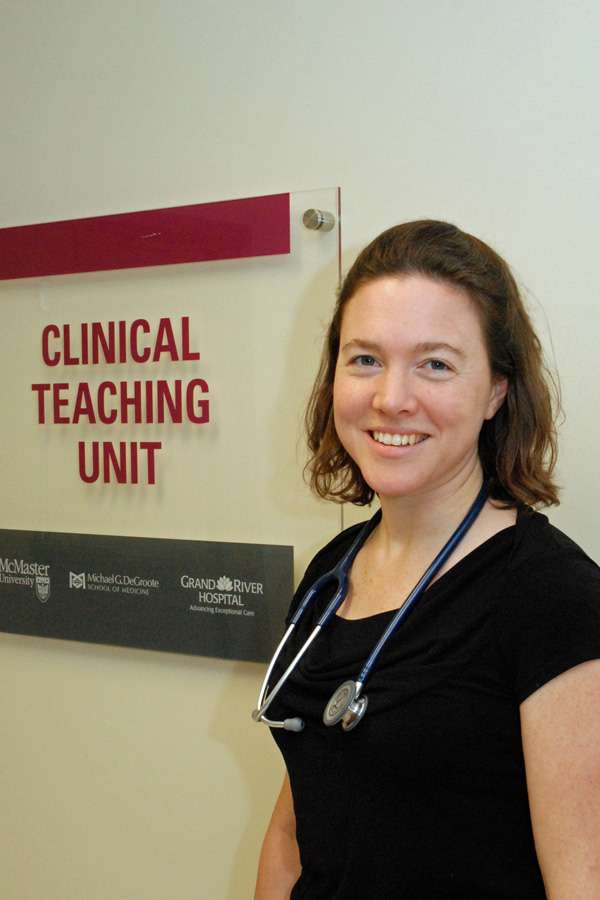 The unit is structured to accommodate medical students during the clerkship phase of medical school, as well as residents who have completed their medical degrees and are practicing under the guidance of their supervisors.
"In addition to providing a high level of patient care, a unit like this incorporates teaching at all different levels. A clerk can teach a pre-clerk. A resident can teach examinations to medical students while reviewing cases and discussing the management of care. Nursing staff benefit from teaching during patient rounds when we're discussing patients' care, as well as other educational sessions," said Dr. Rebecca Kruisselbrink, medical director of the CTU.
"We try to educate the whole team about the patients' medical problems, and implications for treatment. They can then better support patients and families, who are ultimately the most important stakeholders."
The CTU has been in operation since mid-2015. Patients are benefiting from multi-disciplinary rounds, which help increase patient safety through improving communications between health care providers, patients and their families. As different health providers work more closely together, they can provide improved patient care by better understanding each patient's unique care needs. Better knowledge can then be passed on to a patient as well as their loved ones.
"A clinical teaching unit can provide a number of on-going benefits. Patients and families have the opportunity to see all physicians as lifelong learners. When you teach, you're required to continuously enhance your own skills to provide the best insight for students, said Dr. Cathy Morris, the regional assistant dean for the Waterloo Campus, Michael G. DeGroote School of Medicine at McMaster University.
"Moreover, having a CTU provides a home base for medical professionals to learn, whether it's spontaneous learning or via structured sessions. And the integration of medical students and residents into care provides stronger relationships between health professionals and a better understanding about the unique roles we all play in supporting patients."
The establishment of the CTU is one part of GRH's work to grow health education at the hospital. Grand River Hospital hosts more than 300 medical students and residents in clinical placements each year. In addition, more than 600 students in a variety of fields and education levels come to GRH annually for training experience.
"Grand River has been heavily involved in health education for decades. We have many care providers who help convey their knowledge to new learners in specialized fields. That one-on-one education is vital, as is the development of units like the CTU to offer additional formal training," said Dr. Peter Potts, GRH and St. Mary's General Hospital chief of staff.
Learn about Olivia Geen's experience as a learner in GRH's CTU