Posted: November 9, 2017
Patients in Waterloo Region and Guelph Wellington with liver tumours now have access to a pair of advanced procedures providing life-saving care closer to home.
Grand River Hospital has launched radiofrequency ablation (RFA) and transarterial chemoembolization (TACE) at its KW Campus in Kitchener. The procedures will enhance GRH's role as one of nine centres of excellence in Ontario in liver and pancreatic surgery.
"For more than 14 years, GRH's regional cancer centre has provided high quality, compassionate cancer care for thousands of patients in Waterloo and Wellington," said Jane Martin, vice president of cancer services for Grand River Hospital and Waterloo Wellington regional vice president for Cancer Care Ontario. "The addition of these new services will provide additional care options for patients who would have previously had to travel to London, Hamilton or Toronto."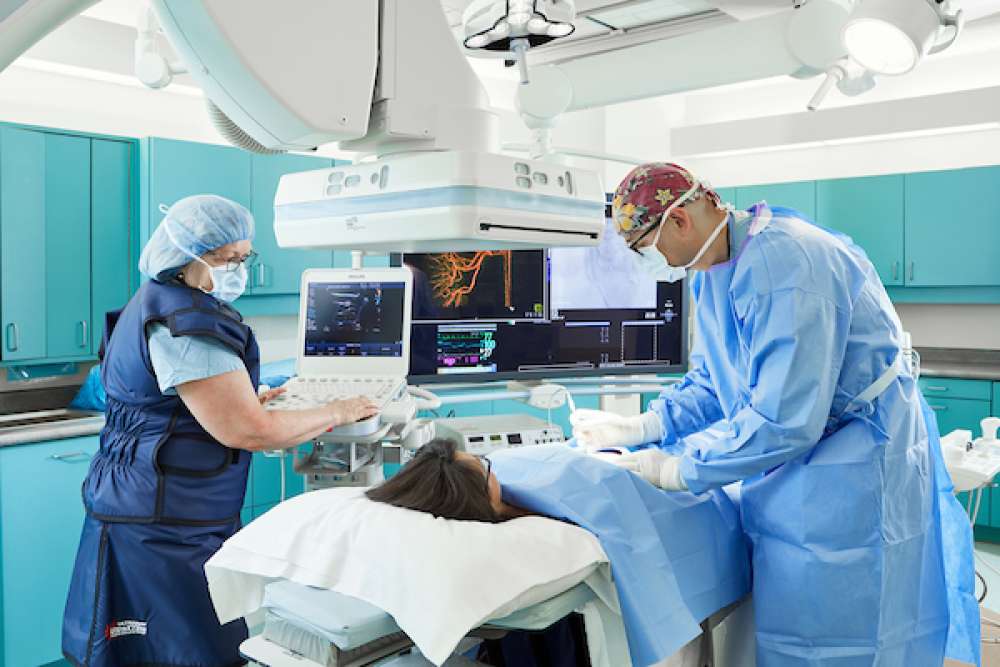 RFA uses a small probe, inserted through the skin with minimal sedation using medical imaging guidance. Once the probe is positioned, it delivers radio-frequency energy or current into the tumour, agitating the tumour's molecules. The resulting friction causes the tumour's cells to super heat, destroying them. This procedure takes place in GRH's ultrasound, CT or interventional radiology suites.
TACE uses two ways to destroy tumours. First, a small catheter under imaging guidance enters the arteries supplying blood to the tumour. The catheter fills and plugs the arteries with either microscopic particles or specialized oil droplets, choking (embolizing) the tumour's blood supply.
Second, the same microscopic particles or specialized oil droplets carry chemotherapy drugs. The drugs deliver high doses of targeted, local chemotherapy directly into the tumour. Combined, this treatment is called chemoembolization. This procedure will be performed in GRH's interventional radiology suite.
RFA can usually take place as a day procedure. TACE patients may require a stay in GRH's inpatient oncology unit as care providers monitor the effects of the medication on their liver function. Eligible patients will include those with primary liver tumours or cancer that has spread from the colon to the liver.
Cancer Care Ontario has provided operating funding for the procedures. Donor support helped to purchase a new interventional radiology unit for GRH in 2013 as well as a new CT scanner in 2017. Both of these devices are playing important roles in providing RFA and TACE.
"The advancements in our services to offer RFA and TACE were made possible through the care and support of our community, the support of Cancer Care Ontario to help us expand this service to Waterloo Wellington, as well as the dedication of many care providers in the community who continue to work hard to build and deliver this service," said Dr. Darren Knibutat, an interventional radiologist providing RFA and TACE procedures.
"Donors are excited to learn that medical imaging equipment they've funded is saving more lives every day. Donors are proud to do their part in providing exceptional care at Grand River Hospital for all the residents of Waterloo Wellington," said Tracey Bailey, president and CEO, Grand River Hospital Foundation.
Staff members from GRH's regional cancer program are reaching out to physicians throughout Waterloo Region and Guelph Wellington to encourage them to refer suitable patients to Grand River Hospital. The hospital is working to provide these procedures to other forms of cancer.
Dr. Knibutat will deliver a presentation and take questions on RFA and TACE at GRH's upcoming community meeting: Advancing Exceptional Care Through Innovation. The meeting will take place on Wednesday November 15th from 6:00 to 8:00 p.m. at Catalyst137, 137 Glasgow Street in Kitchener. Members of the public are welcome and encouraged to take part. More information, including an RSVP site, is available at www.grhosp.on.ca/acm2017