Posted: March 28, 2022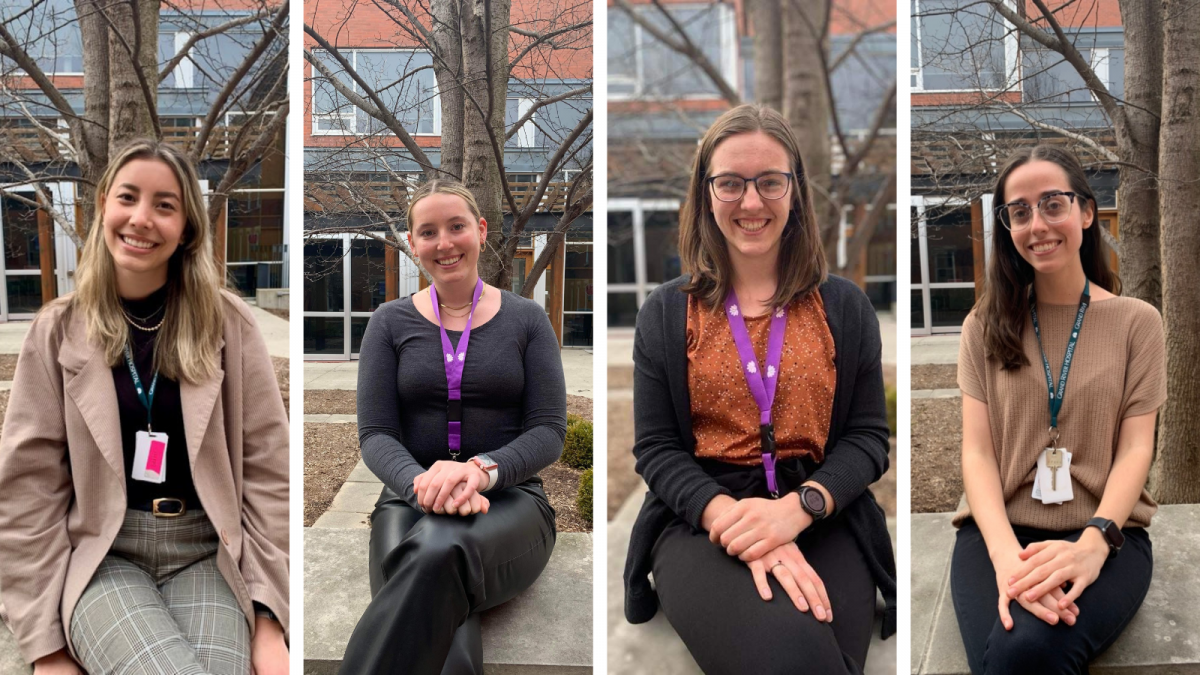 March is Nutrition Month in Canada. After recognizing our team of registered dietitians (RDs), GRH is proud to also recognize the dietetic practicum students currently training in the 46 week training program taking place in collaboration with the University of Guelph's Masters of Applied Nutrition (MAN) program.
"Grand River has a long history of dietetics training beginning in 1971," explains Hannah Marcus, Dietetic Education & Professional Practice Leader. "For the majority of those years, GRH operated as an independent practicum training program and has stood out as a preferred destination for dietetic learners. As dietetics training and education evolved over the last fifty years, our program has evolved with it. In 2019 we were able establish a collaborative relationship with the MAN program whereby we accept 4 MAN students for a clinically focused practicum training program. Students in the MAN-GRH program graduate with all the necessary competencies to practice as dietitians but are particularly well prepared for positions in clinically complex environments such as a hospital. One of the unique aspects of our training program is that every single one of our dietitians precepts students. Every single one. There is a culture of training and education embedded in the clinical nutrition program and the recognition that we as health care professionals are even stronger and better clinicians as we help train the next generation of dietitians."
"The accredited practicum training program here at GRH is a rigorous program that provides 4 students each year with specialized training in various clinical areas of the hospital, in both inpatient and outpatient, as well as management and food services, and population health. By the end of the program students will have achieved competency in 144 performance indicators making them eligible to write their licensing exam. In addition to the hands on training they receive, they are taking advanced professional graduate courses at Guelph to support their learning."
Learn more about the program here. Below, our current practicum students share more about their experiences:
Why do you want to be a registered dietitian?
Ally (A): "I always saw myself working in the health care field, and I love the opportunities that RDs have to work in so many different areas within or outside of a hospital."
Larissa Lee (LL): "I want to be a registered dietitian because I am passionate about the role that nutrition has in managing disease progression. I enjoy building connections with patients and creating individualized nutrition care plans to support them."
Tea Babic (TB): "The world of dietetics combines everything I love the most - working with people, talking about food and nutrition, and life-long learning. At GRH, registered dietitians aim to share their knowledge and empower their patients to make changes to improve their health. This year, I have discovered that working within dietetics and nutrition care is incredibly gratifying. Watching my patients better their health through nutrition and lifestyle changes and hearing how our work together has significantly helped them motivates me to become a registered dietitian. In addition, registered dietitians are trustworthy, empathetic, and inclusive health care professionals that support their patients and advocate for them during their health care journey - this is exemplary of the care I wish to provide patients. Moreover, the profession is continuously growing with newly published research and developing information; as an advocate for life-long learning, there is no better profession of choice for me."
Samantha Reid (SR): "I've always known that whatever profession I choose, I want to serve others, and I've always been fascinated by food, particularly how it affects your body and health. By becoming a registered dietitian, I will be able to assist others with food and nutrition. Food is an essential component of one's health, and I get to use a patient-centred approach to assist people in preventing or managing diseases and other health problems. Moreover, it enables me to aid people in transforming their negative relationship with food into a good one by promoting improved health and raising awareness about diets, food, and nutrition."
What has been your favourite experience as part of the MAN-GRH Dietitian Training Program?
A: "Getting the opportunity to work with many amazing RDs in multiple different clinical rotations. It gives you a chance to test out different areas and learn where you could see yourself working in the future."
TB: "From inpatient stroke to outpatient oncology, my various placements have significantly expanded my nutrition knowledge and improved dietetic education and counselling skills. Developing and employing my knowledge translation and counselling skills to help my patients implement nutrition changes and improve their health has been incredibly rewarding. My favourite experience in the MAN-GRH Dietitian Training Program has been hearing back from patients after consultations and learning about their improved health through the nutrition changes we discussed and implemented. I am incredibly grateful to have the opportunity to help patients actualize nutrition care goals."
SR: "This program enables me to apply what I learned in my textbooks to real-life problems. The hands-on training allows me to experience a wide range of cases, allowing me to increase my development and skill in several settings and units. Witnessing patients improve during their stay has also been one of my favourite experiences. It gives me great pleasure to see a patient progress and be able to return home with their family and friends. Likewise, I enjoy talking with patients, being able to communicate with them, and forming personal relationships with them. I enjoy being able to brighten someone's day, especially in these challenging times."
What makes GRH a great place to gain your training as a dietitian?
A: "The RDs who are involved in this program are really here to support our success in this program. They are all so knowledgeable and willing to work with you to meet your objectives."
LL: "GRH has an excellent team focus, where students have the opportunity to be a part of providing patient care in a supportive environment. Members of the health care team are always open to answer my questions and provide their expertise to help further my learning."
TB: "The registered dietitians at GRH make it an excellent place to train. The registered dietitians are knowledgeable, versatile in their training and education, and excellent teachers that have helped significantly develop my dietetic knowledge and skills. In addition, the registered dietitians at GRH practice with respect, empathy, humility, and inclusivity; not only do you learn dietetic skills, but you also learn what it means to practice collaboratively and with the values that GRH promotes. Moreover, dietetic professionals and students are supported by Lisa Halford and Hannah Marcus, respectively, who do an excellent job coordinating, advocating, and helping dietetic professionals within the hospital."
SR: "Because of its fantastic team of dietitians, GRH is an excellent place for me to acquire my dietitian training. All my preceptors have been warm, knowledgeable, encouraging, and industrious, pushing me to my boundaries and allowing me to accomplish great things. Furthermore, GRH is a major hospital with a variety of areas where I can study and grow. It enables me to try out various areas to gain a better grasp of where I envision myself in the future. Additionally, GRH has long been a primary teaching hospital for dietetic students, and I've only heard positive things about this institution from graduates."
Can you share with us some of the learning experiences you have had here at GRH as part of the program?
A: "The program includes five clinical rotations, a rotation in the food services department, and a rotation in population and public health. In my clinical rotations I have learned how to work through the nutrition care process, improved my counselling skills, and my charting skills. In my time in food services so far, I have gained an appreciation for the processes that go into running a hospital kitchen and fulfilling diet orders."
LL: "I have completed rotations in four different clinical areas and I am currently in the nutrition and food services department. Throughout these rotations I have had a variety of learning experiences. For example, gaining hands on experience with anthropometric and biochemical assessments, developing nutrition education materials for patients, and developing my counselling and motivational interviewing skills. The team of dietitians at GRH have varied experiences and are all excellent sources of information and expertise, I am constantly surprised by how much I am able to learn in such a short period of time!"
TB: "My most significant learning experience has been developing patient education and counselling skills. Students cannot learn these skills through a textbook; we have to practice to learn. I came to GRH with only academic knowledge of counselling styles. I have since refined my skills to various population settings, including outpatient oncology and renal disease and inpatient stroke. Recently, I have been working on assessing my patients' knowledge base to determine gaps in nutrition understanding before counselling."
SR: "As this is my first internship/hands-on experience, I've already picked up plenty of new skills. To begin, I learned about the nutrition care process, which entails nutrition assessment, diagnosis, intervention, and monitoring/evaluation. Understanding how to follow this process and how to use it in several scenarios has aided in the development of my skills. I also learned about the many supplements and feeding formulas available to patients, as well as when it is and is not acceptable to start using them. Finally, being able to professionally examine patients and review their charts has taught me how to recognize important indicators and how to interpret them."