Posted: May 24, 2018
Bremely Berganza realizes the abilities to communicate and swallow are often taken for granted… meaning the loss of those functions can be devastating.
So as a speech language pathologist (or SLP), she's determined to help patients recover those key skills.
Bremely provides care at Grand River Hospital's KW Campus. She supports patients across four acute care units whose speech or swallowing abilities need identification, assessment and/or treatment.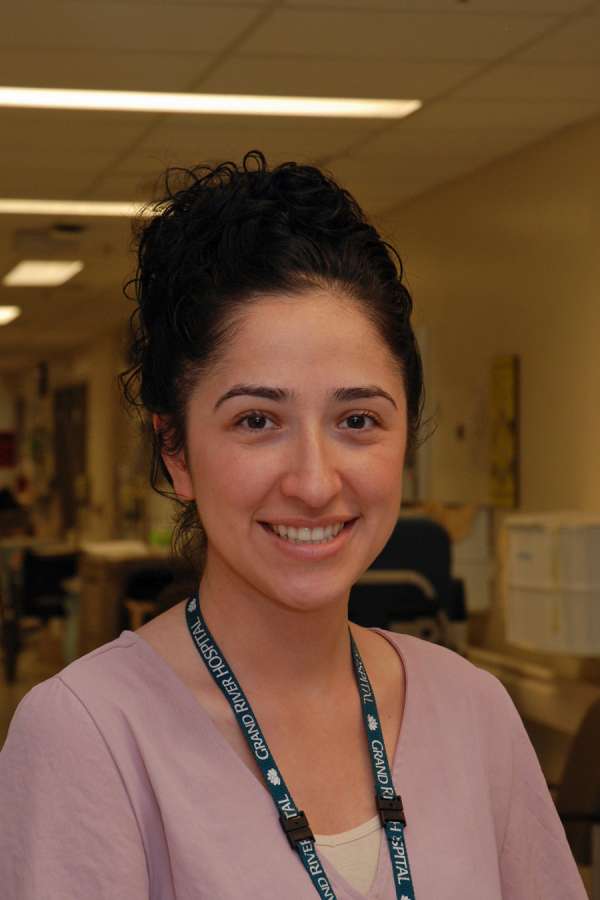 Bremely enjoys the variety of her role, and conducting sophisticated medical imaging studies to help pinpoint the causes of problems. She also welcomes finding new ways to provide specialized care for patients.
---
Why did you choose to become a speech language pathologist?
During my undergraduate studies, I had the opportunity to volunteer overseas. I remember feeling so frustrated because I wanted to interact with the staff and children so badly but couldn't (or so I thought) due to the language barrier.
I quickly learned that communication goes beyond words. This experience sparked my interest in speech-language pathology, specifically acquired language disorders.
I started shadowing SLPs, realized that the scope of practice went beyond communication, pursued my masters of clinical science in SLP, and was fortunate enough to end up in such a rewarding field! 
What drew you to Grand River Hospital?
After completing my final clinical placement at Grand River Hospital, I knew that working in an acute care setting was my dream job. I loved the variety of the patient population, and perhaps more importantly, GRH's focus on interdisciplinary collaboration. I feel very fortunate to have worked in GRH's outpatient rehab clinics and to now be working in an acute care setting.
Who do you support in your day-to-day care?
My days are always full of excitement! My position is unique in that I cover four acute care units: stroke, clinical teaching, acute care for the elderly, and medicine, in addition to the outpatient swallowing clinic. My caseload varies from unit to unit.
In acute care, the role of the SLP is primarily to identify, assess and treat swallowing related disorders, also known as 'dysphagia'. Throughout the day we provide bedside clinical swallowing assessments which include obtaining a comprehensive medical history, assessing oral motor function, oral hygiene status, respiratory status, cognitive status, ability to handle a bolus and swallow effectively, etc.
We then place the patient on the appropriate/safest diet texture, and sometimes that means keeping the patient "NPO" (i.e., no food/liquid by mouth) for a period of time because they are at increased risk of airway obstruction or aspiration. Often, alternative feeding routes need to be considered in order to keep our patients safe.
We are very fortunate at GRH to have access to instrumental assessments such as the 'cookie swallow' (videofluoroscopic swallowing study) through medical imaging. Because we don't have x-ray vision, these tests are key to assess and treat dysphagia.
Think of it as an x-ray video of your swallow – you can actually SEE food/liquid moving through the mouth, throat, and upper esophagus. Along with my colleagues, we perform anywhere between one to three studies per week.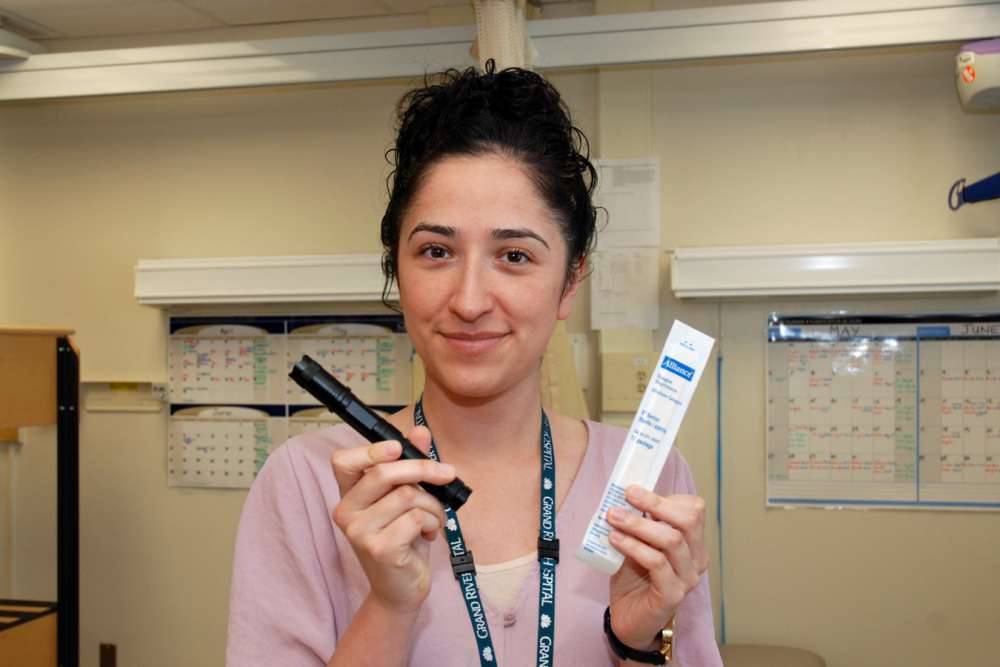 What do you like about your work?
I love interacting with patients and educating them on the swallowing mechanism, safe feeding and swallowing strategies. People are often so amazed at how complex the swallowing mechanism really is! It involves five cranial nerves and more than 50 pairs of muscles!
I also love that I am able to work with fantastic interdisciplinary teams on each unit. I learn from my colleagues on a daily basis!
How does your work challenge you, or compel you to try different approaches?
The medical complexity of the patients I work with encourages me to keep up with evidence-based practice so that I can better serve my patients. I think that sometimes it is easy for us to get "stuck in our ways" so I am thankful for patients with challenging needs who force us to think outside of the box and dig a little deeper.
I am also thankful for all of the SLPs out there who have taken it upon themselves to do the research on what is and isn't effective therapy so that the rest of us can improve our clinical skills and subsequently patient care.
For someone who knows nothing about SLP care, what's the best way you'd describe its importance?
Our abilities to effectively communicate and swallow are often overlooked because they come so naturally and easily to us. You open your mouth, and words come out. You place food/liquid in your month and seconds later, a swallow is triggered.
Now imagine how devastating it must be to lose the ability to effectively communicate and/or swallow. To no longer be able to communicate a simple want or need. To no longer be able to eat a slice of that cheese cake you so love. Impairments in these areas can have a significant impact on a patient's quality of life.
Helping patients to regain their abilities in these areas is both an honour and privilege. 
More GRH Stories