Posted: April 3, 2016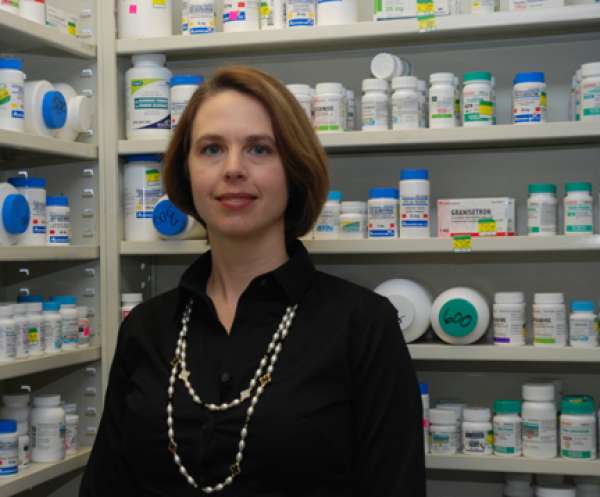 Although she is not someone you will often see, Brett Barrett plays a vital role for some of the most seriously ill patients across the hospital.
A pharmacist at GRH for 13 years and currently an infectious disease pharmacist, Brett's passion for caring for patients began after speaking with a family member who was a pharmacist. After learning how she could work with physicians and nurses to help seriously ill patients get better, she knew right away that this was something she wanted to do. 
How do you support patients in the hospital?
As an infectious disease pharmacist, I make sure that we use antibiotics correctly in treating our patients. Sometimes the impact I have on patients is indirect, like when I work with the surgical group to develop plans for the use of antibiotics that are safe, effective and supported by best evidence. Other times the impact I have is direct, like when I recommend changes to patients' antibiotic therapy in the intensive care or general medicine units.
Although you don't often interact with patients directly, why is your work so vital to them?
Patients almost never interact with me. Almost all of my contact is with the health care providers who prescribe their medication!
Antibiotics are a vital class of drugs. Antibiotics not only help people with infections get better; they also allow us to provide lifesaving medical interventions like transplants, surgeries and chemotherapy. Unfortunately, bacteria can develop resistance to antibiotics which means the drug no longer fights for that infection. One of the leading causes of this is overuse, or misuse, of antibiotics. By working with prescribers and other members of the health care team, I am able to suggest the most appropriate antibiotic to use which means less resistance in our patients and our community.
What do you love about your job?
Treating infections can be tricky business! There's a lot to know about the bacteria, the antibiotics and how these interact in each individual patient. I love that challenge! I am constantly running into new problems and learning how to overcome them. I also love the fact that I get to work with, and learn from, the smart and hardworking physicians at GRH.
Advancing exceptional care requires us to be smart on when we do and don't use medications. What does this mean?
This means asking whether or not antibiotics are needed in the first place each and every time they are prescribed for a patient. I do this with each prescription I see, but patients can also do their part. Patients should understand that some infections, especially respiratory tract infections that don't require a hospital visit, are caused by viruses and won't be helped by antibiotics.
Also, since the best way to avoid antibiotic use is to not get sick in the first place, all of us should work hard to prevent infections. The easiest way to do that is to wash our hands often and get recommended vaccinations.
What's one thing you wish people knew about pharmacists in hospital?
That most hospital pharmacists aren't involved in dispensing medications in any way. We're still checking that orders are safe and appropriate, but we use registered, highly-skilled technicians and technology to ensure the drug that is delivered is accurate. Instead, hospital pharmacists spend their time rounding on patients with physicians, identifying and solving drug-therapy problems and educating patients about their medication. 
More GRH Stories