Posted: December 15, 2018
Medications play an important role in the treatment of cancer and the pharmacist behind the medications play an equally important role. Pharmacists in GRH's regional cancer centre, like Kathy Planinac, are involved in all aspects of cancer care - from chemotherapy preparation and safety checks, to educating patients about side effects and how to manage them.
Kathy recently celebrated her 10th anniversary at GRH, spending the last seven of those years in the cancer centre. She is passionate about supporting patients and their families during a difficult time and being available when they need her most.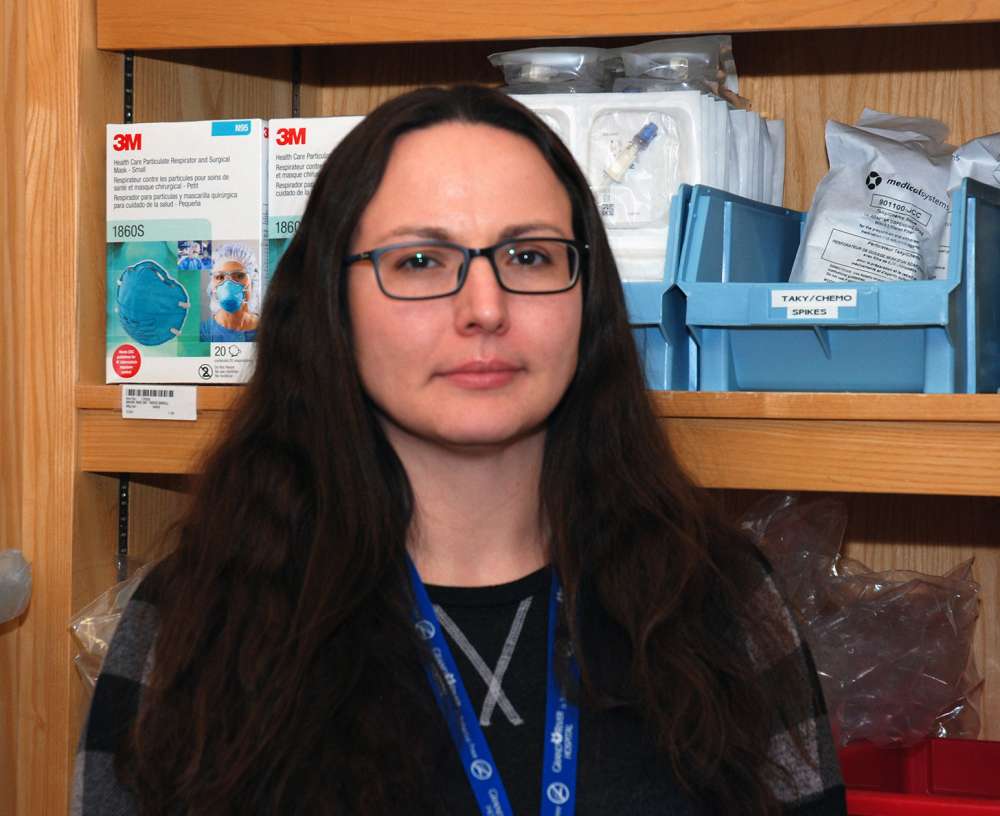 1. What made you decide to become a pharmacist in the cancer centre?
In my last year of pharmacy school I completed a placement at GRH and was given the opportunity to shadow a pharmacist in the intensive care unit (ICU) and another in the cancer centre. I look back fondly on both experiences and I was lucky to be mentored by two pharmacists that were passionate about their clinical areas and patient care. As a new graduate I was fascinated by both areas and learned so much, but after only a few days in the cancer centre I was hooked. I knew that was where I wanted to work.
2. How do you support patients receiving treatment for cancer?

A lot of the work pharmacists do is done behind the scenes before people even begin treatment. For example, making sure the doses of medications are correct, checking blood work results to ensure it is safe to give treatment, and confirming any medications needed to manage side effects are prescribed. These are all very important, but I think my main role in supporting patients is to provide education around cancer treatments and to be an accessible resource throughout a person's treatment journey. 
Before a person begins cancer treatment they meet with a pharmacist to discuss side effects and how to manage them. These appointments also give patients the opportunity to ask questions. My goal at the end of these sessions is for people to be well informed and feel empowered to manage their medications before starting treatment, but most importantly I want them to know they always have access to a pharmacist to help them manage any treatment related issues that may arise.    
3. What is unique about providing pharmacy services in the cancer centre?
One of the most unique things about providing pharmacy services in the cancer centre is the availability of the pharmacist. If a patient has a question about their treatment before they start, while they are receiving treatment, or after they are done they will be able to connect with a pharmacist at any time.
4. What are some struggles patients may face when it comes to taking medication for their cancer treatment?  How can they overcome them?
The most obvious struggles patients may face when it comes to taking medications for their cancer treatment are side effects. Many of these can be predicted (e.g. nausea) and patients are given medications and/or strategies to help prevent or treat these side effects. In most cases the right combination of supportive medications can make side effects more manageable. The most important thing is that people keep their care team informed, if you are experiencing a side effect tell us, often there is something that can be done to help.   
5. How can support persons help a patient manage their cancer medications?
A support person can help a patient better manage their cancer medications by becoming informed. Ask questions, make sure you understand the reason for each medication and how it should be taken. Encourage the person undergoing treatment to tell their care team of any struggles or side effects they may have
6. What do you love about your job?
The opportunity to provide information and education that helps people navigate one of the most difficult experiences in their lives is the most rewarding part of my job.
More GRH Stories