Posted: April 24, 2017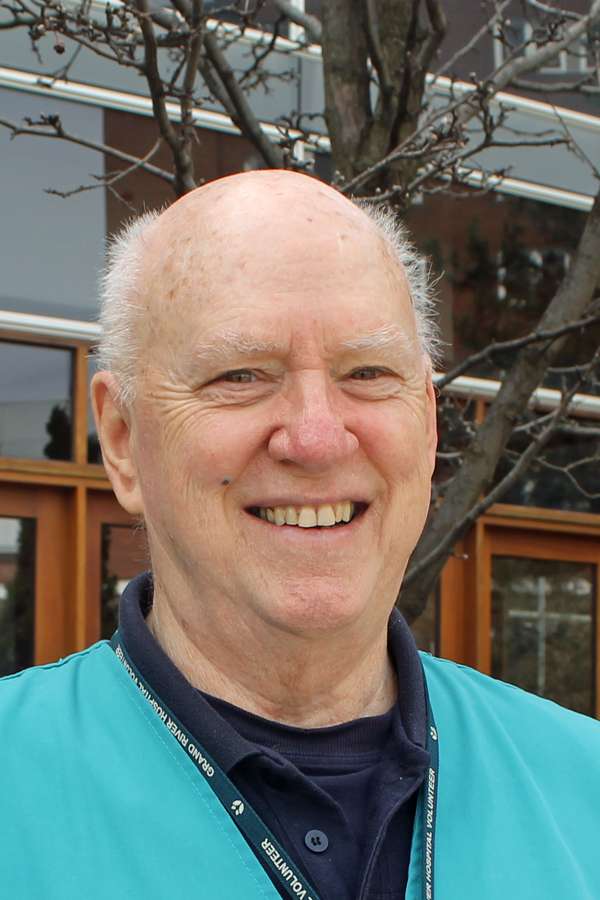 By Amanda Paul, volunteer correspondent
Support, guidance, and knowledge are some of the components Bill Blair brings with him when he volunteers.
Bill had spent the majority of his 35 years at GRH being an on-call spiritual care provider for families dealing with a time of crisis. Most recently, Bill continues to help others navigate their way through GRH by helping them at the front desk.
From dealing with times of sorrow to guiding others through the hospital, Bill offers kindness and warmth to everyone at GRH.
---
Why did you start volunteering at GRH?
I started volunteering at GRH in 1978 as an on-call chaplain. I was interested in this position because a colleague of mine was volunteering as well. When I started, I never imagined it would be 30 years later when I retired from that role that I would be still volunteering at the hospital.
To continue volunteering, I became a greeter in emergency and the intensive care unit. Due to health issues, I had to take a leave of absence but have recently returned to volunteer at the front desk where I answer questions and give directions.
What makes you still want to continue at GRH?
I have found that people are very appreciative of volunteers. I have had patients and families thank me for volunteering at the hospital. It allows me to do something for the community. I find it worthwhile and I enjoy it.
What have you learned most from volunteering?
Both as a patient and volunteer, I have been able to see first-hand how dedicated and hardworking staff members are.
I have also learned that that sometimes all a patient may need is someone to listen to them. One of the biggest things that I have learned is to not impose your needs onto a patient and let them lead the discussion.
What is the most rewarding thing about volunteering?
Just helping people and seeing how appreciative they are with the assistance that we as volunteers can give them.
I found the on-call position to be satisfying because I was allowed to support people in a particularly saddening situation. During those situations, families are often asking the question, "What do we do now?" By being there during that time, I was able to offer help and support in any way I could.
Volunteering as an on-call chaplain may have seemed like a horrible job because I was dealing with death and others' sadness but in fact, people are very appreciative. It is gratifying to make someone's life a bit easier during a crisis situation. Now, I love working at the front desk because I still help make someone's time at the hospital a bit easier.
What is a piece of advice you would give new volunteers?
I think that there is a bit of a learning curve and it can be intimidating at first for a new volunteer. But if you enjoy meeting and helping people, then you're going to love it.
It's important to understand that you won't always necessarily have the answers all the time. There will be new situations that will come up and you're just going to try to help solve the problem the best you can or find someone else who can solve it. You're always learning.
Another piece of advice I would give is there is a process to volunteering and let that process lead you. There may be situations that arise when you don't always have advice to give. Sometimes all you need to do is listen.
More GRH Stories