Posted: April 20, 2018
Caroline and Sandra Dudzinski are two volunteers who credit their volunteer involvement with helping to choose a future career path.
These sisters have volunteered their time in different areas of Grand River Hospital. Caroline and Sandra have volunteered in the cancer centre, day surgery, the gift shop, and the HELP program. Even with busy lives, they look forward to interacting with patients and learning more at GRH.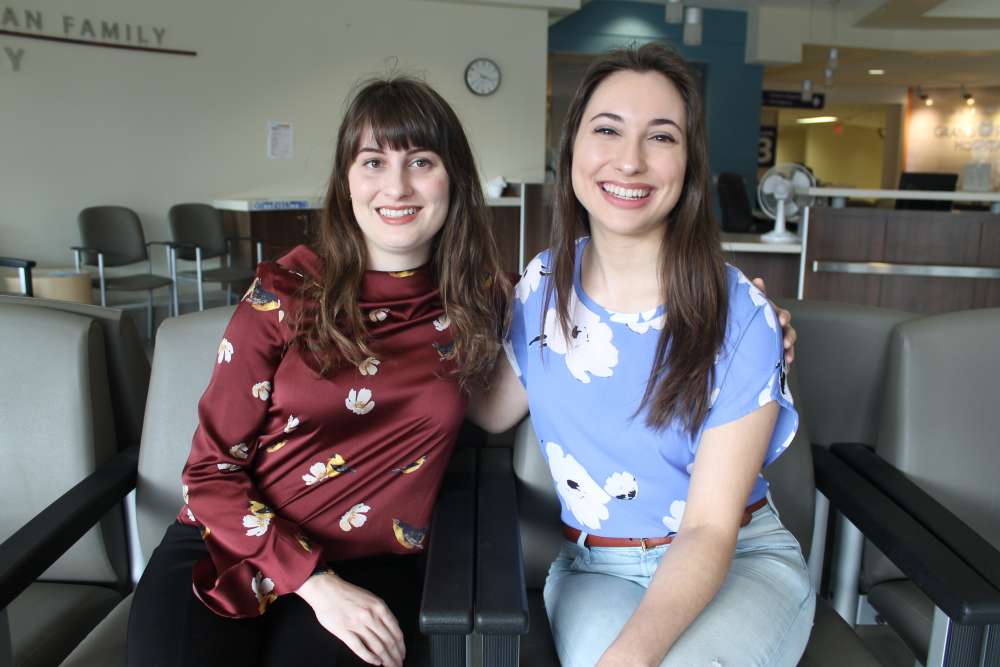 Why did you start volunteering?
Caroline: When I was 16, I had a friend who worked in the cancer centre and I was interested in volunteering from what I had heard from him. I thought it would be a good opportunity to volunteer and get to know the field a bit more. I've stayed on since because I enjoy it so much.
Sandra: Caroline is the one that encouraged me to start volunteering. I'm glad that my sister persuaded me to volunteer especially with my schooling. I went to school for sociology and social work so I've gained a lot by volunteering in the mental health department. Learning how to interact with patients and hearing their stories has really left an impact on me.
What have you learned from volunteering?
Caroline: The smallest gesture can make such a big difference. Offering a warm welcome, smiling or just saying hello can make a huge impact on someone's day. Through the perspective of a nurse, I don't always have the opportunity to sit down one-on-one with a patient. Seeing the volunteers interact with a patient is really beneficial and helps staff a lot.
Sandra: Being in the HELP program has taught me so much. Hearing about patients' lives and their stories are really interesting. I look forward to every shift because I always learn something new.
What has been the most rewarding about volunteering?
Sandra: For me, learning about different people's stories and their walks of life gives me a better understanding of who they are and how I can help them.
Caroline: I completely agree with that, personal interaction with patients is special. I can look back and think about certain patient scenarios that will leave an impact on me for the rest of my life.
How has volunteering helped to shape your career choice?
Caroline: When I first started volunteering, I didn't know exactly where I wanted to end up with my career. I was looking into teaching and nursing. I think that my volunteer experience helped me pursue nursing. Through volunteering, I realized how much I love helping people. Being volunteers gives us a better appreciation for what volunteers do.
Sandra: Volunteering in mental health has definitely impacted me. I've been able to understand some struggles patients might be facing, see what they're doing to recover and learn about the different resources that are available. It has definitely made a huge difference in my career choice and in my own life.             
What would you suggest to other volunteers?
Caroline: The hospital can be the last place someone wants to be, so a small positive gesture can make their visit more comfortable.
Sandra: Every individual has different reasons for staying in the hospital. By being friendly and actually listening to a patient can make someone's day better. You don't have to be in health care or the social work field to volunteer. Volunteering at GRH is for anybody.
More GRH Stories