Posted: July 7, 2016
If you have a stroke in Waterloo Region and require hospital care, your first stop will be Grand River Hospital.
After you've had care in the emergency department, you'll likely meet Dr. Brian Kelly and his many colleagues in GRH's inpatient stroke unit.
Dr Kelly is a family physician at GRH working with patients in the hospital's medicine and stroke programs. Prior to that, Dr. Kelly provided emergency care.
These days, he works with patients and families in the first few days following a stroke as patients begin their road to recovery. Patients often spend time at the stroke unit at GRH's KW Campus before moving to one of the region's rehabilitation programs (including GRH's Freeport Campus) for physical and neurological rehabilitation.
Dr Kelly is passionate about helping people along their path, and working with a number of care providers as patients bounce back from a stroke.
---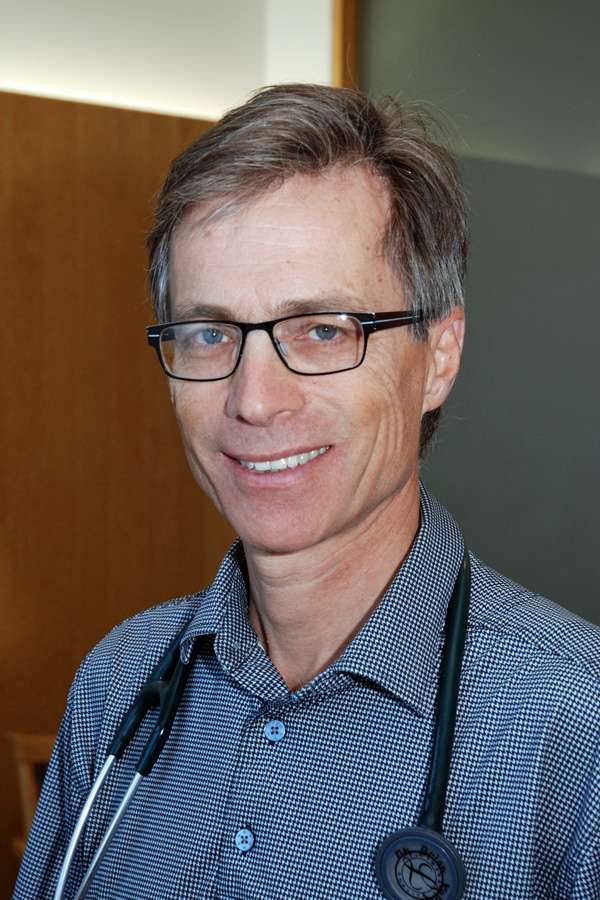 What's it like for patients and families right after they've had a stroke?
There are a lot of different perspectives because strokes come in many different forms. A first stroke event can be very unexpected, or it could be a series of events that some people are very unfortunate to have.
How long does a stroke patient stay under your care?
Typically for five days on average. We have a dedicated floor where we have people who look after strokes all the time and have additional expertise in the care required.
People are assessed and they're put on a stroke care map where all the testing and medical supports are put in place to help them. The whole team does everything to optimize care for them.
There would be a series of imaging tests to look at and localize the stroke. One of the big issues we have is trying to make sure that swallowing is safe and we don't run into complications from the stroke.
By the time we've seen them, the stroke has already occurred. We can't undo the stroke but our main effort is to optimize recovery from the stroke and try to identify problems and correct them so the chance of a future stroke is reduced.
But it is possible to reverse a stroke in some cases?
Before us, there is the thrombolytic care. That happens with the clot-busting drugs.
There is a stroke physician on call in the hospital. So when someone is brought to the hospital with concerns of a stroke, they're admitted as a "code stroke" and a special procedure is undertaken by the emergency physician and the emergency team to get a CT scan done immediately.
Then there's a stroke on-call physician who's dedicated to looking at these patients, to rapidly assess them and see if they are a candidate for this clot-busting drug because time is critical when you're trying to save brain.
What's the benefit of providing stroke care in a single hospital unit?
With care being concentrated, there's lots of data to show there are improved patient outcomes when people are treated on a stroke ward because of the improved concentration of expertise.
What do you like about this kind of work?
It's rewarding to help people, to try to improve things for patients and help them on their path. Also being part of a multi-disciplinary team is rewarding, it's cooperative.
More GRH Stories