Posted: November 1, 2021
Grand River Hospital collaborates with more than 50 academic institutions across North America to support learners and advance research initiatives to enhance care practices and improve patient experiences. During a year that changed the learning environment and limited opportunities for many students, last year Grand River Hospital was proud to support more than 700 students to gain hands-on experience and develop key skills that will enhance their learning and professional journeys.
Through these experiences, four GRH physicians received Excellence in Teaching honours from the Waterloo Regional Campus of the Michael G. DeGroote School of Medicine for their work with student learners, while another physician was honoured with an Excellence in Undergraduate Medical Education (UGME) Mentorship designation.
"We are proud of this recognition, which really outlines our commitment to building partnerships and initiatives that will support the health care practitioners of tomorrow," says Dr. Rebecca Kruisselbrink, Chief of Academic Affairs at Grand River Hospital who was this year's recipient of one of the Excellence in Teaching awards as well as the Waterloo Regional Campus Internal Medicine award. "This work will continue to grow to benefit both students and patients as we formalize partnerships, and identify new opportunities to establish the hospital as a preferred destination for learners, researchers and future care providers."
These partnerships – which include local organizations like Conestoga, Trios, and Centennial colleges, McMaster, Wilfrid Laurier and Waterloo universities – have continued to thrive throughout the COVID-19 pandemic which has altered the learning landscape.
"While the benefits of doing a placement are many, one of the main advantages is that placements aid in developing skills and building confidence," explains Victoria Crowder-Bansen, Director of Professional Practice at GRH. "Placements are a great way to pair what students learn in the classroom with real-world practical experience, and learn from, with and about other hospital roles. Placements provide an informal opportunity to assess competency and capacity and evaluate if a learner is a good fit with our values and mission to support recruitment. Furthermore, learners help staff develop their own teaching and mentoring skills. We are committed to providing placements that support and shape the graduates of the future."
Students are invited to gain experience across the hospital from a number of disciplines including Nutrition and Food Services. Each year, a group of University of Guelph Masters of Applied Nutrition students are invited to support patient care and gain hands on clinical nutrition experience at the hospital. As the COVID-19 pandemic began to limit hands on opportunities available to students, Grand River Hospital responded by increasing available, on-site nutrition practicums. These student projects have led to practice changes and specialized nutrition programming that will enhance care, and reduce the stroke risk for patients that are at a higher risk of experiencing a second stroke.
Over the past year GRH ramped up the use of its simulation lab. Previously, this space was used to provide training for the resuscitation of pediatric patients. Last year, more opportunities were added for Family Medicine and Internal Medicine teaching. Simulation helps train future clinicians by enabling students to experience and respond to a medical emergency scenario in a safe, simulation environment.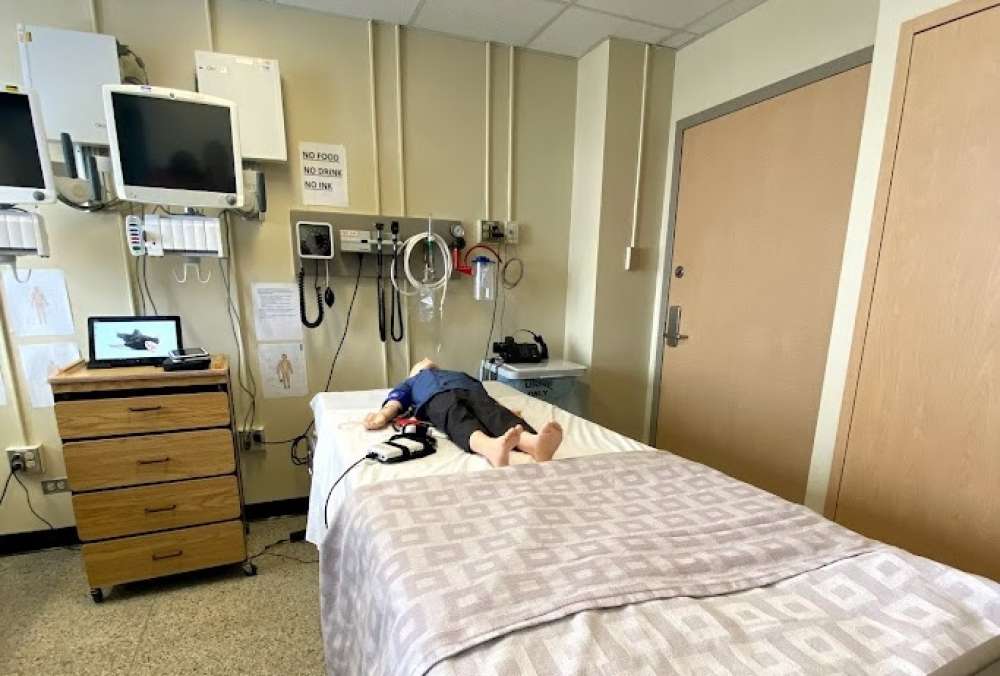 In 2020, Grand River Hospital also partnered with Conestoga College to bring hospital computer systems (Cerner) to the classrooms of health and nursing students. Through this program, future clinicians learn how to document care electronically in the classroom to help better prepare them for real health care environments and scenarios.
"In my learning experience, I learned about the logic embedded in Cerner, and how it works to apply best practice, ensure patient safety and supports communication across different care providers," explains Samira Yusuf, a fourth year nursing student. "I have a great appreciation for how long it takes to create clear policies and procedures to reduce the practice variability that may result in substandard care and patient harm. I appreciate the process of developing an education plan, including evaluating knowledge transfer. The team I worked with was great and supportive and I will treasure this once-in-a-lifetime opportunity wherever I go in life."
Grand River Hospital is committed to continue this work to supporting student learning, advocating for excellence in care and education and establishing the hospital as a preferred destination for learners and future care providers.
More GRH Stories