Posted: May 11, 2017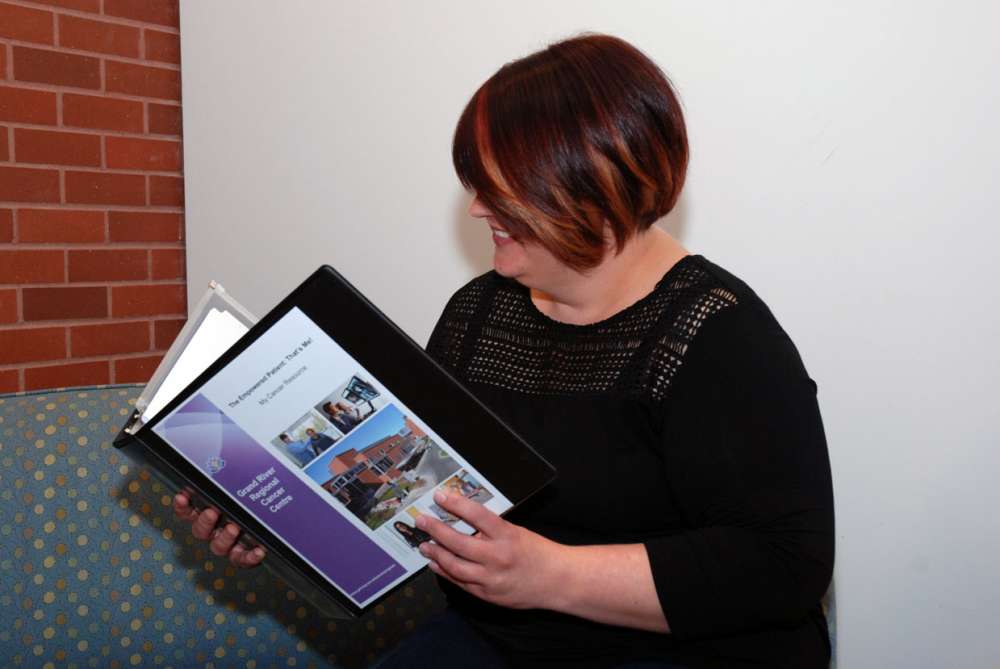 Often, having good information at your fingertips can make the difference for a better journey as a cancer patient.

Justine Ferguson recognizes that and is a driving force behind advancing exceptional care for patients living with cancer. She became a nurse because she liked the idea of being able to guide patients and their families through one of the most difficult times in their lives.
She has been involved in numerous projects with the Grand River Regional Cancer Centre (GRRCC), two of the most recent being a newly developed patient experience binder, and a redevelopment of the resource centre in the GRRCC.
Both of these projects were designed and implemented with the patient in mind, to help them in their journey and help them know where to go to find information that is trustworthy, current and accurate.
Justine hopes that these initiatives will help patients and their families to feel supported, and give direction on how to cope with and manage their care.
What do you enjoy most about your work?
Oncology nursing is always changing; there is always something new to learn. It involves a lot of health teaching, which is something I really love doing. I really think patients and their families have much better outcomes when they take charge of their care, and are more knowledgeable about their health. 
What is your favourite thing about health teaching?
Health teaching is very rewarding. The world of medicine and health care is such a difficult place to navigate at times; the terminology in health care alone is a different language to most patients and families. It's rewarding to simplify the language, explain the processes and see the understanding in patients and families as they realize that it's beginning to make sense. You can almost see the sense of empowerment they feel when this foreign concept (whether it be their cancer diagnosis, or how to give themselves an injection) comes together and they "get it".  It's a good feeling to know that, because of your teaching, that patient and their family can better navigate their care.
One of your biggest projects lately has been the "patient experience binder." Can you tell us a little about what that is?
The patient experience binder was developed based on two things. The first is feedback from patients and families that they receive so much information at diagnosis, it doesn't always feel as though they are being given information that is relevant to them. Oftentimes, this leaves patients feeling a little lost. 
The second is Cancer Care Ontario's Guide to Person-Centred Care which focuses on five key areas: 
knowing the patient as an individual;
providing essential requirements of care;
tailoring health care services to the patient;
continuity of care and relationships; and
enabling patients to actively participate in their care.
We wanted to give patients a tool that would empower them to learn more about their diagnosis: how it's treated, how to manage their side effects at home, what questions to ask and essentially put them in the driver seat of their care. The patient experience binder will provide patients with key information that we, as health care providers, need patients to know but will also leave room for patients to build their information resources based on what information is important to them.
What is the "resource centre" in the cancer centre? What work is being done there? 
The J. Wesley Graham Patient and Family Resource Centre is an area of the cancer centre where patients and their family will be able to go to research reliable, evidence-based information on their diagnosis, as well as programs that are available to them in the community, and resources (both in the community and here at GRH) to maintain their well-being and more.
It is the "information hub" of the cancer centre. Currently, we are updating the space with new paint, improved lighting, a customer service desk, a patient counselling area and updated resources. We are also actively recruiting volunteers to staff the resource centre from 8:30 a.m. to 4:30 p.m. five days a week, so that patients have someone who can assist them with finding the information they need. It will be the "go to" place for patients to take their patient experience binder, and fill it with information and resources that suit their goals for care and information needs.
What do you hope the patient experience binder will accomplish, not only for GRH but for patients as well? 
It is my hope that the patient experience binder provides patients and their families with the tools and information that they need to feel confident about getting involved in their care. 
More GRH Stories