Posted: February 13, 2018
Patients now benefit from the newly renovated J. Wesley Graham Patient and Family Resource Centre. In partnership with the Kitchener Public Library the resource centre, located on the third floor of GRH's regional cancer centre, provides access to books, movies, Kitchener Public Library online resources, computers and iPads, and "Ask an Expert" drop-in sessions.
Expertly trained staff and volunteers, like Aimee Jeffrey, are the keys to success when it comes to helping patients and families navigate the resource centre. Aimee works at the Kitchener Public Library and comes to the resource centre once a week to help answer patient questions and find the resources they are looking for.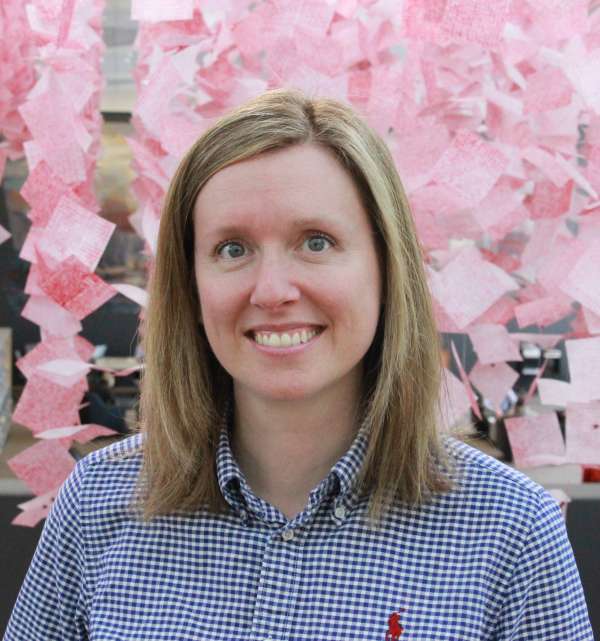 You are currently employed with the Kitchener Public Library.  What is your position there?
I am the Lifelong Learning and Literacy Librarian at the Central Kitchener Public Library

What services does the resource centre provide to our patients and their families?
The resource centre provides access to personal health research related to cancer diagnosis and treatment. We offer books, brochures, health databases, internet access and wi-fi, as well as iPads.
We also have fiction novels and entertainment materials such as downloadable movies, music, and magazines.
The resource centre is staffed with trained volunteers and Kitchener Public Library staff, of which I am one, who are here to welcome and guide you to find the resources you need.

The resource centre has partnered with the Kitchener Public Library. What does this mean for our patients?
Through this partnership, patients have access to all of the materials in the resource centre, as well as all of the services and supports of the Kitchener Public Library. If we don't have a book you are looking for, we can likely find a copy for you to pick up at one of our library branches. We're also onsite in the resource centre once a week. We are here to help you find trustworthy, relevant and up-to-date resources.
How does a patient request a Kitchener Public Library card and what does it do for them?
Getting a card is easy and available to all patients and their families (whether you live in the Region of Waterloo or not). Just fill in a short form and we do the rest. This is a special Kitchener Public Library card with unique perks. Books can be borrowed for four weeks (with one renewal) and NO FINES!
Access information through books, reputable articles, vetted websites and so much more that you can take home with you. Or use the computers in the resource center and we can assist you with your search.
If there is a resource a patient is looking for, but it is not available in the resource centre, how does the Kitchener Public Library help?
The cancer centre Kitchener Public Library card gives patients and their family's access to all of the resources available through the library. Although items cannot be delivered to the resource centre from Kitchener Public Library branches, you can use your card at any of the five library locations in Kitchener. If we don't have it in our library system, we can search all over Ontario, Canada and even North America to find you a specific title you need. All at no cost.

What do patients find the most useful in the resource centre?
Patients appreciate the friendly, one-to-one assistance we're able to give when they're searching for health information. They also find it useful to be able to find the resources they need, where they need it.

I think one of the unexpected benefits of a partnership with the library is that patients can access entertainment as well. With your card you can access all of our free online resources. That means you can download free movies, magazines, newspapers, music, e-books, e-audiobooks, learn a new language or thousands of other new skills. You can access all of this through the library website 24/7. As long as you have a computer, tablet or smart phone you can access them all for free. What a great way to pass the time waiting between appointments!
Why would you encourage a patient to visit the resource centre?
This resource centre is such a wonderful compliment to the amazing patient care happening at the GRH's regional cancer centre. So much work has gone into revitalizing the resource centre that I hope everyone gets the opportunity to come and explore all it has to offer.
Visit us in the resource centre if you need information about your diagnosis, symptoms and treatment, or want to use the internet or an iPad between appointments. Even if you want a friendly chat or a peaceful place to rest.
More GRH Stories