Posted: April 6, 2017
In many cases at Grand River Hospital, individuals wear many hats.
This is certainly true for Andrea Maier, a clinical secretary at GRH's Freeport Campus.
While her main role is registering inpatients for hospital stays and outpatients for rehabilitation appointments, she has many other responsibilities that come her way that support patient care.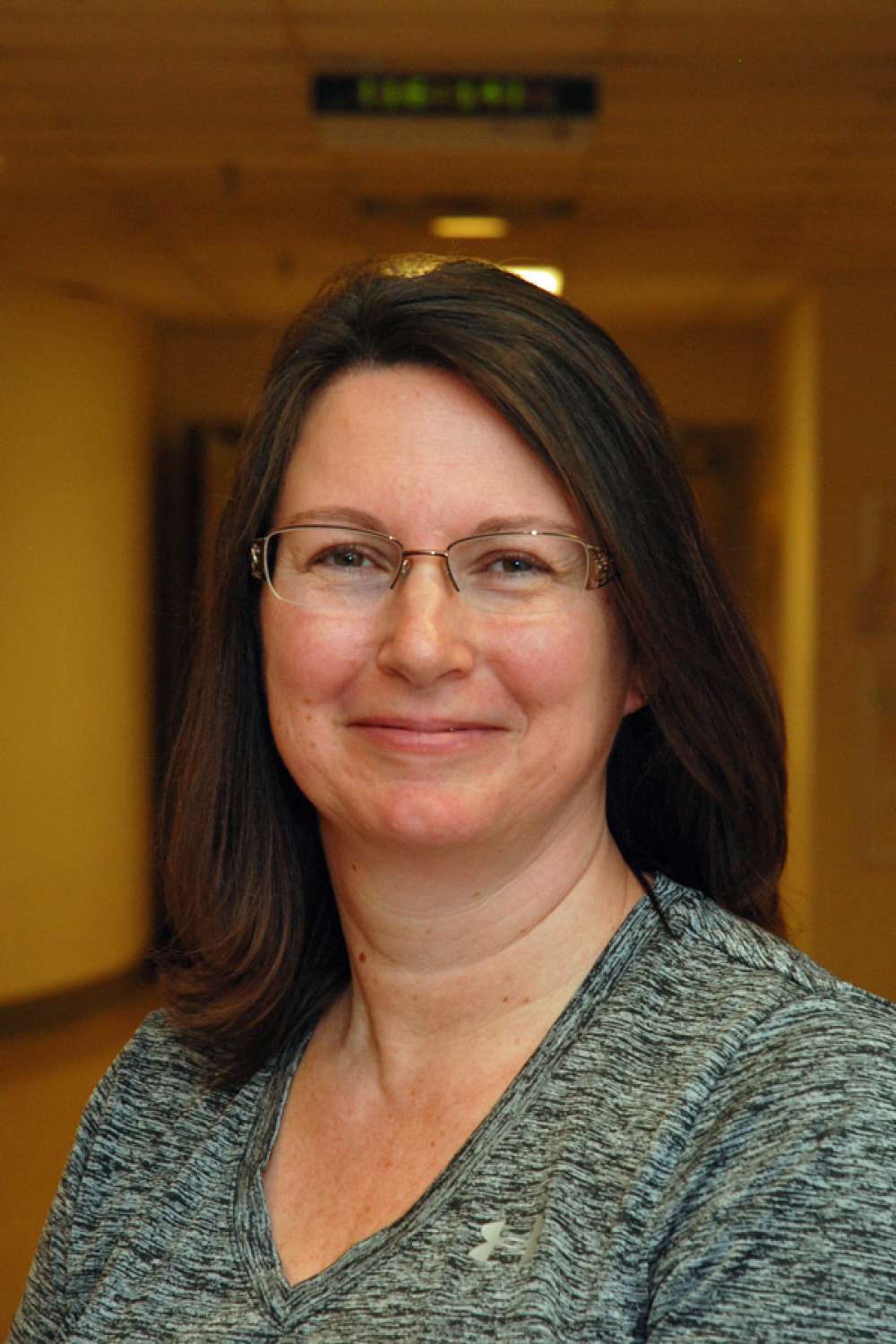 No two days are quite alike. But one constant for Andrea is the importance of being the first ambassador to greet patients and families when they come to GRH for care.
In addition to getting patients registered, Andrea is committed to helping them feel more comfortable as they deal with a stressful time. She also enjoys seeing patients' health improve after their care at GRH.
---
How did you get into your role as clinical secretary?
I had decided to go back to college for a new career and the health office administration program at Conestoga College caught my eye. I am an organized person and thought that the role of clinical secretary was a good match for my skills.  I ended up doing my placement on Union Terrace 3 at the Freeport Campus and was hired for a temporary position in the float pool.
What are some of the many hats you've worn in patient registration?
In the float pool, I cover most of the in-patient floors and out-patient clinics at the Freeport Campus. Registrations for both are basically the same, but the registrations for in-patients are more extensive.
When covering an evening shift, I am the only secretary in the building. A number of tasks come our way. In our role we help sort out transportation needs, clarify appointments, transcribe doctors' orders, troubleshoot fax machines and more.
I have also been involved with the standardization of our outpatient processes as well as the maintenance and recording of discharged charts. Recently I was asked to attend meetings for patient registration standardization.
What do you like about your role?
I love the job. There is always something to challenge me in this role. In the outpatient clinics we are the first face that clients see when coming for their appointments. How we interact with them can help to put them at ease, at a time that can be stressful for them.
I also support series patients who come for recurring linked appointments. We check them in for each visit and we start to develop connections with them.  A good rapport very often leads to a pleasant experience for them even if the circumstances with their health may not necessarily be good.
Sometimes when registering, we have language and understanding barriers that we have to work through with the patients and families.
How has your role and registration in the hospital changed over the years?
I have only been with the hospital for about four years, so I haven't really noticed any changes in registration.  Inpatient secretaries now have to work in the Health Partner Gateway, which is the platform for coordinated bed access through the Waterloo Wellington Community Care Access Centre for program scheduling. In the neuro and geriatric rehabilitation clinics, we now work with Caredove which is a scheduling program.
What keeps you going in it?
Each day is unique and each floor or clinic has something different to offer in the way of tasks.
I also enjoy being able to see the progress that our patients make. From covering the in-patient floors, and then supporting neurological and geriatric rehabilitation programs, I have seen the journey for patients who were confined to a bed or wheelchair at first. Then they could walk or run around the hospital. I've also heard the difference in a patient's speech after they have worked with speech language pathologists.
More GRH Stories