Posted: December 15, 2016
It's not common to see physiotherapists working in an emergency department.
But when one considers the growing number of older adults with health needs in our region, the value in Mairi McLean's unique role in GRH's emergency program becomes clear.
Mairi first learned about physiotherapy when recovering from a broken wrist as a child and regaining her mobility. She then shadowed a physiotherapist in a hospital setting, seeing the diversity of care that the profession provides.
Mairi combines her 37 years' experience in care for older adults, stroke patients, and people recovering from joint replacement surgery into a unique role in GRH's emergency department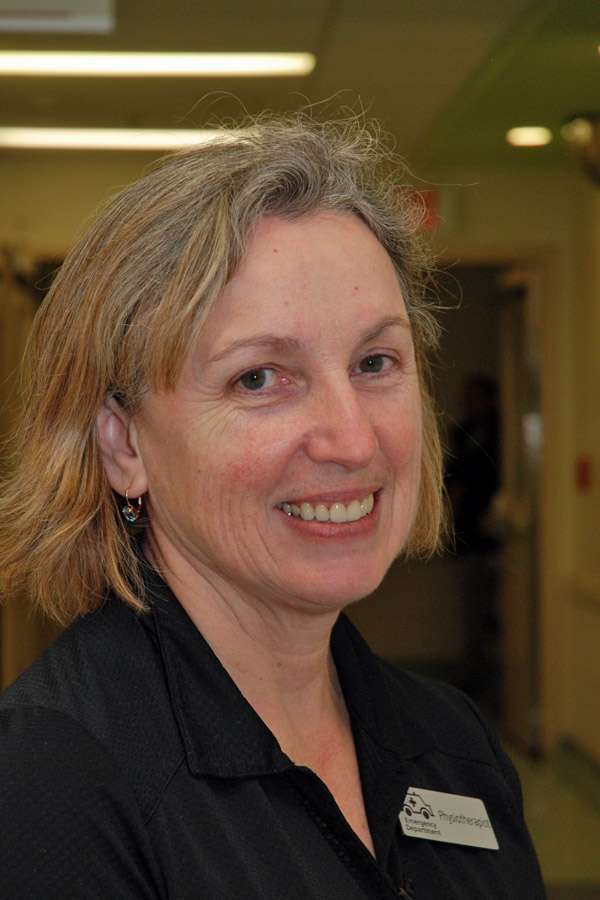 When an older patient is injured and seeks emergency care, they'll likely meet Mairi. She works with them to understand how they were doing prior to their injury, and determine what supports they'll need to stay safe and independent at home.
Mairi works with care providers in the emergency department as well as the community care access centre to make sure the needs of a growing population are supported.
---
What brought you to the emergency department as a physiotherapist?
We decided in 2012 to do a three month pilot. The emergency department had been requesting a designated physiotherapist particularly because of the wait times and also putting in a more comprehensive assessment so that when we did a discharge, we were able to obtain an expert assessment which would tell us functionally whether this patient was going to be a successful discharge.
What do those assessments involve?
One of the most important things is what we call the baseline. We want to know how they were functioning prior to admission and prior to their injury.
We're asking, "Are you walking, are you doing that with a walking aid, are you independent with your transfers, can you get in and out of bed, on and off the toilet, up and down the stairs? What does your whole day look like?" Then we're looking is there any family supports, are they on their own versus a spouse or having a neighbor drop in or other community supports.
Once we have that baseline, then I come in and functionally assess the patient.
How does that work for the patient?
Let's take a wrist fracture.
If you've got a patient who is normally up walking around with a cane, then they fracture their right wrist and they use their cane in their right wrist, then we've got to ensure that they can use their cane with their left wrist and continue to walk and continue to transfer and are they going to be able dress themselves, what will they do in terms of bathing? What about cooking, cleaning, laundry and groceries?
We're trying to get them back home, make sure they're safe, make sure they're not going to fall, and make sure they get cared for.
What do you continue to enjoy about physiotherapy after your nearly four decades of service?
I enjoy seeing somebody have a safe discharge, or we admit them because they need further therapy. I'm supporting somebody's quality of life, either maintaining or improving it. In a lot of cases with our older patients, I'm helping to keep them independent or in their home or retirement home.
That gives me a lot of satisfaction, to be part of this team that's looking after this particular age group and allowing them to have freedom, choice and quality of life. That's all any of us want for as long as we have it.
It isn't common to have physiotherapists in the emergency department, so what's it like being part of that team?
Everyone who works there wants to be there. It's a place that's very fast moving, lots of things change quickly. I really like the health care team I work with, the care coordinator, the GEM (geriatric emergency management) nurse, the social worker. These are the primary people I work with, along with the nursing staff and the doctors.
We're all on the same page. We all care about the patient, we all want the best possible outcome.
More GRH Stories