Posted: March 13, 2019
Melanie Thuss is celebrating this nutrition month by marking the halfway point in her journey through Grand River Hospital's (GRH) dietetic internship program.
GRH hosts one of only 14 post graduate dietetic internship programs in Canada. Four interns are selected to take part in the 44-week program to gain hands-on experience to become entry level dietitians. Melanie is amazed at how much experience she has gained throughout the hospital so far and is excited to see what the next few months have in store for her.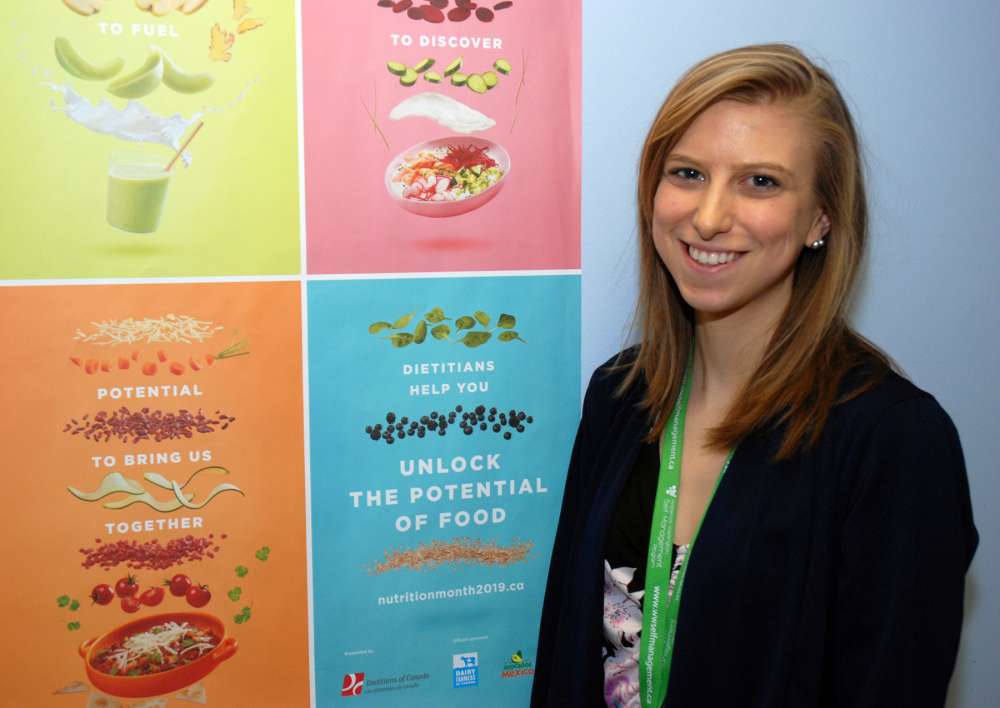 1. Why did you choose to complete your internship at GRH?
I chose to complete my internship at GRH because of the community-based atmosphere of the program and the warmth shown by the dietitians at GRH. I was also drawn to the smaller hospital size and the placement programs offered.
2. What is the biggest thing you have learned during your internship so far?
I have learned so much during my internship so far, from personal and professional skills to data collection and research skills. I feel I have been most amazed and surprised by how much one can grow in such a short period of time. I am excited to continue expanding my knowledge and developing my skills over the next five months.
3. How has the internship prepared you to become a dietitian?
This internship has taught me so much about expanding the knowledge I have gained through school and developing the interpersonal skills I have gained through volunteer and work experiences; and overall combining the two to provide the best care to the patients I work with. I already feel so much more confident going forth experiencing new challenges and opportunities in the field of dietetics.
4. What has surprised you the most working in a hospital environment?
I have been surprised and so grateful in regards to how much I have been able to learn from other health care professionals within the hospital and how much everyone supports one another to provide the best outcomes for patients. I have also had the opportunity to expand my knowledge in both inpatient (renal and intensive care) and outpatient centers (diabetes, oncology) and experience how they are organized to maximize their effectiveness for both patients and care providers.
5. What would you say to others considering the GRH internship program?
It is an incredible program and all those who get the opportunity to experience it will learn and grow tremendously. It is a great opportunity to develop an intern's skills and allow them to become a successful entry level dietitian. Even though I am only halfway through the program, it has already challenged and changed me in ways I never thought possible and for that, I am grateful.
6. What do you hope to achieve once you complete your internship?
I have loved every area I have been placed in so far and would be happy to obtain a job in any area of dietetics. I would love to work for a few years and then eventually do my masters and PhD once I find an area where I would be interested in completing further research.
I hope everyone takes advantage of every unique, unbelievable and daunting opportunity that comes their way. As I have experienced time and time again throughout this internship that every one of these opportunities leads to one of two things- success or growth- and both lead to a stronger and more capable individual.
More GRH Stories