Posted: June 16, 2018
For seven years, Pat Hummel and Linda Clarke have been working as a team in the Grand River Hospital (GRH) KW campus Gift Shop. As buyers for baby products, this duo ensures that the gift shop is filled with unique items while providing excellent customer service.
The role of Gift Shop buyers requires many hours of picking through the best items to sell in the shop. Net proceeds from sales go directly towards Grand River Hospital patient care.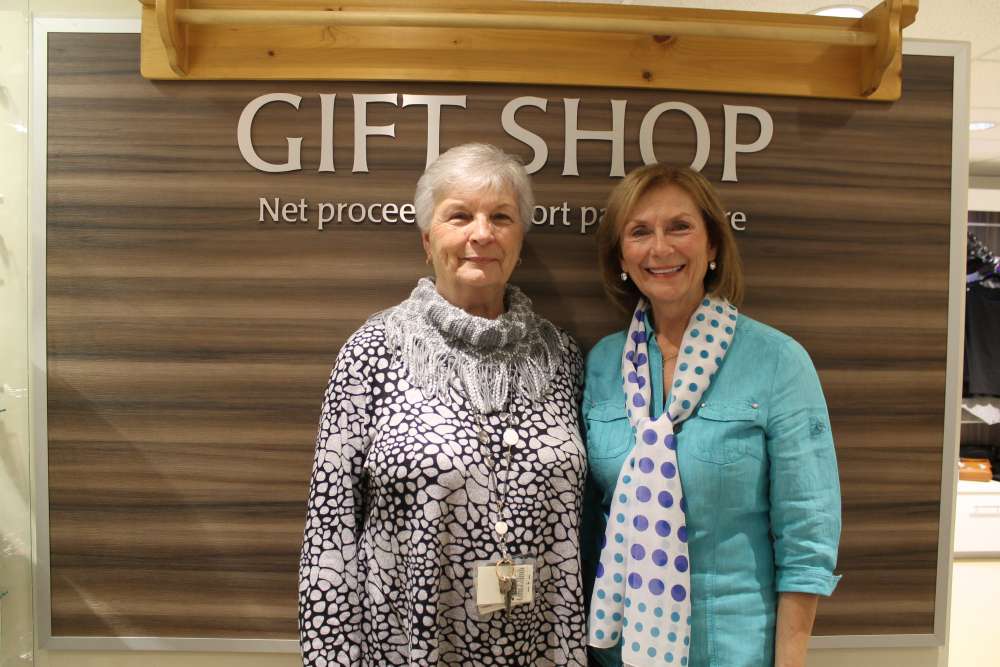 Why did you start volunteering?
Linda: I was a registered nurse at Grand River Hospital for 35 years. I worked in the emergency department and medical imaging. When I retired, I thought that volunteering at the hospital would be a way for me to give back. Since I was a previous employee, I understand the benefits of volunteers.
Pat: Before retiring, I worked in insurance. During retirement, I took one year off. My husband had an operation done at GRH and he was the one who said I should volunteer here. I also had an aunt and a close friend that volunteered. It was them who convinced me to volunteer. When I came for my interview, it was recommended that I work in the Gift Shop and in the breast screening program.
How did you meet?
Linda: When the Ontario Breast Screening Program (OBSP) started at GRH, I was one of the first nurse examiners here to conduct the examinations. There were volunteers that would bring patients from the front entrance to us for preparation. Pat was one of those volunteers and that's how we initially met. When I retired and started to volunteer, I decided to work in the Gift Shop. The day I came to see who my partner was going to be, Pat was there and I was so excited.
As baby buyers for the Gift Shop, how do you choose what items to sell?
Linda: We are the region's largest childbirth hospital. Our product is geared for ages up to 2 years old and we make sure that our products are unique. We have baby giftware and as well as other gifts. We do the clothing line and Pat is great at picking books.
Pat: We don't always agree and that can be a good thing. There are times when there are products that Linda wants but I don't think will sell, and vice versa. We're ying and yang. When there are disagreements, we don't get upset. I don't have a lot of knowledge with current baby trends and Linda does so she's able to let me know what's in style.
Volunteering in the Gift Shop isn't a traditional role, how would you describe it?
Linda: Having worked in health care for so many years, I wanted to do something that wasn't directly involved with patients, so this is the area I chose. I'm still involved with patients and their families, but not directly.
Pat: I love being in the Gift Shop. It's a happy place within the hospital. I've recommended it to many people because of how great it is.
What is one of your favourite things about the Gift Shop?
Pat: We've become very close friends and that's important for this role. We have a great time volunteering together and we make a great team.
Linda: This experience made us grow closer together, even in our personal lives. We participate in activities together that we might have not done before we met. Every day is an adventure with Pat and I look forward to that.
More GRH Stories