Posted: March 8, 2021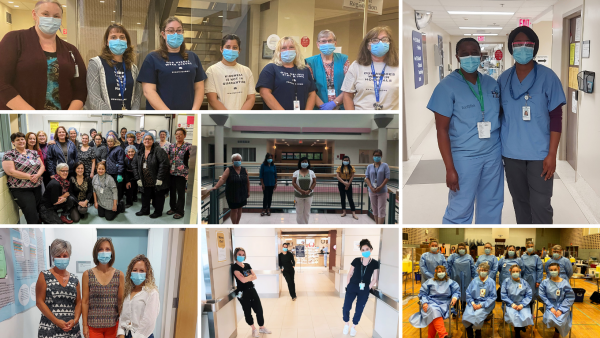 Happy International Women's Day!
International Women's Day is a global day celebrating the social, economic, cultural and political achievements of women.
At GRH, approximately 3300 team members are women, which is an amazing 85% of our workforce!
We also asked our staff to nominate amazing women who have gone above and beyond this year in their efforts and dedication to GRH - here are their submissions! Thank you to everyone who submitted.
---
The UT3 Respiratory Therapists and Nursing Team
Nominated for: Keeping a unit of up to 14 complex vented patients COVID free since the start of the pandemic, and supporting each other through difficult times.
Gina de los Santos - Clinical Manager, Inpatient Oncology
Nominated for: Amazing leadership. Gina kind, thoughtful, level-headed, fair and always thinking 10 steps ahead. Our oncology unit is very special and we owe that the leadership and guidance of Gina
Vickie Murray - Integrated Director, Pharmacy
Nominated for: Outstanding leadership, patience, and professionalism in standing up the GRH vaccination clinic in a matter of days, even with constantly changing information.
Nutrition and Food Services Department
Nominated for: Working so hard in a busy and stressful environment during COVID-19 times. They are integrate to the hospital's operation and helping patients heal.
Grace Eriamiatoe – Nurse
Nominated for: being always early for shift and staying late when someone needs support, and using her personal time to touch base with a friend or colleague in need.
Leigh Scott - Director, Talent Acquisition and Total Rewards
Nominated for: balancing multiple large scale initiatives by engaging and supporting her team
Sherri Heimpel-Peers, Sandra Paleczny, Ellen Richards, Shannon Robinson, Laura Watling, Julie Weir, Dr. Lisa DiNicolo, Andrea Sabourin, Corrie Sonnenburg, Bevin Joyner, Lisa Sorochan and Karen Straus - The women of the Freeport Leadership Team
Nominated for: being instrumental in our response to COVID-19 pandemic, putting in long hours, solid team work, attention to detail, and dedication to excellent patient care.
Colleen Backewich - Manager, Patient Access and Flow
Nominated for: the dedication and compassion with which she leads.
Hannah Marcus - Professional Practice Lead - Registered Dietitians
Nominated for: Exceptional leadership and dedication to a professional and patient-centred approach in all of her work, particularly in support her peers.
Kate Robinson-Cain - Chief Nursing Executive
Nominated for: Listening and learning about GRH while quietly making a difference.
Valery Spenler - Anesthesiologist
Nominated for: her incredible leadership.
Trudy Rose - Manager, Spiritual Care
Nominated for: her support for staff and patients during our COVID response
Ashly McKay - Human Resources Advisor
Nominated for: Supporting the leadership and employees during very difficult times.
Laurie Arlein Calder - Interim Manager, Learning, Organizational Development, and Volunteers
Nominated for: her positivity, integrity and strength. She is a wealth of creativity to help build or enhance healthy teams.
Erika Kovarik - Integrated Application Analyst
Nominated for: bringing her expertise and problem solving skills to the table, helping us advance the Cerner system.
Lisa Anstey - Manager, MDRD / Vaccine Clinic
Nominated for: making every single person feel comfortable and IMPORTANT in any role they have, and being the reason people have a good day even when it's a "bad" day.
Donna MacDonald - Disability and Attendance Support Specialist
Nominated for: covering so many roles and being so well versed in all of them!
Nicole Davison - Registered Dietitian
Nominated for: Advocating for patients and coworkers, building her coworkers' confidence and being patient, positive, and selfless in her service to the hospital.
Kathy Planiac – Pharmacist
Nominated for: working tirelessly since the beginning of the pandemic to ensure safety and efficiency, including helping to run our vaccine clinic. She is a wonderful manager and friend.
Chris McLellan, Patricia Patterson, Catrina Clark, Sherri Heimpel-Peers, Alissa Rusk, Sherri Lamothe, Lisa Sorochan - The women of the Mental Health Leadership Team
Nominated for: Their caring for patients with mental health concerns and their leadership in continually improving GRH's mental health and addiction services.
Operating Room Circulating & Scrub Nurses
Nominated for: Putting patients ahead of themselves, even when needing to pick up extra shifts or cover for each other, no matter how busy or difficult the circumstances.
Suzanne Curtis - Registered Practical Nurse
Nominated for: showing compassion, caring and empathy - every life she touches with a lasting feeling of sunshine that fills even the gruffest of hearts.
Diana Brodrecht - MRI Team Lead
Nominated for: making everyone's day better just by being around her. She has brought so much to the medical imaging department with a wealth of knowledge, care and dedication.
Renal Incenter Team
Nominated for: This team of mostly women has worked so hard, diligently and empathetically, to show our patients the care and support we give them.
Victoria Crowder-Bensen - Director, Professional Practice
Nominated for: being a rock star, supporting GRH to reorganizing Allied Health, enhancing professional practice supports, and encouraging teams to "be exceptional every time".
Speech Language Pathology Team
Nominated for: Being a welcoming and supportive team, helping each other manage caseloads to ultimately support patients. They are also always willing to take on new students/grads and to help them learn more about this amazing profession.
Purchasing Department
Nominated for: this team of mostly women has worked tirelessly and collaboratively every day to ensure GRH is stocked with adequate supplies and equipment needed for clinicians to deliver care, even in difficult COVID circumstances.
More GRH Stories