Posted: November 16, 2020
Our nursing students are the nurses of the future. They work alongside our staff helping to care for our patients, and even during times of crises, outbreaks and pandemics, our students step up to the plate and are an important part of our care teams here at GRH.
National Nursing Students' Week is November 15 – November 21, 2020 and we want to acknowledge the work of our nursing students and celebrate their journey to becoming our future nurses. This year in particular, it is especially important we acknowledge these students for the resilience they have shown during the stresses and hardships that have been endured during the COVID-19 pandemic.
Did you know over the past few years, on average, we place over 450 nursing students? Even with the pandemic, this year we've placed 534 nursing students! This includes:
284 nursing students in the winter 2020 semester;
We continued our nursing placements through the beginning of the pandemic (if the academic institution permitted it); and,
250 nursing students in the fall 2020 semester.
All of these students are essential to GRH and make more of a difference to the lives of our staff and patients than they may even realize.
We asked some of our nursing students to tell us about their experience at GRH, including highlights so far and advice to future nursing students.
Introducing the students:
Abaynesh (Abby) Mecha, level 4 RPN to BSCN at McMaster University via Conestoga College.

Skyler Oude Voshaar, 4th year Trent University nursing student, completing preconsolidation semester on the Oncology floor.

Bianca Marcu, 4th year student in the BScN McMaster University/Conestoga College collaborative nursing program
Elizabeth Okeniy, first semester of a one year post graduate nursing program at Conestoga College
Hiren Prajapati, final semester of Conestoga College enhanced nursing professional practice: gerontology and chronic illness
Nicole Larcher, 4th year student in the BScN McMaster University/Conestoga College collaborative nursing program
Faith Donayre, 2nd year at Conestoga College focusing on Gerontology and Chronic Illness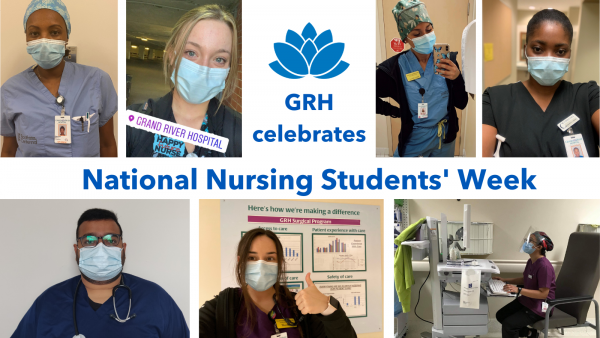 How is your experience at GRH helping you explore the world of nursing?
Abaynesh (Abby): I am doing my placement at GRH ED and exploring nursing skills almost everything I learned in theory in nursing school. GRH ED is very welcoming place for students.

Skyler: GRH has helped me explore all the amazing things that nurses can do to help their patients. My placement has also shown me how working as part of an interprofessional team can improve patient care.
Bianca: Being on the childbirth unit, this has been my first experience in a specialty. It has helped me explore women's reproductive health as well as neonatal health. I absolutely love it here!!
Elizabeth: My experience at GRH has improved my bedside nursing skills and expand my knowledge and understanding of expectations and realities at a clinical setting.
Hiren: It was the first time I was at Grand River Hospital for my co-up program. I was at the Freeport campus. It was an amazing experience for me to work in the Rehabilitation care area. I learned lots of skills as a new grad nurse and hoping to work with Grand River Hospital after my graduation.
Nicole: I am currently doing my consolidation on the inpatient surgical unit. This unit is helping develop and critique core nursing skills such as IV medication/practice, dressing changes, head to toe assessments, pain management, and much more. These skills are the foundation of nursing and will be applicable in many future careers paths ahead.
Faith: As an international nursing student here in Canada, I was able to explore and understand the way of nursing here. It has exposed me to how technology could be a great help to nurses working in the hospital. Most especially, it has made me realize the importance of having a standard of practice in the care of the patients.

Top advice for future nursing student – from current students!
Ask lots of questions: This is how you learn as much as you can! - Bianca, Nicole & Elizabeth
Be confident: You will learn lots of new skills at Grand River Hospital! – Hiren
Seize every learning opportunity: Don't be afraid to ask to be a part of something interesting on your unit, and come eager to learn– Skyler, Abby, & Nicole
Persevere & keep a positive attitude: It may seem overwhelming at first, but it gets easier. And the early morning alarms are worth it. – Elizabeth, Nicole, and Abby
Cherish every moment – This clinical experience will help you identify the nurse you want to be in the future – Faith
Are you a nursing student interested in a placement at GRH?
Talk to the placement office at your academic institution for more information! Most of our students come from partnerships with Conestoga College, and the universities of McMaster, Nipissing, Trent, Ryerson, and York. However, we also accept nursing students from across Canada and internationally!
More GRH Stories