Posted: April 20, 2017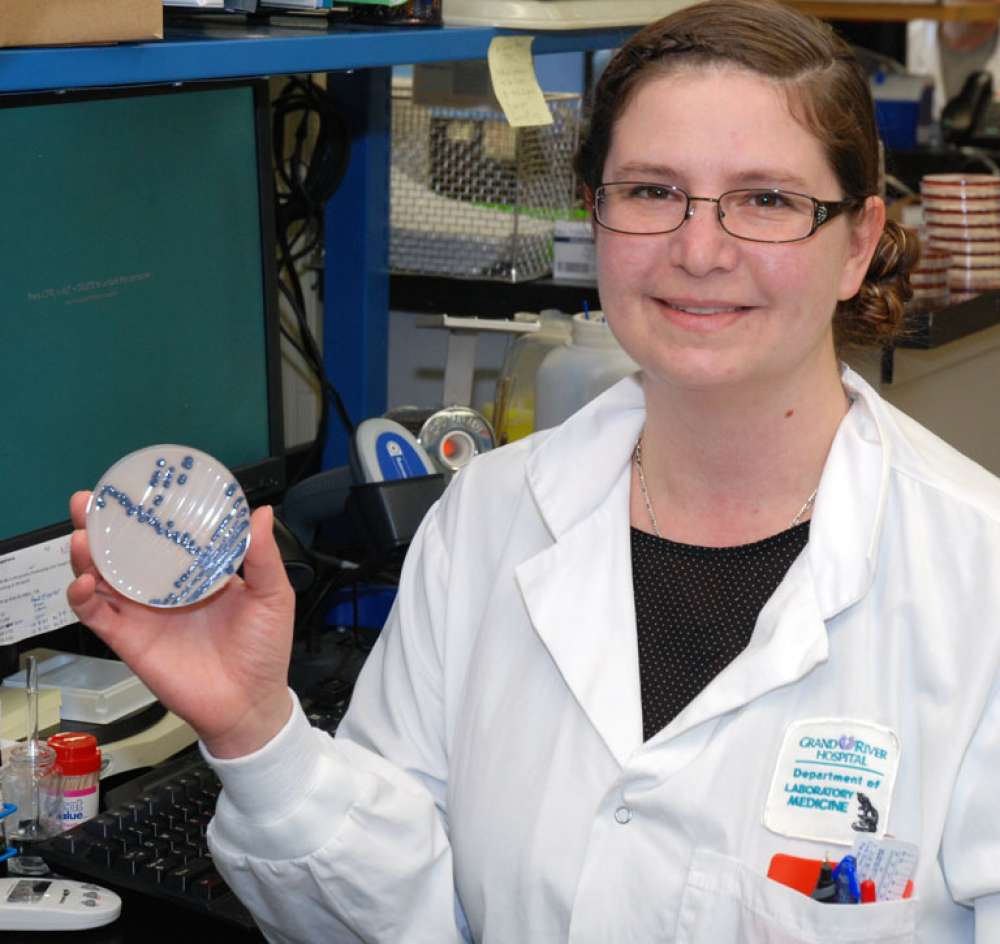 Stacie France is working hard with today's new medical laboratory students to make sure GRH has laboratory care staff well into the future.

Medical laboratory technologists (MLTs) are vital to the health care system.
MLTs in microbiology test patient samples and identify what bacteria is growing in a patient and work alongside physicians to determine what antibiotics would be best to treat the infection.
Given that they are so important in the treatment of some patients, MLT Stacie France is helping to prepare the next round of MLTs who are currently still training in school to make sure they're educated, confident and prepared for when they enter the workforce.
So far this year, Grand River Hospital has hosted three technologist students and is expecting to have four more by the end of the year, where they'll spend just over six months in the lab, and rotate between disciplines every four to six weeks.
GRH hosts 600 students a year in a variety of health disciplines, making the hospital a key centre for advancing health education in Waterloo Region.
What does your day-to-day look like?
Every day is different. Most days I will come in and immediately start working on samples.
We test blood cultures, stools, body fluids, tissues, throat swabs, MRSA (bacteria) swabs and more. We evaluate what bacteria are growing and determine what is normal for the site it was taken from and what could potentially be a pathogen. Then, further testing is performed to identify the pathogen and determine what antibiotics can be used to treat it. 
We use a very advanced piece of equipment as our identification system. It fires a laser at a target organism, which is then broken into a multitude of pieces that are sorted based on its physical properties. The pattern it produces allows us to identify most bacteria in a matter of minutes.
Most days are quite busy, especially during flu season. It is difficult to predict how busy it's going to be at any time. Sometimes we have a lot of samples but most of them are negative and other times we have a few samples but they have a lot of different types of bacteria and can be quite complicated to sort out. 
At times we can have a lot of samples and they can all be complicated. No matter what is growing, we try to keep the doctors and nurses informed, so that the patients can get the best immediate care possible.
What do you find interesting about your work?
I find it interesting that even after working on hundreds and hundreds of samples, I still encounter new situations all the time. Sometimes it is a new type of bacteria that we may not have seen before, sometimes it is a common type of bacteria that is growing somewhere it shouldn't be. New resistance patterns are emerging all the time, and new tests and procedures have to continuously be developed to meet these challenges.
This is the first year hosting medical laboratory students. What will the students be doing in their time here with us?
In microbiology, the students spend their time doing a combination of shadowing technologists and working on their own. With the technologists they get to practice the skills they have learned in school on real patient samples and get a sense of the pace and responsibilities of a real lab.
We also give them a series of "unknown samples" which are prepared by a technologist. This lets them apply their knowledge and chose the appropriate testing on their own. It is an excellent tool to evaluate their preparedness to start working as a technologist, and also gives them confidence in their own abilities.
They get to work with state-of-the-art equipment which is something they don't get to do in school, so that's also a great opportunity for them.
What's the mutual benefit for students and staff when med lab students join us here at GRH?
I think it is a wonderful benefit for both the students and GRH. Not only do the students get practical experience, but we are also challenged to keep own knowledge up-to-date. It gives us a different perspective, and they always come in with a great attitude which is uplifting for everyone.
More GRH Stories