Posted: July 11, 2018
Deanna Boulton is a detective in the on-going fight against infections.
And thanks to some advanced equipment at Grand River Hospital's laboratory, she's finding ways to zero in on health care acquired infections faster and at a lower cost.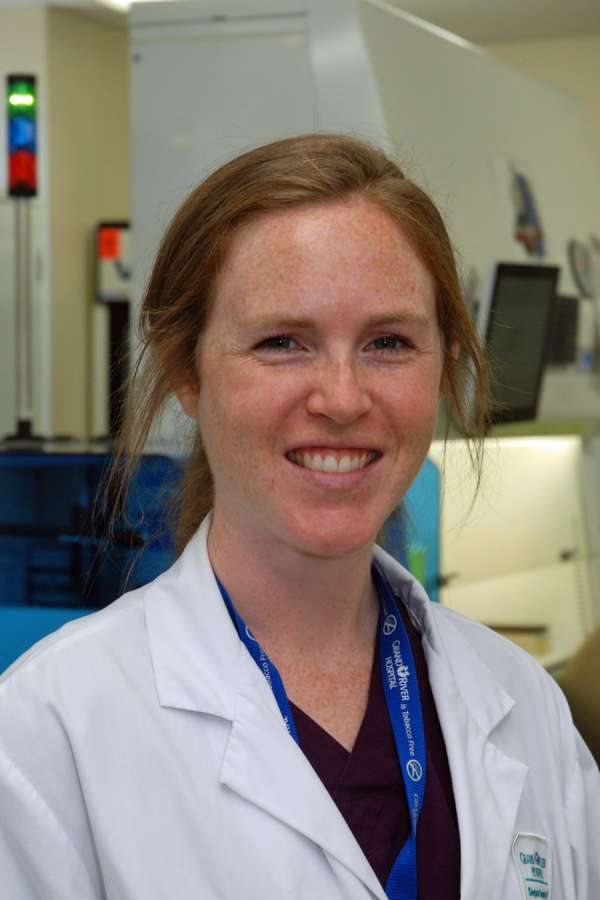 Deanna is a medical laboratory technologist in the microbiology lab at GRH, which also serves St. Mary's General Hospital. Her work and that of her colleagues helps track down organisms and give physicians vital information to make treatment decisions.
Deanna enjoys the hands on nature of microbiology work, and finding new ways to provide faster information to support patient care.

---
Why did you choose to become a lab technologist?
I always knew I wanted a career in science and healthcare. Becoming a lab technologist satisfies my curiosity and fascination with science and how the body works. I like that it's very hands-on and requires me to think critically.
How did you come to Grand River Hospital?
I chose to do my eight-month placement at Grand River Hospital as part of the medical laboratory technology program at St. Lawrence College. After rotating through each of the five laboratory disciplines (hematology, chemistry, histology, blood bank and microbiology), I began working as a technologist in the microbiology department.
What do you enjoy about your work?
I like the ongoing education, as technology and medical science are always changing. No two patients are the same so it keeps me focused on details and following processes that ultimately lead to the answers needed to make a difference in a patient's health.
What keeps you on your toes?
Bacteria have a way of surprising you. Just when you get used to their appearance one way, it will grow completely different on the next occasion and/or exhibit attributes not previously or typically associated with it. Understanding the mechanisms with which they do this is important for treatment.
You recently presented in Vancouver and Atlanta about a lab procedure that's saving time and costs. What does that involve?
Efforts to detect resistant organisms and prevent their spread are of particular importance in the hospital setting.
During validation of new software for our MALDI-TOF system (opens in a new tab), it was discovered that one often-screened-for organism, MRSA, could be detected with 100 per cent sensitivity when taken from a specific type of media used for culturing. In the past, we'd have to grow the culture, and then do an additional test which would take another day to specifically identify MRSA bacteria.
By switching to this media we've been able to cut out additional testing and reduce turnaround time, thereby allowing results to reach physicians much earlier and intervention to begin much sooner. 
If someone knows little about the microbiology lab, how would you explain its importance in patient care?
Bacteria are everywhere. It's when they escape their natural habitat and take up residence in areas they shouldn't be that leads to potential risk of infection.
In the microbiology lab, we seek to find the culprit responsible for the infection by testing various blood, body fluids, and tissue samples. The results of these tests help guide physicians in diagnosing and treating these infections appropriately.
More GRH Stories