Posted: May 15, 2017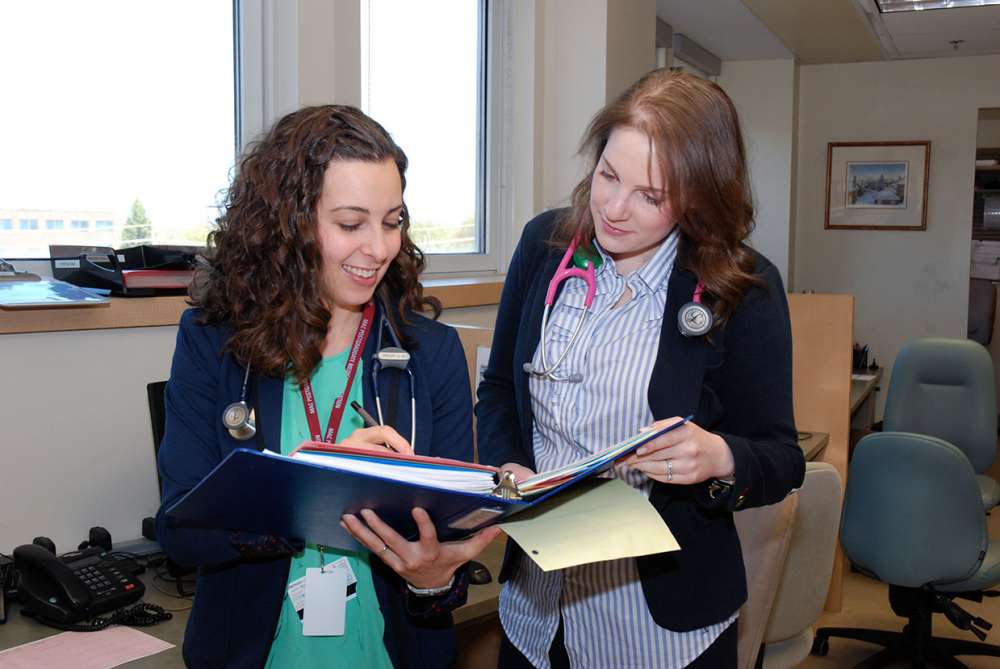 Dr. Sarah Leonard often gets asked how she started working in oncology care after training in family medicine. She has been working as a physician on GRH's inpatient oncology unit since January of 2016.
Dr. Leonard graduated medical school at Queen's University in 2013 and completed her family medicine residency doing rotations between GRH and Guelph General Hospital. When she was starting her applications for medical school, she worked on the business side of health care, writing market research reports on emerging medical technologies.
Now she helps to provide exceptional care to patients while they are on their cancer journey.
What interested you in this line of work?
I wanted to take care of sick patients with complex medical needs. I had done an elective in hematology (the study of blood) and oncology (the study of cancer) at GRH as a resident and really got excited about the advances in cancer care and the strong integration of interprofessional teams in oncology care.
I also enjoyed the opportunity to provide comprehensive care to a population with high medical and psychosocial needs.
What do you enjoy most about your work?
I enjoy getting to know patients and their families, and helping them through serious acute illnesses while they are on their cancer journey. I am so lucky to work with a team of nurses, physio and occupational therapists, social workers, consultant oncologists, palliative care teams, and homecare coordinators who meet every day to coordinate each patient's care and ensure we are meeting all their needs.
What do patients often ask you?
Patients frequently ask how I got into oncology care when I trained in family medicine, and how I came to work in Kitchener-Waterloo.
The easy answer to both is that I trained in the family medicine program at McMaster's Waterloo Regional Campus and I happened to do some of my training in the Grand River Regional Cancer Centre, and working here really appealed to me. I think where you train can affect the location you choose to work, and I had such great opportunities to direct my learning in the domains of family medicine that interested me by being in a community-based program.
What is the difference between general practitioners in oncology (GPO) compared to oncologists? When will a patient be more likely to encounter a GPO?
GPOs are typically family physicians by training, and usually had 2 years of residency after medical school but sometimes have done extra training. Some GPOs prescribe and manage a patient's chemotherapy, particularly when they don't live close by a cancer centre and want to receive their treatment locally. Some patients are also followed by a GPO for survivorship care after their active treatment is done.
Medical and hematologic oncologists are internal medicine specialists who did extra training fellowships in medical oncology or hematology (the study of blood). They typically complete about 5 years of residency training after medical school. Radiation oncologists typically do a 5 year residency program in radiation oncology.
What does your average day look like?
I start my day by reviewing my patients' vital signs and blood tests, and identifying if there are any big concerns that need to be dealt with right away. Right after this we do team-based rounds where the doctors, nurses, nurse practitioner, pharmacist, dietitian, physiotherapist, occupational therapist, social worker, spiritual care provider, and the care coordinator for the community care access centre (CCAC) meet. At these meetings we go through each patient's individual care and identify what their needs are that day; sometimes people are sick with new infections, sometimes they are getting chemotherapy and need medications to manage their symptoms, and sometimes they need to be referred for more physiotherapy to help them get home safely.
We use the meetings to identify what each member of the team can do to help the patient feel better and get well enough to be at home, or identify if they need more symptom support or alternative locations for their care such as extra rehabilitation or hospice care. After this I go to see all my inpatients, see any new admissions, and do all my charting. I have to be flexible and see people who are sickest first, and I have to be ready to respond to emergencies on the floor if they occur.
What do you think is important for people to keep in mind when it comes to cancer, especially those who have no family history?
Cancer doesn't discriminate and although some people have more risk factors for certain cancers than others, anyone can be affected. There are some things we can do to limit our risk of developing different cancers, but just because someone gets a cancer doesn't mean it is their fault.
Some of the most effective things for limiting your risk of getting cancers are quitting smoking (or never starting), and wearing sunscreen regularly. Seeing your family doctor can help you access resources for lowering your cancer risk, and for participating in appropriate screening tests for common cancers. Examples of these are pap smears, mammograms, and stool testing or colonoscopies as recommended.
More GRH Stories