Posted: March 24, 2016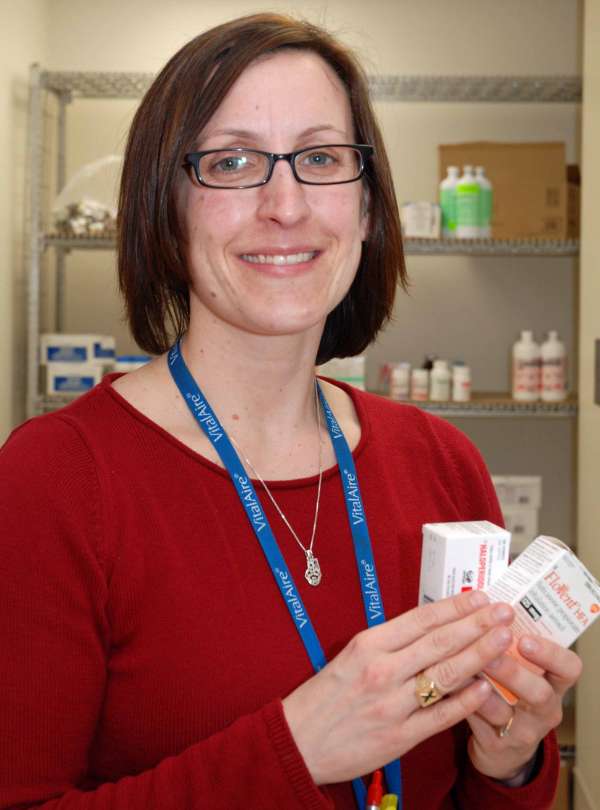 Shelley Parker knows how early experiences can shape one's life.

Having coped with lifelong chronic asthma, Shelley so valued the support of her local pharmacists in Nova Scotia that she became one herself.
Now after 15 years as a pharmacist, Shelley is passionate about her role at Grand River Hospital. She helps manage complicated medications for some of the hospital's most ill patients.
Shelley is also one of the hospital's co-leads for medication reconciliation or "med rec". This process helps improve medication safety as patients leave the hospital and manage their prescriptions at home.
---
What does your work involve now?
Currently I work with patients staying in the hospital for several days. I support the medicine program covering our clinical teaching unit, the acute care for our elders unit and the stroke unit.  My role involves working closely with physicians, nurses, and allied health to provide care to our patients.
What is your role in med rec?
I provide direct counseling to patients pertaining to medication reconciliation. This involves comparing or reconciling medications from home with what the patient is receiving in hospital. This process of "med rec" continues throughout the patient's hospital stay and also occurs at discharge, ensuring the patient/care provider/pharmacy has a clear idea of what medications the patient is to continue after leaving the hospital.
Why is med rec so important?
Many of our patients have very complicated and/or chronic illnesses. They may need to manage a number of different medications. If the care team needs to make a change to a medication, we want the patient and providers to be well aware of that change and work with it accordingly.
What do you love about your job?
I love working with patients, hearing their stories and, hopefully, making an impact in their overall health. I love the variety of medicine patients; it's never boring!
What's one thing you wish people knew about pharmacists in hospital?
Hospital pharmacy includes an entire team of not only pharmacists but technicians, students, and automation technology specialists. We're all working together to achieve a safe medication system for our patients.
More GRH Stories