Posted: December 19, 2017
Bringing joy to the community through beautifully wrapped presents, Stacy Bambrick channels her love for Christmas by volunteering with the Grand River Hospital gift wrap.
Every holiday season, Grand River Hospital provides gift wrapping services to the community. This service has been used by many and 100 per cent of the proceeds from donations go towards patient care at GRH.
The combination of her love of gift wrapping and giving back to the community makes Stacy come back every season.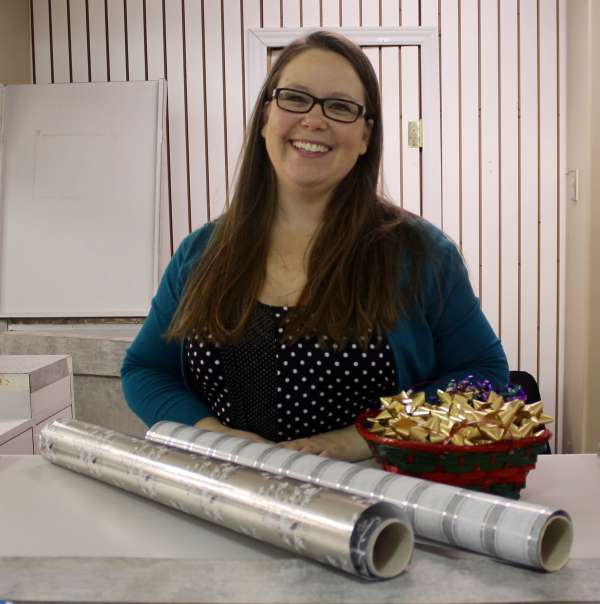 How did you start volunteering with the GRH gift wrap?
In my younger years, I spent a lot of time gift wrapping with my mom and I loved it. Gift wrapping for GRH seemed like a lot of fun. I get to engage with people and I love Christmas, so it's a natural fit for me. The more I did it, the more fun I had. 
It's important for volunteers to align their values and passions with the organization they are volunteering for. That's what makes the hospital a great fit for me.
What is your favourite thing about volunteering during the Christmas season?
There is a magic to the season. People are out and feeling generous. It's an opportunity to meet interesting people and hear their stories. Sometimes they're bringing gifts because it has been a family tradition, or they tell you why they bought the gifts that they bought. And sometimes, it's just a challenge! When guests come to the gift wrap with a challenging gift to wrap, I try my best to wrap it and they are so grateful. It's a great feeling to see people building our community and wanting to strengthen that during the holiday season.

What is the most rewarding thing about volunteering?
In general, I know in some capacity that I am touching someone's life that I may never meet. At some point in our lives, we are going to have to call upon some type of social service. I think it's important to invest in our community because we never know what may happen in our future. Knowing that we are building our community in a way that strengthens and gives the opportunity for everyone to thrive is really essential.
Is there anything you would recommend to future volunteers?
Challenge yourself. Engage people in more conversations. If you give someone an opportunity to open up about themselves, that will likely lead to an opportunity to tell them about why you're volunteering. Sharing this information helps to build a sense of community.
More GRH Stories