Posted: November 22, 2018
As she celebrates a quarter century in health, it's clear Wendy Lupton has moved seamlessly from front-line services to making the best data available to improve care.
Wendy provided care as a medical and surgical nurse in Waterloo Region, moving to caring for patients with fractures as an orthopedic technician and then on to physical rehabilitation nursing.
These days, she works closely with Grand River Hospital's regional renal program… capturing data from patients who undergo kidney dialysis treatments at the hospital or its partner sites.
Having seen front line care and behind-the-scenes support, Wendy continues to believe in the hallmarks of exceptional care: supporting patients during vulnerable times, using team work to meet the needs of patients and families and making the most of the ever-changing environment.
---
How did you choose a health career?
The truth be told, I was originally interested in becoming a medical secretary because I wasn't a fan of needles or blood. When I inquired about how much it cost to take the program, I was shocked!  It was actually cheaper to become a nurse.
So I decided that if I wanted to work in healthcare, it was going to be as a nurse, or nothing. I am thankful that I made that choice back then.
What brought you to Grand River Hospital?
I began my career at St. Mary's Hospital where I worked on the medical and surgical units. From there, I took a position in the fracture clinic as an ortho technician. When the clinic amalgamated with GRH in 2004, I came here with the program. Eventually I wanted to get back to my nursing roots, so I took a line in the rehabilitation unit on UT2 at Freeport.
Having experienced patient care in so many areas throughout my career, I began thinking about trying something new. I knew that I would need to go back to school to upgrade my education so I enrolled in the Bachelor of Applied Health Sciences (BAHSc) program at Conestoga College.  I had three co-op placements at here at GRH in the privacy and access office, and in medical records that exposed me to the information and technology aspects of healthcare. I was hooked!
What's your role today, and what do you enjoy about it?
These days I work in decision support as a clinical data analyst to support the renal program.   As the data lead for the Ontario Renal Network, my main responsibility is to ensure that each patient's encounter with the program is reported accurately. So, even though I no longer provide front line patient care, I am very involved with the patient's journey.
I am fortunate to have the support of my co-workers in decision support, and in the renal department to ensure that I have the information and resources that I need to do my work.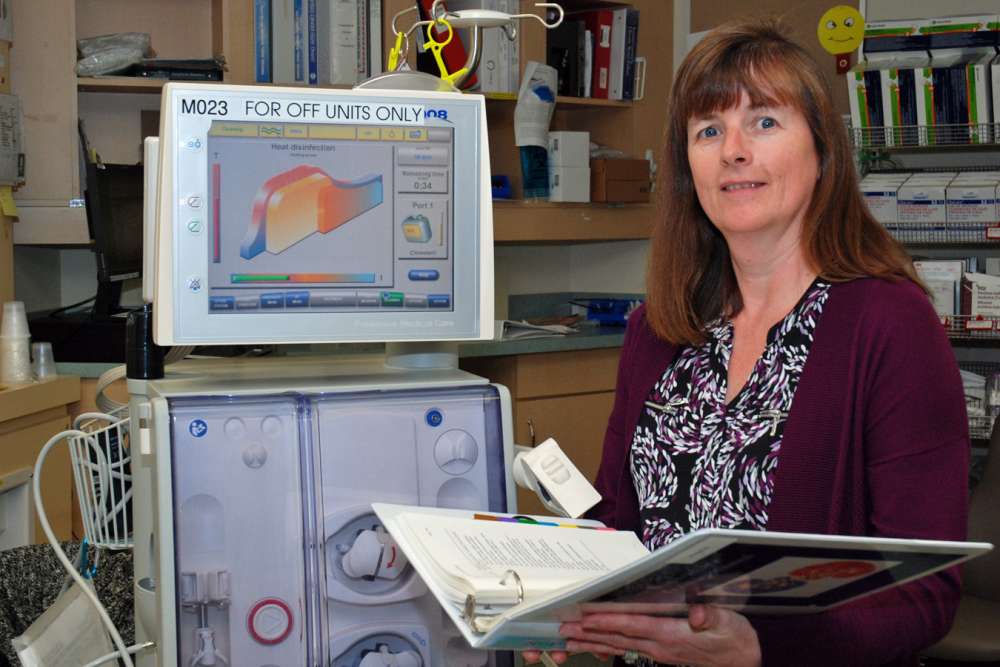 What's the most important thing you've learned through your career?
When a patient walks through our hospitals doors, we are seeing them at a very vulnerable time in their lives. Sure, we have seen other patients with a similar problem, probably many times. But we need to remember that this is their first time going through it and it is their right, and our responsibility to guide them through this chapter of their lives.
I've also learned that while the front line staff members are the ones that patients deal with the most, it takes a lot of behind the scenes support to make sure the patient has the best possible experience. It really is a team effort!
What keeps you on your toes in your role?
Dialysis patients frequently move between treatment types and locations. They may go to another hospital for treatment, or to another city or province for a well-deserved vacation. Making sure they are reported in their current modality can be a challenge.
Fortunately the renal staff is pretty adept at keeping tabs on who goes where, and when.  I communicate with them often to make sure that our documentation matches their situation.
Why are you proud to work at GRH?
Over my 25 years I have been fortunate to work in different areas of the hospital with so many dedicated and hardworking people, and have seen many improvements and challenges over time.
Throughout it all, my co-workers have risen to every challenge and celebrated every success.  I am proud to work for an organization where they promote patient safety and values, and then see it demonstrated every day by the people I work with.
More GRH Stories