Posted: August 24, 2016
A GRH nurse leader who helps people undergoing life-sustaining kidney treatment at home has won the hospital's latest award of excellence for her care and dedication.
Nancy Evans works in the hospital's regional renal program. It helps patients from across Waterloo and Wellington with kidney disease or failure.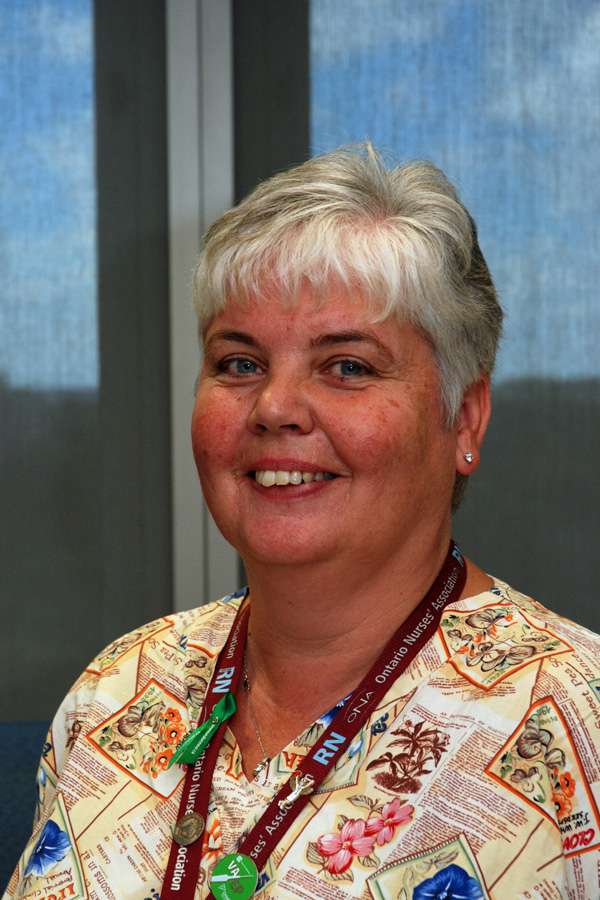 Nancy has nearly 15 years of service at GRH. Her current role involves working with patients and other care providers to provide home hemodialysis treatment which greatly improves the quality of life for patients with kidney failure as they do not need to come into hospital three times a week for treatment. Nancy provides education and support for patients who play a big role in guiding their dialysis treatment.
Nancy's nominator for the award of excellence praised her for the following:
Compassion: Nancy goes out of her way to accommodate patients. She always has each patient's best interest in mind, rearranging her personal schedule around their needs.
Collaboration: Nancy plans for any event or the dialysis unit's operation considering co-workers' input and making strong leadership decisions. She adapts to new challenges and works very well with all health professionals in the unit.
Positive attitude: Nancy is generous and thoughtful in celebrating personal or unit occasions. She's positive and supportive when patients sometimes have difficulty moving from hospital to home treatment.
Professionalism: Nancy is a fantastic leader who shares her skills with others. She's professional and flexible in non-conventional and demanding situations.
Respect: In difficult situations, Nancy recognizes and respects each individual's feelings and works towards constructive resolutions. She involves all team members in decision making. Nancy quickly earns the trust and respect of her patients.
Nancy was also praised for helping the home hemodialysis service thrive. She leads and coordinates patient education days and other special events. She's devoted and committed to the success of patients, her colleagues and the renal program overall.
Congratulations to Nancy and thank you for your exceptional service to dialysis patients needing life-sustaining care.