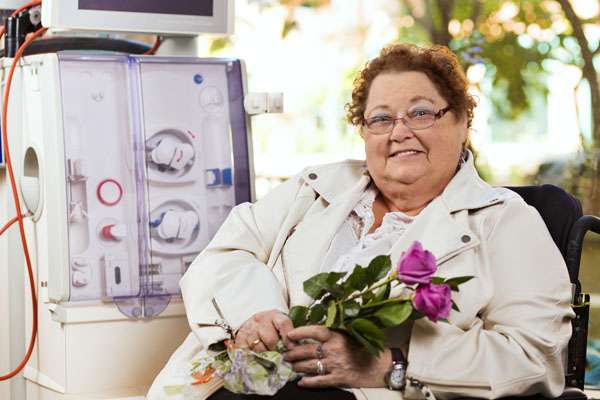 GRH's renal program is a regional centre with chronic kidney disease (CKD) services for those living in Waterloo Region and Wellington County. It is one of the largest renal programs within a community hospital in Ontario.
Our program consists of in-centre, home and satellite hemodialysis units. We also have outpatient peritoneal dialysis and chronic kidney disease clinics.
These units are located at different campuses/sites as outlined below:
GRH KW Campus, 835 King Street We­­st, Kitchener
GRH Freeport Campus, 3570 King Street East, Kitchener
Guelph Site, 73 Delhi Street, Guelph
Palmerston Site, 500 White's Road, Palmerston
Parking
Our KW Campus has several parking options for you depending on the length of your treatment and/or hospital stay. Click here to view our various parking options.
Our program provides a continuum of services that include:
The renal clinics which medically support the management of pre-end stage kidney disease and transplant work-up. The multidisciplinary team educates and supports patients requiring dialysis.
The peritoneal dialysis clinics which medically support the management of peritoneal dialysis at home.
A full care in-centre hemodialysis unit which medically supports inpatient and outpatient hemodialysis services.
A home hemodialysis program which medically supports the management of hemodialysis at home.
Three satellite units that allow dialysis patients in the Guelph, south Kitchener and Palmerston areas to receive care closer to home.
We also support patients who require hemodialysis care from St. Mary's General Hospital's cardiovascular intensive care unit (CVICU).
The Grand River Hospital Foundation provides televisions throughout the hemodialysis units for you while you receive your treatment. Visit our renal channel providing health information about chronic kidney disease.
Visiting Waterloo Region and your renal care
If you are seeking travel to the Kitchener-Waterloo area and would need dialysis during your stay, please call us at 519-749-4300, extension 2628 for more information. Our staff will work with you to determine your needs and how we can best help you.
COVID-19 and Renal Care
You may have questions about receiving renal care during the COVID-19 pandemic. General information and FAQ's about COVID-19 and the hospital are available here.
We have many measures in place to support you in getting the renal care you need safely.
Everyone who enters a GRH facility is screened for COVID-19 and must wear a mask;
Waiting spaces have been changed to allow for physical distancing;
All staff wear appropriate personal protective equipment such as gowns and gloves;
Extra cleaning of our spaces where necessary;
Virtual care options where possible, to allow patients to remain at home;
Patients are tested for COVID-19 when necessary;
Limiting visitors to the unit, which helps limit the spread of the virus;
Patients who have COVID-19 or suspect they have COVID-19 are separated from other patients to stop the spread.
What can renal patients do to protect themselves from COVID-19?
Patients with kidney disease are at risk of contracting COVID-19 for several reasons. For example, kidney disease can weaken your immune system, which means you can get sick more easily.
The most important thing you can do is follow public health guidelines:
Wear a mask that properly covers your nose and mouth
Frequently wash your hands with soap and water or use hand sanitizer
Avoid touching your face (especially nose, eyes and mouth)
Practice physical distancing by staying 6 feet (2m) away from other people
Stay home and avoid non-essential trips or gatherings
Stay connected with family and friends virtually instead of in-person.
Dialysis and COVID-19 - Dialysis is ESSENTIAL!
If you receive dialysis, you will continue to receive dialysis treatment even if you are ill. Skipping dialysis treatments can make you very sick or even be life-threatening.
If you are having any symptoms, call the dialysis unit ahead of time so that staff can be better prepared to help you. Our contact information is below.
Contact Us
If you're a patient and would like to make an appointment change or need to contact a member of your health care team, please call us at:
519-749-4300 x 2628 KW Campus
519-749-4300 x 7400 Freeport Satellite Unit
519-749-4300 x 3642 Guelph Satellite Unit
519-417-4050 Palmerston Satellite Unit
519-749-4300 x 3926 Right Start
The latest from GRH's regional renal program