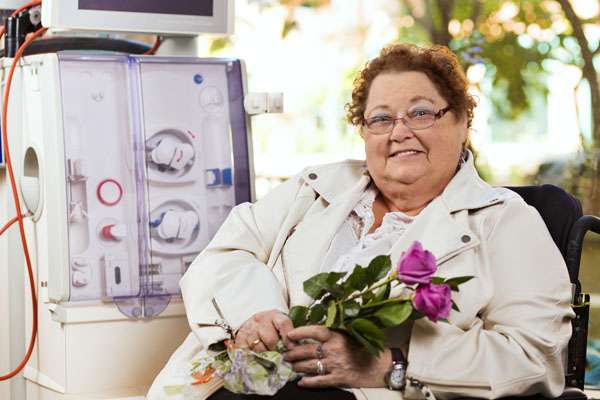 GRH's renal program is a regional centre with chronic kidney disease (CKD) services for those living in Waterloo Region and Wellington County. It is one of the largest renal programs within a community hospital in Ontario.
Our program consists of in-centre, home and satellite hemodialysis units. We also have outpatient peritoneal dialysis and chronic kidney disease clinics.
These units are located at different campuses/sites as outlined below:
GRH KW Campus, 835 King Street We­­st, Kitchener
GRH Freeport Campus, 3570 King Street East, Kitchener
Guelph Site, 73 Delhi Street, Guelph
Palmerston Site, 500 White's Road, Palmerston
Parking
Our KW Campus has several parking options for you depending on the length of your treatment and/or hospital stay. Click here to view our various parking options.
Our program provides a continuum of services that include:
The renal clinics which medically support the management of pre-end stage kidney disease and transplant work-up. The multidisciplinary team educates and supports patients requiring dialysis.
The peritoneal dialysis clinics which medically support the management of peritoneal dialysis at home.
A full care in-centre hemodialysis unit which medically supports inpatient and outpatient hemodialysis services.
A home hemodialysis program which medically supports the management of hemodialysis at home.
Three satellite units that allow dialysis patients in the Guelph, south Kitchener and Palmerston areas to receive care closer to home.
We also support patients who require hemodialysis care from St. Mary's General Hospital's cardiovascular intensive care unit (CVICU).
The Grand River Hospital Foundation provides televisions throughout the hemodialysis units for you while you receive your treatment. Visit our renal channel providing health information about chronic kidney disease.
Visiting Waterloo Region and your renal care
If you are seeking travel to the Kitchener-Waterloo area and would need dialysis during your stay, please call us at 519-749-4300, extension 2628 for more information. Our staff will work with you to determine your needs and how we can best help you.
Contact Us
If you're a patient and would like to make an appointment change or need to contact a member of your health care team, please call us at 519-749-4300 extension 2628.
The latest from GRH's regional renal program