Posted: April 9, 2019
By Amanda Paul, volunteer correspondent
Every Monday, Charles Cook brings smiles and hope to patients in Grand River Hospital's renal program. As a former patient with kidney disease, he knows the difference that support can make.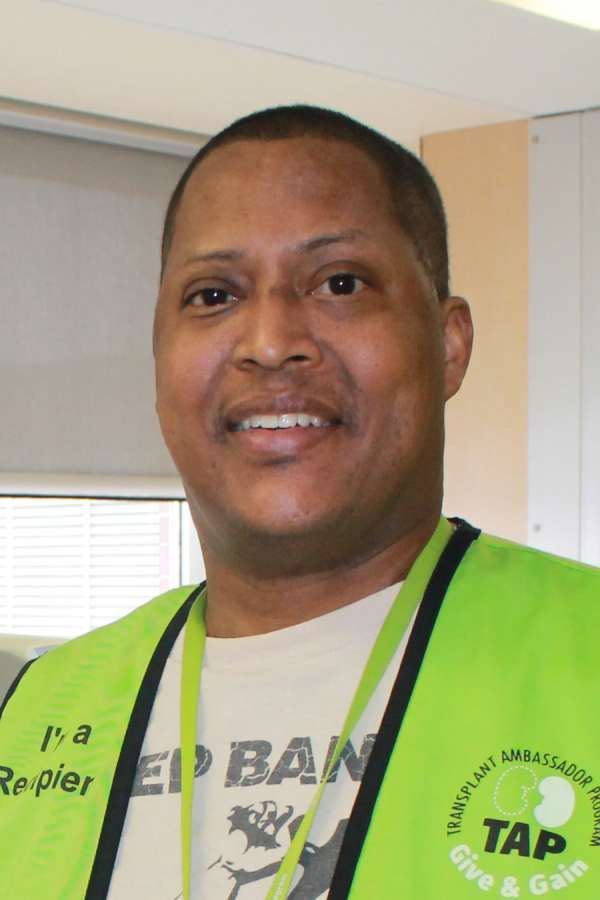 Charles is a volunteer with the Transplant Ambassador Program. He underwent treatment for kidney failure and received a donor kidney in October 2017. Charles shares his journey with patients to bring hope and positivity.
Bringing a warm smile and passion for helping others to every visit, Charles understands how to be a support system for patients with kidney disease because he knows firsthand what they're experiencing.
---
What is your current volunteer role at GRH?
I am a TAP Ambassador. In order to be a part of the program, you either must have had a successful kidney transplant yourself or been a donor of a successful kidney transplant.
I had my transplant on Friday, October 13, 2017 – that is my lucky day. Before that, I was doing 15 months of home treatment and then I was 18 months in the center at GRH. I like to call myself a proud graduate of the program.
Why did you want to volunteer?
I wanted to find a way to pay it forward and to try to help a patient's journey to be a bit easier. I've had a tough medical journey. I felt that the gathering of my experiences really made me want to help others. Being through everything I've been through has given me the strength to share my story because I've lived to tell about it.
I believe that I help patients by sharing my experiences and the knowledge that I've gained for the benefit of others.
How do you think your role is unique?
Well in my case, I've actually been a patient so I understand what the patients are going through. I can talk to the patients in the clinic and say, "I was literally sitting in that chair not that long ago and now I'm over here." I think it gives others a sense of hope; if I can do it then they can do it too.
I am glad to tell them how I got from that chair they're sitting on, to standing over here. We find common ground which is my favorite thing about the whole role. It's not just about dialysis – it's about life and being human towards one another.
How do you show positivity to patients?
By showing them! A great part about being a TAP volunteer is that I get to help as  patients learn through the RightStart program
RightStart is an education piece that's a part of dialysis so patients can learn more about their options. They educate you about all of your options and at the end of the session, you can make an informed decision that's right for you.
During my time with patients, I introduce myself and let them know I'm here for them as much as they need me and as much as I can be for them. By telling them my story, I feel like I'm spreading positivity to them.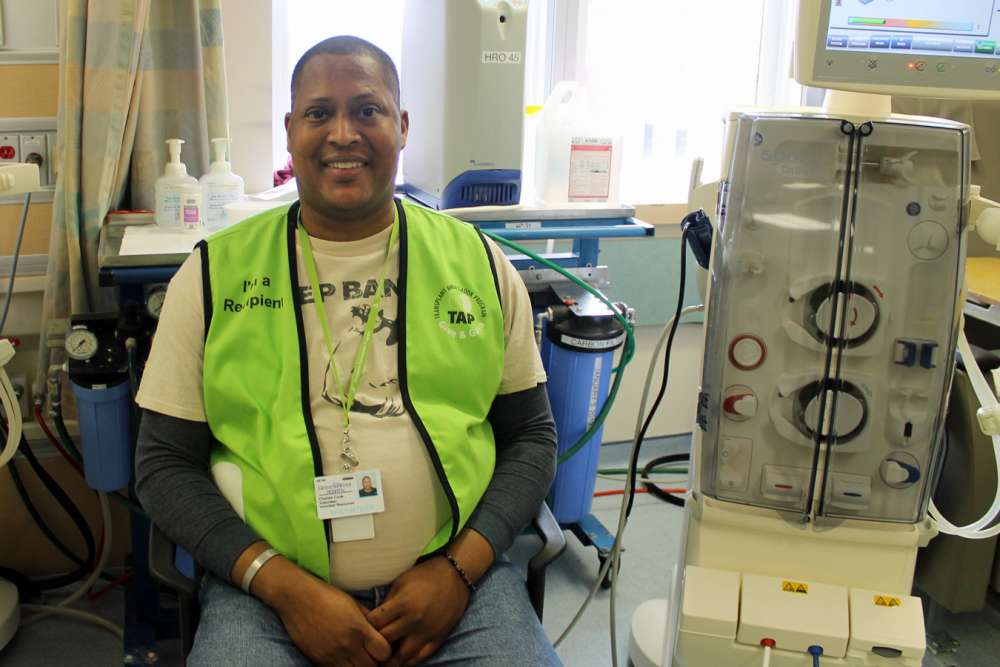 What's the most rewarding part of your role?
To see patients go from being scared to being able to go home is awesome for me. It's great to know that I was a part of their journey. I never want to take credit for their recovery; I was just part of the package. I'm prouder of them more than anything else. I feel a sense of pride when I see those patients walk out. That's why I'm here.
What inspired you to write a blog about your journey?
We moved from Georgia and my son was writing emails to my family that still live there. I felt that these emails were becoming too long and were taking up too much of everyone's time. I wanted to have a central place where everyone can go and see the updates about what was going on in my life.
After one of my surgeries, I decided to take it upon myself to write a blog. I wanted to write for myself to keep track of everything and I wanted to be able to share what I was going through.
My life philosophy is "keep bangin" – this phrase was coined when I was working in a restaurant during my time in school. I asked one of my co-workers what we were going to do when it got really busy during the night and he said, "Just keep bangin." This is how I view every obstacle now – keep banging until your hurdle or obstacle breaks down because you will overcome it.  
---
To learn more about Charles' incredible journey, visit his website at www.keepbangin.com(opens in a new tab)
To learn more about transplant from a TAP volunteer who has donated a kidney or received a kidney, please visit www.transplantambassadors.ca (opens in a new tab)
More GRH Stories