Posted: April 12, 2016
Evan Chong's volunteer experience at GRH has helped set him on a path to care for patients for years to come.
Volunteering is a long-time tradition for Evan. He began volunteering at GRH while studying at the University of Waterloo.
Evan is now in his third and final year of medicine at McMaster University. Starting in July he will begin his family medicine residency program at the University of Toronto.
While his volunteer time at GRH has ended, Evan says the experience will continue to resonate with him as he trades his volunteer shirt for a stethoscope.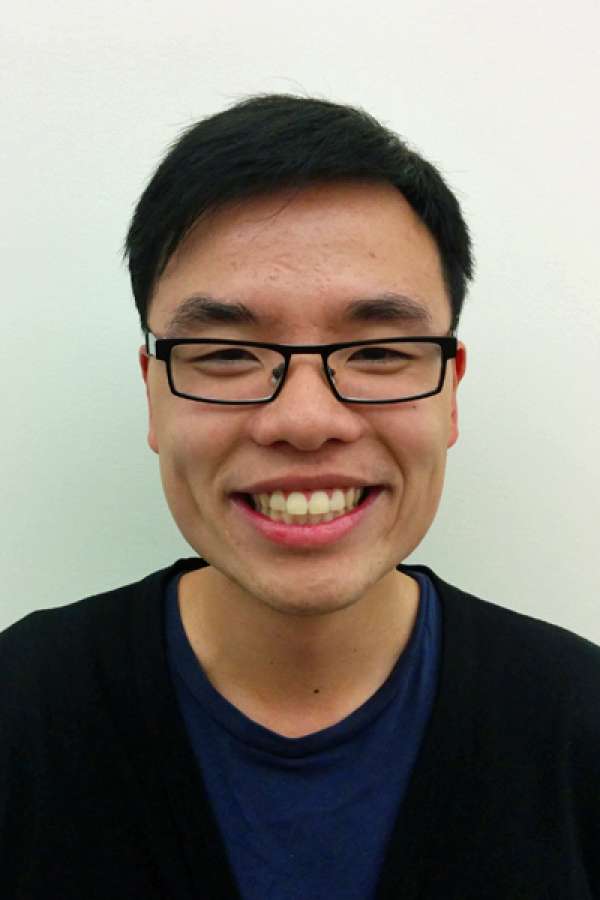 Why did you start volunteering at GRH?
Volunteering was always something that was part of my life from a very young age. Growing up in Toronto I was always involved in volunteering in some capacity, whether that be volunteering at summer camps and the food bank in grade school, or helping raise money for organization such as Heart & Stroke, Canadian Cancer Society and Free the Children in high school.
So when I moved to Waterloo to begin my studies at the University of Waterloo, volunteering was something I knew I wanted to continue. 
In what areas did you volunteer and for how long?
I started volunteering in May 2011 as part of the Grand River Hospital summer student program. I started out both in inpatient oncology as well as in information / portering.
After successfully completing the program, I decided to stay on as a volunteer up until May 2013 when I started medical school. Notably, I also had a brief stint as a tour guide for new volunteers (which was fun but was rather short lived!). 
What did you learn from volunteering?
It was through my experiences as a volunteer where I learned firsthand the important role we play as advocates.
A health advocate is someone who uses their expertise to understand the needs of their patients, speak on their behalf when required, and mobilize resources, all with the goal of improving health. It is this mentality that is truly at the core of being a volunteer.
Whether it was helping someone find their way to an important appointment, or helping a discharged patient make their way to the taxi to get home, it was through my experiences at Grand River where I learned how simple acts can go a long way.
What did you enjoy about it?
One of the most enjoyable parts about volunteering was the people! Grand River Hospital has some of the most dedicated and welcoming volunteers, and I always looked forward to starting my shift and seeing who I got to work with that day.
When I first started volunteering I was quite young, and it was always great to be able to interact from some of the more veteran volunteers, learn from their stories and experiences, and, at times, be taken under their wing. 
What were you able to take away from it for yourself?
From volunteering at Grand River Hospital I took away a sense of community and belonging. The friends I made, and the individuals I saw as mentors and supporters, have been integral to my journey as a medical student.
Whether it was on clinical rotation in the KW area, or whether it was sharing some updates on my progress, I always felt the support from the volunteer resources department. And that is something I will always cherish as I now look to starting my career as a family physician. 
How do you think your hospital volunteer experience will influence your practice as a family physician?
Being a hospital volunteer was an incredibly grounding experience, and gave me the perspective firsthand of what the patient goes through each and every time they seek medical care.
As health care practitioners, it's easy to forget that, as a patient, navigating the health care system can be a confusing and, quite frankly, jarring experience. Having that appreciation of what a patient goes through whenever they seek medical care will be invaluable to my future practice as a family physician, and will help me better approach each patient encounter with a greater degree of empathy and compassion. 
Do you have anything to recommend to potential volunteers?
Volunteer opportunities, especially at the hospital, can be a rare commodity. If it's something you are truly interested in, but if you're having a hard time finding the placement you want, I encourage you to try a different position and see if you enjoy it. There is always something to learn from every volunteer experience, so keep your mind open and you never know what will happen!
More GRH Stories